The New York Institute of Photography is one of the world's largest photography schools and because we are, we often publish fun and useful photography tips on our photography blog. Please enjoy!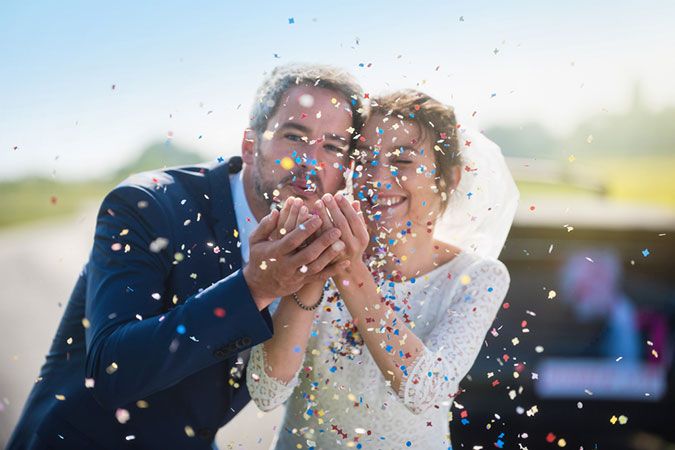 Wedding photography can be a super-competitive industry. Especially if you live in a small town where successful photographers already seemingly monopolize most clients, it can be hard to stay competitive and marketable as you reach out to work with new customers. That being said, one of the most crucial ways to ensure the satisfaction of your clients is to provide them with a uniquely exciting experience that they can't find anywhere else. Consider what we shared last week when we discussed the differences between amateur and professional photography:
"A main reason why some photographers grow a big following and others don't is that those more famous photographers are able to tell a unique story that can't be found anywhere else. When you take shots at around the same skill level, of generally the same things and in generally the same style as millions of other people, you're inherently pinning yourself up against competition and giving potential followers and fans less of a reason to check out your work specifically."
When you get into wedding photography specifically, this holds especially true. So by providing clients with a fun and unique service different from your competition, you're giving them a concrete reason to choose you instead. One of our favorite tips? Bring fun and exciting props with you, without being asked. If you show up on the big day not only capable of creating your clients' dream shots but also bringing along exciting ideas of your own, you're adding value to your service. Getting started, here are 5 cute props to consider packing for the big day:
Signs
This is a great, simple option. If you make your own DIY wooden sign with a loving phrase on it like, "Happily Ever After," you can have your clients hold it in some photos (and reuse it every time you work a wedding).
Banners
This is a similar idea and also one you can hold onto and reuse whenever it's wanted. You can either string together hanging paper letters yourself or buy a cheap banner premade. Spell out something like "Happily Married!" and have the pair stand side by side, each holding up one end to create another cute look.
Garland
For this look, simply hang some pretty garlands (could be floral, paper hearts, beads, etc.) from a door frame and have the couple stand behind it to create some cool depth of field and fun perspective.
Confetti
This makes for a great action shot. For this look, ask an assistant (if you have one) or a friend of the couples' to stand somewhere above (think staircase or balcony) and drop a bag of confetti over the couple standing below.
Balloons
For this look, consider asking the couple about their color scheme ahead of time and picking up a matching handful of balloons for them to hold in some whimsical snaps.
Want to learn more? NYIP offers an accredited online photography course that can help you improve your hobby or start a new career. Request your free course catalog today!
---