The New York Institute of Photography is one of the world's largest photography schools and because we are, we often publish fun and useful photography tips on our photography blog. Please enjoy!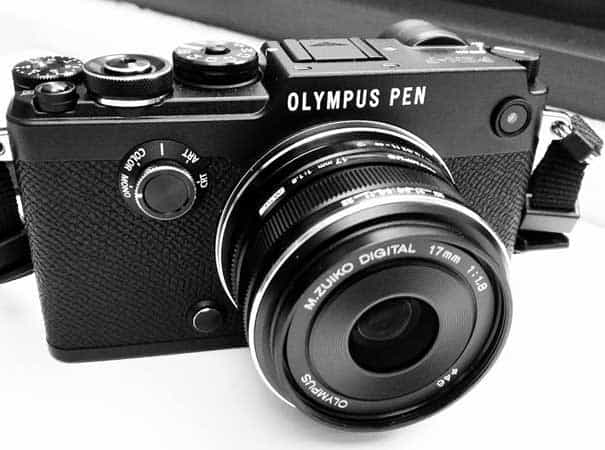 After a week of working with the Olympus Pen F, it's clear it will be a part of my tool kit. It may be a stylish camera, but taking a look under the hood reveals a whole slew of professional quality features. Here are some of my initial findings.
The small size of the camera allows it to sit in my hand perfectly. I don't have large hands and it seems each button was placed in the ideal position. This makes it possible to access the important features without removing my eye from the viewfinder. The aperture and shutter are changed with the front and rear dial while the ISO and WB are accessible on the four way controller.
I barely notice when I'm wearing it around my neck. The PEN is really lightweight, especially when paired with the tiny Olympus 17mm f1.8 prime lens. While it doesn't weigh much, it is not cheaply made. In fact, this is one solid camera. Although it's not weatherproof, I have no doubt it will stand up to the New York streets in winter.
The B&W mode is beautiful, churning out JPEG files that really pop with great contrast. I especially enjoy Mono Profile 2 with the grain turned off. By shooting in JPEG instead of RAW, I don't have to do much post production. Right out of the camera, images have a real film look with inky blacks and bright whites.
Wi-Fi is super easy to set-up and use. I simply downloaded the Olympus app to my Samsung phone and paired it with the camera in a matter of seconds. Once this was done, I was able to transfer JPEG images from the PEN to my phone. This makes it a breeze to share images on social media.
Silent Shutter, aka "stealth mode". Working this way is ideal for street photography. The camera literally does not make a sound. This allows me to go undetected, making it possible to get shots I would have been too nervous to try with a noisy DSLR. I have my drive set to Silent/Continuous Low which takes about five frames per second. There is also a high speed burst mode which I've yet to try.
Want to learn more? NYIP offers accredited photography classes that can help you learn photography or start a new career. Request your free course catalog today!
---