If you want to pursue photography as an actual career, not just a hobby, finding the best photography school is probably one of your main priorities.
Who Studies at NYIP?
As you explore the options available today, there are many things worth considering before you get started. Are you currently working another job? If so, how much time are you realistically able to dedicate to schoolwork and field assignments every week? Do you want a comprehensive curriculum, eBooks and one-to-one instruction from real, professional photographers or will you just read tutorial posts and watch free videos on your own? Do you want professional feedback on all your photos or can you effectively critique and give suggestions to yourself? These are all questions worth considering before you commit yourself to your photography education and the pursuit of a successful career.
Is photography school right for me?
From local courses offered at your community college to amateur YouTube videos and free online tutorials, we've developed a helpful chart you can reference as you move forward with your decision making process. See side by side how much money you'll pay for different options and exactly the quality of comprehensive education you'll get for that cost.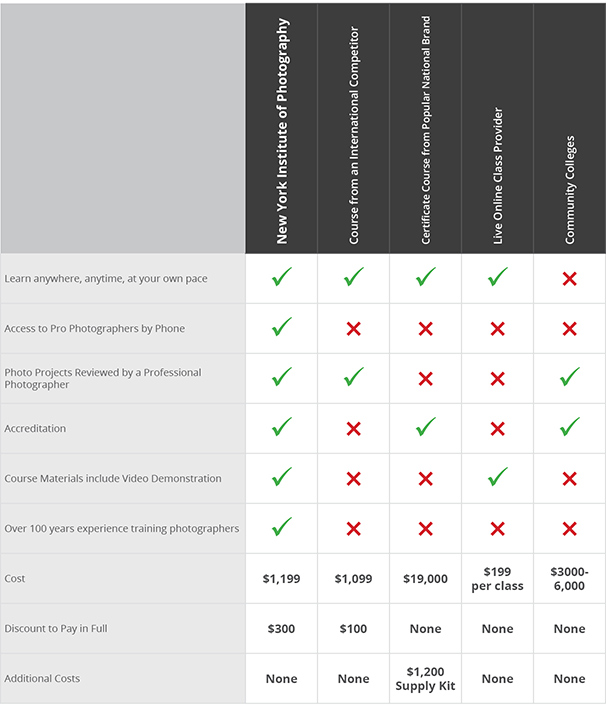 Anytime, Anywhere, At Your Own Pace
Before discovering NYIP, many of our students say they struggled to balance education with other obligations. Some had existing careers, others had young families that kept them busy and some had elderly relatives to care for. Whatever your circumstances, our program structure was designed completely with the intention of accommodating you and your time.
Once you enroll in one of our courses, you'll immediately receive an email containing login information which you can then use to access to our Online Learning Center whenever you're ready to get started. A state-of-the-art course delivery platform carefully designed and always updated by our in-house team of photography mentors, curriculum developers and designers, this learning center is where you'll login and complete your course work whenever you're able to make time. And the best part about it? Unlike other schools that require you to commute to class at a time chosen by someone else and beyond your control, our course goes with you wherever you need to be. It can be accessed anytime, anywhere as long as you have access to the internet. On your lunch break at work and want to read another lesson on your phone? Go ahead and login to get started. Stuck on the train home from work? Kill time and get work done by accessing your course while you wait.
One of our students Kristy, who graduated from the Pro Course in 2015, recently reached out to us with some wonderful feedback about how the self-paced structure changed her life. "As a full time mom of very active teens and preteens, the flexibility of this course helped me follow my dream and still be there for my kids," she shared.
Global Reach and Accreditation
Unlike other courses offered locally, when you graduate NYIP, you're earning a certificate that will be recognized around the world. Working with thousands of international students in countries across the globe, NYIP is the only online photography school to be both licensed by the New York State Education Department and accredited by the Distance Education Accrediting Commission. We are also nationally accredited by the Better Business Bureau (BBB). Not only that, we have also grown to develop international partners who can teach our photography courses in other languages or locally in other regions.
In a highly competitive industry such as photography, you need to somehow stand apart from the crowd. Without providing clients with some form of certification, they have no way of knowing whether you are able to work at a genuinely professional level. Not only that, if you earn a certification that's only recognized in a certain region, you're immensely limiting your future growth and creative reach. Especially for photographers just getting started who might not have a vast portfolio of work to demonstrate, the presence of an internally recognized certification from an accredited institution is the best way you can provide clients with peace of mind regarding your capabilities.
State-of-the-Art Course Materials
When you enroll in an NYIP course, you'll receive so much more than just books and paperwork to sort through on your own. Throughout our 6 units of course materials (prepared by industry experts, leading professional photographers and designers), you'll be watching HD video created by experts who understand what it takes to provide a comprehensive education.
Not only that, every student at NYIP is mentored by a professional photographer who is accessible by phone or email every day, there to provide technical and moral support, to answer your questions and to review your photos for you. You'll also gain access to NYIP's student forum, a massive online community of other photography professionals and students. Here our students and grads can discuss courses, ask questions and receive feedback and answers from one another, share advice, or just talk about their photography experiences.
With over 100 years' experience training professional photographers, the team at NYIP works every day to continue updating and improving our courses so that students can truly get the best, most valuable learning experience possible (without having to abandon their busy lives). If you want to join the rapidly growing NYIP student community, click here to check out a free course catalog today!
---