It's back to school time again, and at NYIP headquarters the phones and emails are picking up with students of our photograhy classes returning from summer vacation. Many want to know the secret to sharp photographs, as their travel images were soft, or even blurry. In this article, I detail how to find the perfect tripod for your specific needs. Before you venture online to surf through the countless models and options, prepare yourself with the necessary knowledge to get the best deal.
Years ago, I seemed to break a tripod every six months. They were the $75-$100 aluminum models that the camera store assured me would last. After spending about $400 on these supposed "bargains", I decided it was time to invest in a really good set of legs. Of course this meant a great deal of research needed to be done. These were the details I studied before selecting the right tripod for me.
What Type Should I Look For?
There are two basic tripods to consider. The first is the pan and tilt. These were the ones I always broke. In addition, I found their range of motion to be limited, and awkward. The alternative is to buy a set of legs, and then pick up a ball head separately. This is more expensive, but in my experience, a much wiser long term investment. Later in the post I'll list a few great ball heads.
What Are They Made Of?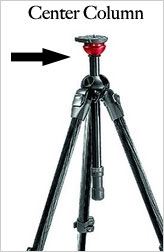 You can choose between Carbon Fiber, Aluminum, or a Carbon Fiber Aluminum mix. Carbon Fiber is much lighter and easier to hike with. Since they weigh less than 4.5 pounds, you'll be more likely to take it with you instead of leaving it home. Also, Carbon Fiber doesn't get as painfully cold as Aluminum. Anyone who shoots in cold weather climates will appreciate this comfort.
How Tall Can It Go Without Extending The Center Column?
It can be very uncomfortable to look through your viewfinder while hunched over for long periods of time. I recommend finding a tripod that extends to about your nose without extending the center column. Once the ball head and camera are attached, it will be the perfect height. While a center column will provide more height, you lose stability as it is raised from the base of the tripod.
How Low Can It Get To The Ground?
When you are photographing landscapes, flowers, insects, you may want to get down to the ground for a unique perspective. To do this, you will need to check the minimum height of the tripod. Ideally you should be able to bring it down to about five inches from the ground. There are a few different ways to achieve this perspective. Some tripods have an adjustable, or reversible center column. Others have no center column at all. Again, for stability purposes, I prefer no center column.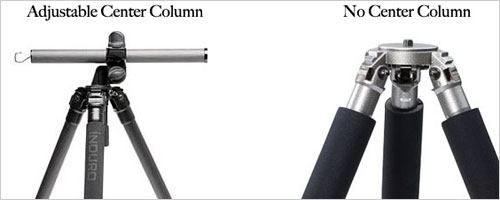 What Kind Of Leg Locks Are Better?
You can go for the twisting locks, or the snaps. The snaps are faster, but they do tend to get loose and break over time. The twists take a while to get used to, but are built to last.
How Much Weight Can It Support?
This is a very important consideration for those who use fast telephoto lenses, or anything over 300mm. If your camera, 400mm lens, and ball head weigh five pounds each, your tripod needs to support at least fifteen pounds. Even if you don't currently use a super telephoto, you may decide to rent or buy one in the future. At a minimum, look for your tripod to have a "load capacity" of fifteen pounds. If you regularly use longer glass, then I'd recommend something that can hold twenty to twenty five pounds.
How Small Can It Fold Up?
Look for a tripod with a folded length of 26.5 inches or less. This will be small enough to check in a medium sized duffle bag for both international and domestic flights. Tripods with four leg sections are normally a bit smaller than three section models. However, three sections are not only much faster to set up, but they are sturdier.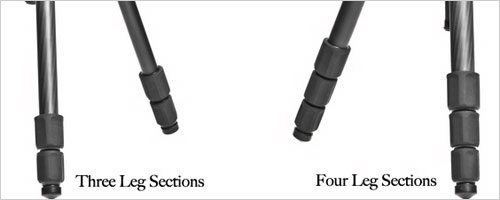 Before moving on to the Ball Heads, here is a summary of the key elements above that you should consider before purchasing a tripod:
Type: Pan and Tilt or Ballhead — Advantage Ball Head
Material: Aluminum or Carbon Fiber — Advantage Carbon Fiber
Maximum Height: Should reach your nose without the Center Column extended.
Center Column: Reversible, or No Center Column — Advantage No Center Column
Minimum Height: Ideally able to be five inches from the ground.
Legs: Twist or Snap — Advantage Twist
Load Capacity: Should support 15-25 pounds depending on lenses you use.
Folded Length: Look for 26.5 inches or less.
Leg Sections: Three or Four — Advantage Three Sections
Finding the Right Ball Head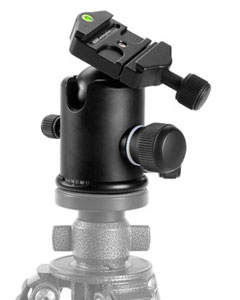 After deciding on a solid tripod, the next step is to determine which ball head is right for you. The beauty of a ball head is the ability point the camera in any direction quickly and securely. You can also pan, and swivel making it a very versatile tool. I strongly recommend staying away from the deals that offer the tripod legs and ball head together. Some of these kits are OK, but you will get much better performance out of a quality third party ball head. Here are a few specific models to check into:
Kirk BH-3
Weighing in at nineteen ounces, the Kirk BH-3 can support up to fifteen pounds. This is an excellent choice for telephoto lenses up to an 80-400mm f5.6. For heavier, faster lenses, you will need to consider a bigger model.
Arca Swiss Z1
At just under $400, this is one of the most expensive, but smoothest ball heads available. It's been reported to hold well over one hundred pounds. This is a rock solid platform for your camera and super telephoto lens.
Kirk BH-1
The big brother to the BH-3. This model can support up to fifty pounds making it ideal for super telephoto lenses with fast apertures like a 500mm f4.
As you can see, ball heads are not inexpensive, but they will absolutely make it easier to achieve an endless array of camera positions. For those who will be flying with their tripod, take the ball head off and keep it in your carry on bag. This will make it easier to fit the tripod into your duffle bag, and prevent the ball head from getting jostled and possibly damaged during transport.
So, What Model Did I Choose?
For the past six years I've been using the Gitzo 1325 (now discontinued) and a Kirk BH-3 ball head. Keep in mind, the make and model that I use may not be the ideal choice for you. Ultimately, the perfect tripod will depend on your specific photography needs.
---