Do you want to be heard? I mean really heard? If so, then listen up as we've got a solution for you! After launching in March of 2009, a London based company by the name of Audioboo has recently emerged at the forefront of audio sharing technology. I've been beta testing their services as a simple way to quickly publish audio photo tips, and stories to the web. It's similar to podcasting, but takes sharing to a whole new level with Twitter and Facebook integration. Before discussing the various ways photographers can utilize this, I'd like to detail some key features.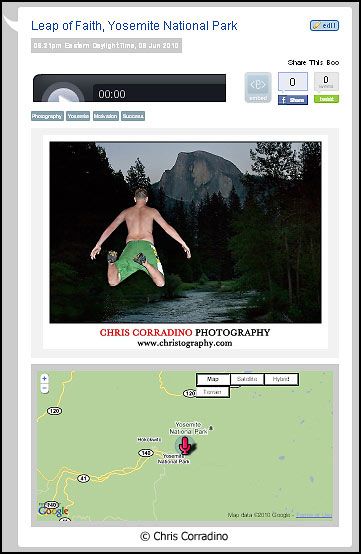 Creating an account is free at www.audioboo.com.
Every user receives an individual profile page and URL.
Upload MP3 files directly from a hard drive.
Create new recordings using a computer's built in microphone.
Add a photo and GPS coordinates to each audio file.
Like Twitter, users can follow your Boos, and subscribe to your RSS feed.
Tag your recordings to show up in search results.
One click publishing to Facebook and Twitter.
An Embed code is provided for sharing your content on blogs and websites.
Free app for iPhone and Android devices which enables mobile recording and uploading. They'll soon be adding Blackberry, Nokia and Windows Mobile support as well.
The human voice is a powerful instrument capable of expressing a complex array of emotions. As such, there are endless ways for photographers to use this technology. To share dynamic content, bloggers may want to incorporate Audioboos into their repertoire. Photojournalists can upload subject interviews and audio captions from the scene of an assignment. Fashion and Nature photographers will also want to check out the geotagging capability for location scouting. I've even heard outdoor photographer's recordings from deep in the woods. Of course these are just a few things you can do with Audioboos. Why not try it out for yourself and see what you can create?
Here's one that I made about a leap of faith in Yosemite National Park.
You can also listen here..
We'd love to hear your Audioboos. Please share your results with us via Twitter, Facebook, and our Forum.
---