Behind the Photo allows New York Institute of Photography students to answer a few questions about their photograph featured on our Student Photo Gallery.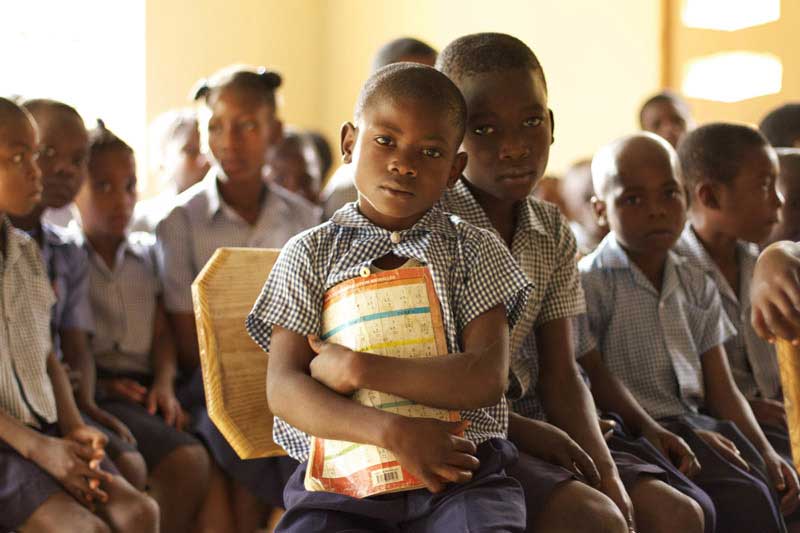 Tell us about your picture.
The day before I took the shot, I was at the comfort of my house in Port au Prince, where I have been living for the last year (I am from Spain, and before Haiti I lived 7 years in Panama). I logged into Facebook and saw a posting by Heart to Heart International NGO where a photographer was needed the very next day for the inauguration of a school in a remote village in South Haiti, 7 hours from Port-au-Prince. I made the phone call to, and was accepted to go.
Where was the photo taken?
In the remote mountains of Cascade Pichon village, approx. 7 hours from Port-au-Prince, between Thiotte et Belle Anse, located in the South East Province of Haiti. Below is a NYT link to an article by David Rochkind about how beautiful and hard it is to get there. (Feb 2014)
http://www.nytimes.com/2014/02/16/travel/in-haiti-beauty-that-plays-hard-to-get-to.html?ref=trave&_r=0
Despite the difficulties in arriving, I will go again and again.
What inspired you to take it?
I wanted to capture children and the expression on their faces, which symbolized the positive change they had awaiting their lives. Until this school was built, the people of this community had no access to education. This had all changed now because of Heart to Heat International NGO and neighboring communities, and it was one small win in the battle to fight the cycle of poverty.
There was very poor light inside this newly constructed church where they were before the opening of the school. This one is made of cement and big while the old one was tiny and made of stones and mud.
The light inside the church was poor, only coming inside from the tiny windows and the main door. In this picture, the light coming in from the main door in the church reflected over the child´s face and body creating a very special atmosphere. He was looking straight at me with a deep gaze, holding a book and embracing the future, which lie ahead. It was a magic moment.
Who, What, When, Where, and Why?
First School Church in the Village
What camera settings did you use?
I used a CANON EOS 7D.
CANON LENS EF 50mm 1:1.4
Color space: RGB
Dimensions: 5184 x 3456
Exposure time: 1/100
26.4MG RAW
f./1.4 USM f/1.8
ISO 1250

Tell us a bit about the technique you used.
The photo is as is in RAW format, without any manipulation (Photoshop) whatsoever. No filter was used. The picture is as it was shot.
The lights conditions where very poor. It was inside a church without any artificial lights. The only light was through the small side windows and from the main door. In this picture the light coming from the main door reflected over the kid creating a very special atmosphere.
I had to use a high ISO and I use my 50 mm lens that it´s good for portraits and also goes as far as 1:1.4 aperture. I didn´t use a tripod neither.
Anything else you'd like to say?
I am honored to have my photo posted on the NYIP website. I was excited and filled with the feeling and hope; when one really wants or desires something, things start to happen step-by-step. This is one of the steps that help reconfirm what I really want to do. Thank you for appreciating my picture.
Do you want to become a better photographer? NYIP now offers 9 online photography courses. Request your free course catalog today!
---