The Assignment and Judge's Report:
One of my favorite photographers, Robert Capa, once gave the following advice: "If your pictures aren't good enough, you're not close enough." The tradition of "closeup photography" connects to the idea of photography as revealing something beyond the everyday world.
It's up to the individual photographer to decide whether that means simply moving nearer, using a telephoto lens to bring far-away things closer, or working with the extreme magnification of macro lenses. If a camera and a little photographic technique can let us see more, however, we still need the photographer's imagination to help us understand what we're seeing.
This photo contest brought in many excellent entries showing a broad range of styles and approaches. I made a few notes while looking through them all:
Shooting photographs with a macro lens – a lens designed to fill the frame with details that would appear tiny to the human eye – presents a unique challenge. Beyond shooting for technical excellence under difficult conditions, those using this method must keep in mind all those other photographic concerns as well: composition, lighting, framing and cropping, the use of color, and so on. Technique and the photographer's eye must both be at their best for this style of photography to succeed.
The closeup world often presents a visual mystery – and it might be best left mysterious. I found several photographs that made a big first impression, but could not sustain my interest over time. Others stayed mysterious, and rewarded longer and careful viewing.
Closeups, at their best, can be powerful and dramatic images. At their worst, they may simply show too much.
The Photo Contest Winners: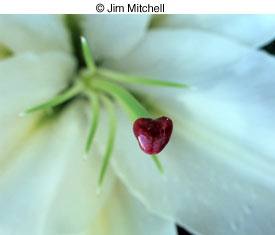 The First Place prize of $100 goes to Jim Mitchell of Dallas, Texas. Jim's "Heart of the Matter" works as nature photograph, as formal study and as an idea. The image's power may come from its visual observation of this flower part that looks strangely like a real human heart. Using selective focus, Jim has told us where to look, and given us a chance to consider the visual beauty and strangeness of natural forms.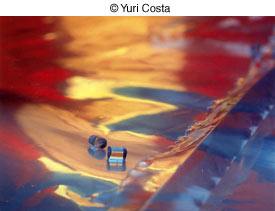 From Israel, we have Yori Costa's beautiful mix of abstraction and detail, revealing two small pellets in an environment of reds, oranges, yellows, blues and purples. Notice the use of the "rule of thirds" in this image: the pellets are placed about one-third from the bottom; along the top the blurred background is split into sections of red, then orange, then red again. I also like the play of specific detail against abstraction here. I would love to see this image printed very, very large. For this image, Yori wins the Second Place prize of $50. Congratulations!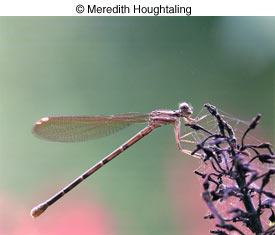 The Third Place prize of $25 was won by Meredith Houghtaling, of Sarasota, FL. Meredith's macro photograph of an insect at work against a blurred background of greens and pinks manages to solve both the technical and aesthetic problems I've mentioned above. The insect's body serves as a diagonal leading us to its frightening face. As well, the bug's graceful wings lead us in from the left and the black lines of the plant push our eye up to where the action is. The insect, in browns, and the plant, in blacks, both present a strong play against the gentler colors of the background.
The Honorable Mentions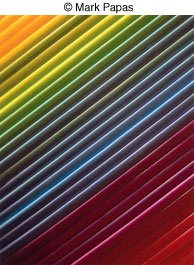 Mark Papas' "Rainbow Slinky" works as an abstraction, but comes from a real-world closeup. Finding pure color and pattern in a child's toy, Mark eliminated all extraneous detail to create a dynamic and formal photograph.
"My first attempts looked too 'plasticy,''" Mark writes, so I played with the lighting and pumped up the ISO setting to 800 to introduce some grain and texture." (Mark is from Cupertino, California. He used a Canon EOS 20D and a Canon EF 100mm lens to make the image for this photo contest.)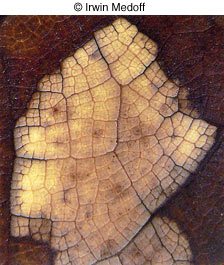 At times, closeups reveal patterns and details not noticed by the naked eye. Irwin Medoff's image of a "small blight on a plant leaf" reveals a cellular texture in yellows and browns, suggesting human skin or cracked parchment. (Irwin is from Lacey, Washington.).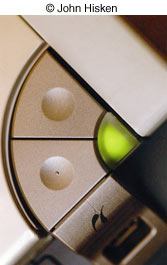 Another closeup of "everyday" detail is John Hisken's shot of buttons at the edge of an electronic device. The success of the image, however, comes from the photographer's observation that these may reveal a face, or perhaps an abstract design.
John's photo presents a very exact composition: the circular "eyes" are exactly one-third from the top, the green "mouth" about one-third from the bottom of the image. A vertical line splits the photo in two, a long curve just touches the top of the image, and diagonal lines break the picture into several well-balanced sections.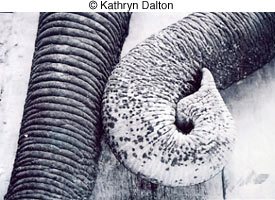 Kathryn Dalton's "Elephant Trunks Closeup, Thailand" is the only black-and-white image earning an honorable mention in the contest. I'm a big fan of black-and-white work, and I don't think that aesthetic should go away in the digital era. Kathryn's photo reveals one strength of black-and-white work: with no concerns for color, the image emphasizes the texture and shape revealed in the elephant trunks. A curved trunk balances against a straight one, revealing the specific wrinkled texture of elephant skin within an almost-abstract negative space at the left, right, top and bottom. (Kathryn is from Bangor, Maine.)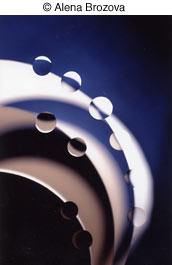 From Prague in the Czech Republic, Alena Brozova sends us "Elegance of Curves." A cool-toned abstract in blues, whites and blacks, the image sets up a play between the small sharply-focused spheres and the blurred pattern of curves. Alena made the image with a Nikon F100 with a 50mm Quantaray macro lens, shooting on Fujichrome T-64 Tungsten Film, Type II, with and ISO setting of 64.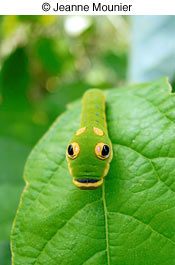 A startling nature shot by Jeanne M. Mounier shows the stopping power closeups can have. Made up of greens, yellows and blacks, "Livin' on the Edge" shows a direct confrontation with nature, revealing a creature that might be scary or comical or both.
Thanks to all our photo contest entrants. I really enjoyed seeing all the photographs, and wish I'd been able to include more in the contest report. Click here to check out our upcoming photo contests. Who knows? You could be in the winners circle too, but only if you enter!
---