Editor's note: Social networking using Twitter or Facebook or any of the dozen or more popular platforms is all the rage right now. Social networking can offer much more than just a way for teenagers to keep up with what their friends are doing every minute of the day. To find out exactly how social networking can help a photographer, we asked NYIP Student Advisor Chris Corradino to give Twitter a try. Here' s his report which as you will see shows you how using Twitter can bring photo opportunities to your doorstep, improve your photography business, let you share your experience as a photographer and help you acquire mentors and friends in the field.
Twitter 101 for the uninitiated: Before we start, if you think you're one of the small number of people who don't know what Twitter is and don't use it, you're wrong. As of the time we post this article, as we noted above Twitter is the "all the rage." However, you're not alone. Recently, a CNN online poll asked: "Do you twitter?" and with over 250,000 votes cast, only 7% said yes, 63% no, and 30% asked, "What's twitter?" Now, if only 7% of people in an online poll use Twitter, that means 93% don't ñ and that's among people who participate in online polls! That means thereís still a lot of room for growth. Even so, Twitter might be nearing its apogee, and in the avaricious tech news cycle, the ìnext big thingî may be just around the corner.
In essence, part of Twitter's charm is that each message (called a "tweet") is limited to 140 characters, so there's a chance for brevity and even poetry to emerge from the compression. It's not always there, and the other interesting thing (again, as of this writing) is that Twitter hasn't exactly figured out how to harness this horse and make money, and lots of big companies are putting some $$ into this, witness the Dunkin' Donuts Twitter campaign. But, remember, there was a time when a few people discovered they could make a little money selling on some quaintly named thing called eBay…
Thatís why we asked NYIP Student Advisor (and NYIP Graduate) Chris Corradino to write up his experiences.
It seems that everyone is talking about Twitter these days. Less than 45 days ago, I decided to try it out for myself and see what Twitter could offer to a photographer. Here is a recap of my experience so far.
It all started with Yoko Ono. She's a fellow New York artist, so I decided to follow her on Twitter. The next day she posted a tweet announcing that the famous "WAR IS OVER" poster would be hanging in Times Square for only a few short days. I immediately got over there with my camera and made some pictures of the sign. Later I converted them to black-and-white and blogged about it. Much to my surprise, Yoko started following me! Without her tweet, I would have never known the sign was there. I quickly got the feeling that this new technology could be a useful tool for photographers everywhere. Imagine being able to tap into every exciting event that is happening in your area. I was feeling optimistic, and my network was already off to a great start.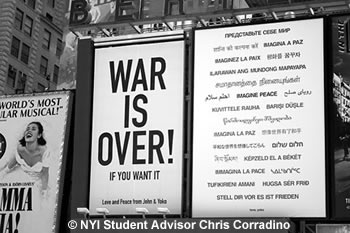 Next, I began to follow Olympic gold medalist Shaun White, aka "the Flying Tomato". Within hours of adding him to my list, I received a tweet that said: "Just landed in NYC for Red Bull Snowboarding Event!" I grabbed my gear, and headed downtown to the East River Park. Although I wondered how I didn't notice the construction of a giant 90-foot half pipe being built in Manhattan, I was thankful that Twitter seemed to work as another pair of eyes for me. It turned out to be a spectacular show, and I made a short multimedia presentation about it. I was also able to speak with one of the promoters about future events, and gave him my business card. It was becoming much clearer to me. Not only can Twitter help photographers find photo opportunities, but it can lead to new jobs as well.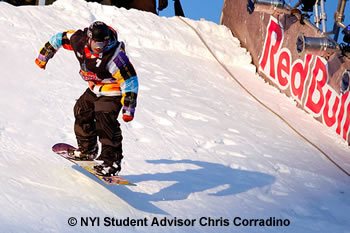 Shortly thereafter, I began making connections with various artists from all over the globe. Through Twitter and blogging, we continually share ideas and projects. The ability to tap into this enormous resource of creative energy has proven to be an eye opening, and humbling experience. Most importantly, and contrary to what some people believe, it actually promotes productivity. If you are in need of photographic inspiration, you can find it by keeping in contact with other active artists. This has the potential to increase workflow, and open doors to new possibilities.
Networking this way does not have to stop with Twitter. This was made apparent by Seattle based photographer Chase Jarvis (www.chasejarvis.com). His blog post read "I'm interested in meeting some people that I've historically had virtual-only relationships with, getting people together analog-style, and talking shop." He posted an open invitation, or "tweet up" to meet with New York photographers from all backgrounds and experience levels. These "socials" are not limited to major cities. His photography assignments take him all over the world. To find out if he's in an area near you, and to see how Chase is utilizing Twitter, check out www.twitter.com/chasejarvis. On this particular night, approximately 75 photographers converged at a lounge in Soho. We discussed business plans, equipment, how to succeed in this economic climate, and more. This type of supportive network is so valuable. Not only did I come home with a pocket full of business cards, but it was inspiring to hear how other photographers were going about their business. To me, this informal gathering was proof that online networking can translate into real friendships, and business connections. There is no reason why photographers in other areas of the world cannot do the same thing.
Twitter has also helped me here at NYIP! As a photography teacher, I'm always looking for fresh ideas, and new topics to keep things interesting. The photographers I've connected with have provided a steady stream of inspiration via daily tweets. Whether it be articles I didn't catch, or new product releases, Twitter has helped me to stay on top of everything happening in the industry right now. Best of all, this constant flow of information is available to everyone who starts a free account.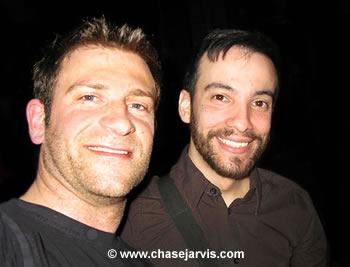 Since microblogging is a relatively new concept, people are still trying to figure out how to monetize it. On a cold New York morning, several of the NYIP staff members went to a social networking seminar. As the discussion unfolded, I sent live tweets from my iPhone. Here were the ten biggest points that were made (each in 140 characters or less).
It's up to us to figure out how to monetize networking. It's the new economy.
Human IP's: if you don't participate you won't survive.
Sharing can turn into commerce. Check out work on "Sharism" by Isaac Mao.
We are in a constant state of reinvention. Less is more. Gorging on social media is out.
You can't start in social media without knowing how to listen.
Cloud communities: create a single brand community spread across multiple social networks.
Old media advertising is quickly dying. 27% of homes have DVR's and do not even watch commercials.
Twitter had a major impact in increasing Dunkin' Donuts digital footprint.
It's important to measure your "ROI" (Return on Investment) to calculate your efforts.
In order to be relevant, you have to be useful. Use media to make yourself useful and engage people in conversation.
So now the question is: Are you ready to join the twitterverse? If you are, send me a tweet to say hello (www.twitter.com/chriscorradino). I would also encourage you to join the school's growing community. The address is www.twitter.com/nyip
---