The minute I came across this story — just as it was picked up by the national press — I wanted to find out more.
Here are the key points:
May 2010: Brooklyn-based photographer Kristina Hill took an engagement photograph for Tom Privitere and Brian Edwards. The black-and-white photo, made in Brooklyn Bridge Park, shows the beaming couple standing, facing each other while holding hands and kissing. The lower Manhattan skyline dominates the background. With Ms. Hill's permission, the photo was posted on Brian Edwards's blog.
June 2012: In a hard-fought Republican primary for the Colorado State Senate District 8, incumbent Jean White is defeated in her bid for re-election. In the closing days of the campaign, a postcard is mailed to voters in the district. It shows Tom Privitere and Brian Edwards, still holding hands and sharing that kiss, but the Manhattan skyline has been replaced with a background of heavily snow-covered pine trees and type has been inserted over the photo that reads:
State Senator Jean White's
Idea of "Family Values?"
The couple's May attire seems woefully inadequate in the chilly landscape into which they have been inserted.
You can see both images here.
It turns out Colorado State Senator Jean White was one of three Republicans who voted with the majority party Democrats in the Colorado Senate in the last session in favor of a bill that would have legalized civil unions for Colorado same sex couples. This mailer was used in the run up to the primary where Jean White lost her seat to a challenger.
In today's world it's not surprising that word soon got back to Edwards and Privitere from a friend who saw an article about the negative campaign tactics in this particular Senate race in Colorado. Naturally, they were upset. The postcard that used the appropriated image had been mailed by an organization called Public Advocate of the United States, which is based in Falls Church Virginia. Why would a group from Virginia concern itself with a local race for a senate seat in Colorado?
So I started to look for answers.
I searched for Kristina Hill and found her website and sent her an e-mail inquiring whether she had the time and inclination to discuss the whole situation. As it turns out, she replied shortly after I sent my note and informed me I had been the teacher for her first photography class, a large introductory lecture program that I taught some years ago at a local college. She replied that she would be happy to talk with me, but asked that our conversation include Christine Sun, the attorney who is representing her, as well as Edwards and Privitere. Ms. Sun is the Deputy Legal Director of the Southern Poverty Law Center.
Why is the Southern Poverty Law Center (SPLC) involved? It turns out that some time ago SPLC had identified Public Advocate of the United States as a hate group and part of SPLC's mission is to represent targets of hate groups.
Ms. Sun wrote a letter to Eugene Delgaudio, the head of Public Advocate, on July 11, informing him that she was representing Ms. Hill and Messrs. Edwards and Privitere, putting him on notice that SPLC would be investigating legal claims against Delgaudio and Public Advocate, and demanding that the group "cease and desist any further unauthorized use of Brian and Tom's images and likenesses, and any further unauthorized use of Kristina's copyrighted photos or other intellectual property." It appears that Public Advocate had used the same doctored photo in at least one other political campaign.
In the letter, Ms. Sun notes: "As you are certainly aware, Brian and Tom are not public figures. That photo was a deeply personal representation of their love and commitment to one another and the obstacles they overcame to share their lives together. The use of that photo of their wedding engagement and their images to attack gay couples and their relationships as not promoting 'family values' was unfair, unjustifiable, and demeaning of Tom and Brian's human dignity."
So, Kristina had her photo used without her permission. Tom and Brian had a personal moment twisted to become political fodder in a state thousands of miles away. What did the defeated Senator Jean White make of all this, I wondered. So I wrote her and she also promptly replied: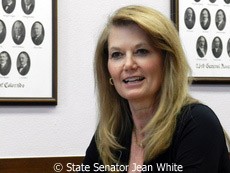 "This attack piece and my support of civil unions was the cornerstone of the campaign against me, and is indeed responsible for my defeat. I was warned that my vote would be used against me in a primary, but changing my vote to a no this year would be so disingenuous of me, that I could not and would not even consider it. I would rather lose on principle than win on lies and hatred as my opponent has.
"It saddens me that the group doing this would alter this beautiful picture of a very special day for Brian and Tom, as the photographer captured the love between them and the beauty of the surroundings. It is bad enough to use someone's photo without permission, but to alter it and use it in such an ugly way as in this attack ad is unconscionable.
"This is clearly a violation of copyright laws and an invasion of privacy that will forever mar the joy of that day for them, and has become what so many associate with me and my campaign...Though none of us have ever met, we are all good people who have been affected by this and our lives are now entwined due to the circumstances surrounding this ugly attack. My hope is that some good will come from it, that there will be respect for ALL loving and committed couples, and that those spewing hate will be punished appropriately."
When I spoke with Kristina and Christine, her lawyer, Kristina told me that she and Brian had gone to the same college but didn't really know each other. A mutual friend suggested to Brian and Tom that they consider hiring Kristina and they met and she was hired. In addition to the engagement photo, she photographed their destination wedding in Mexico in October of 2010. As soon as Brian and Tom learned of the situation, they got in touch with her. As Kristina wrote on her blog, "When I heard this, a range of emotions flooded through me. When I actually saw the image, my heart dropped."
Among the resources Kristina contacted, was the Professional Photographers of America &mdash www.ppa.com. She's a member and described their assistance as "awesome." She also told me, "What's been interesting is the support I've gotten from photographers reaching out to me, both photographers I know and ones that I don't, expressing their support."
Although I've gotten answers to most of my initial questions, there are lots of others that keep popping up:
The image that was used never appeared on Kristina's own website. But what if it had? Even though she retained copyright and in that regard it represents an unauthorized use of her intellectual property, what if the photograph had been taken from her site and not Brian's? In a situation like that, what if the client blamed the photographer? Fortunately in this case the photographer, the couple whose privacy has been violated, and the senator who was been defeated all express optimism that ultimately this will lead to greater understanding.
Kristina sums up her feelings — which I think many photographers share — very eloquently in her blog post: "It's my hope that my readers and clients know that what I do is incredibly important to me. I love love, I adore my clients and when I make images for them, it's my goal to document their love with creativity and honesty. It fuels me as a photographer to know that these images will be cherished. That they will hang on walls, be passed around at gatherings, put in albums, and that someday maybe children and grandchildren will display these moments in their own homes. To see an image, taken with that intent being used in the way it was used is heart-breaking for me."
The question of same sex marriage is one that's been widely debated recently and will continue to be discussed by legislative bodies and argued in courtrooms. There are sincere people who have strong feelings on both sides of the issue, but most observers would agree that this kind of negative attack piece adds nothing to that debate and will condemn anyone who would employ tactics such as these. The SPLC cease and desist letter gave Eugene Delgaudio a deadline to reply. We'll provide updates as this story unfolds. I'm interested in hearing what readers think. Feel free to share your thoughts by e-mailing me at This email address is being protected from spambots. You need JavaScript enabled to view it..
---