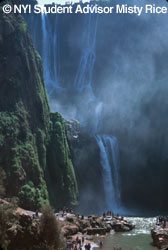 We admit it, our last photo from the Where-in-the-World? photography competition was a tough one, so we were not surprised that no one recognized the location of this waterfall immediately. Alas, it seems as if none of our intrepid readers has been to this beautiful spot as no correct answers were forthcoming. We were hoping to stump you for a little while, but not keep you guessing forever. Therefore, we've decided to confound you with next month's Where-in-the-World? photo instead. But, before we share that intriguing picture with you, let's see if anyone had an funny, amusing or downright strange guess as to the location of last Where-in-the-World? photo.
Christopher Schonwalder incorrectly guessed that this was a picture of Victoria Falls in Zimbabwe where the "rafting trips start." Christopher wasn't alone — many of our readers guessed Victoria Falls, or Iceland, or Yosemite. Alas, you're all wrong. Lucille Corva took one look at that cascading blue water and gave us a homage to Breast Cancer Awareness Month. "It's the "8th Wonder of the World," she said. "The site is a remote area on Plum Island and was discovered by a visiting radiologist. When she looked up she could not believe what she saw. Scientists from all over the country were making pilgrimages to see the "Digi Tal Mammo Graphy Falls". Early diagnosis is definitely the key but, not in this case. Norm Carpenter had us scratching our heads when he wrote "Most people don't know that park officials at Niagara Falls turn down the water once a year to clean the debris from the area. This gives tourists a rare opportunity to walk to the bottom of the falls. There is some talk of discontinuing this practice because of the danger to people who don't realize when the water is being turned back on." However, the winner of our terrific NYIP prize of the Great Photos with Any Camera video is Ron Paquet, who, had a very similar story to Norm's (this has to be an urban legend or tall tale, doesn't it?) but it made us giggle. Ron suggests that "Every year after the tourist season, they shut down Niagra Falls to sweep up the pennies. I would guess for the Governor's slush fund." Congratulations!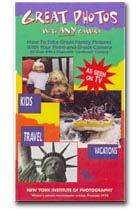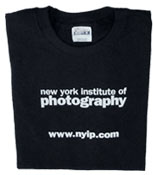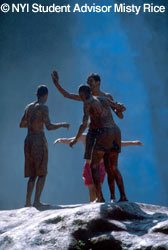 So, Where-in-the-World? is this dramatic waterfall? Since no one guessed correctly, it seems as if we'll have to give NYIP Student Advisor Misty Rice who took this photo of Cascades d'Ouzoud in Morocco, our coveted First Place prize of an NYIP T-shirt. Let that inspire you to be the first person to correctly identify next month's picture!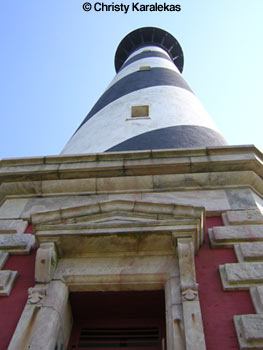 Cascades d'Ouzoud, or Ouzoud Falls, is a great place for photography partly because there are a number of locations from which to take photos when you climb the area around the waterfall. Not only can you take pictures of the water cascading down 110 meters, but get some nice pictures of the little boats that traverse the pool of water at the bottom. When Misty was there, she was able to take some wonderful pictures of people swimming and playing in the mud at the base of Ouzoud. If you're lucky enough to visit there, don't forget to take some pictures of the vendors lining the trail selling tourist items and Moroccan crafts. You might also keep your eye out for the Rhesus monkeys that sometimes can be seen there as well.
Cascade d'Ouzoud is a couple of hours away from Marakeech, Morocco's main city, but well worth the trip of the beaten path.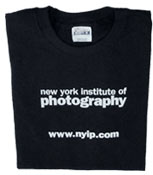 Why not participate in the photo contest and try your hand at guessing Where-in-the-World the month's new picture was taken? To win this competition, just be the first to This email address is being protected from spambots. You need JavaScript enabled to view it. and tell us what we're looking at, and "Where-in-the-World?" this photograph was made. If you're the first one with a correct answer, you will receive the new 100% cotton NYIP T-shirt. Then again, the funny people with fantastically funny answers, while they may be incorrect, will receive NYIP's coveted Great Photos With Any Camera training video. Otherwise, you'll just have to click here to find out how you can order your own copy of the video that will help you take better pictures using an SLR, a point-and-shoot camera, or even a single-use model!
---