The New York Institute of Photography is one of the world's largest photography schools and because we are, we often publish fun and useful photography tips on our photography blog. Please enjoy!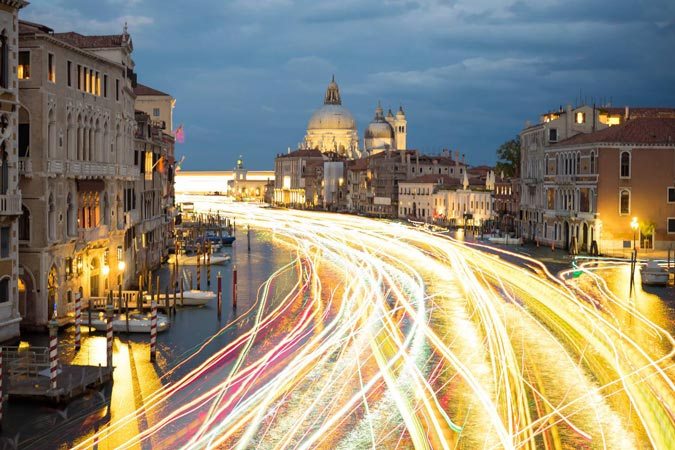 The Academia Bridge in Venice is bustling with tourists from morning until night. At any given point you will find hundreds of people taking selfies and photos of the iconic Santa Maria della Salute church. Considering how often this vantage point is used, it's challenging to create something unique. Yet, as John Lennon sang, "There are no problems, only solutions". In order to make an image that was truly original, I setup my tripod and waited for dusk. Once the sun went down the artificial lights illuminated the domes of the Salute in the distance. Meanwhile, water taxis, vaporettos and gondolas navigated the channel below. Each boat had its own head and tail light on it. I knew a long exposure could render these as long colorful trails.
This is a 12 minute exposure shot on an Olympus OMD EM1 using the live composite mode. This feature is similar to the bulb setting but has a major advantage. By only recording new light onto the frame, overexposure is not possible. As defined by Olympus, "Live Composite seamlessly composites images in lighten mode so that it can capture images without over exposure unlike normal bulb shooting." The amazing thing is you can actually watch the picture develop right before your eyes on the LCD screen. Once the desired effect is created, you end the exposure. While it sounds sophisticated, the mode is actually simple to use. The hardest part of the shot was trying to keep people from bumping into my tripod.
In checking google images for "salute church venice" about 500,000 results come back. This includes shots taken at all different times of day in various seasons and weather conditions. No other image however shows the heavy boat traffic seen here. This is a good representation of how tourism has overtaken Venice. As a UNESCO World Heritage Site, it's estimated that over 60,000 people visit each day. Many are from massive cruise ships that flood the city with tourists for a few hours before returning to sea.
Want to learn more? NYIP offers accredited photography classes that can help you learn photography or start a new career. Request your free course catalog today!
---