As an NYI Advisor, I receive a wide range of questions every day—everything from basic camera operation to the details of professional technique. Sometimes a very enjoyable thing happens: a student asks for advice, puts it to use, then lets us see the results. Recently, NYI Advisor Rachel Neville and I had a few conversations with one of our students, Ben Burnside on his entry into the world of photographing runway fashion shows, and were very pleased to see him get the results he was after. I asked if he would be willing to share his experience and let us interview him about what he learned throughout his photographic adventure.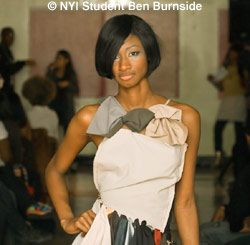 Each Fall and Spring, New York hosts Fashion Week, and a small army of photographers rushes out to the runway shows. Crowding together at the end of the catwalk—and sometimes elbowing each other over the perfect position—they fire away as models parade past wearing the latest looks. They then quickly edit, caption, and send their images to magazines, online publications, and newspapers around the world.
Since the shows are held in all sorts of conditions—in tents at Bryant Park, but also in museums, warehouses, and even outdoors—runway photographers face both technical challenges and the scrutiny of a very opinionated and savvy fashion audience. Tough lighting, fast-moving models, and tricky fabric textures require photographers to think on their feet and have a solid knowledge of their equipment—as well as a good eye.
Most photographers work their way up to the biggest fashion shows, however, learning at smaller events. Recently we found out that one of our students was going to photograph such an event when he contacted his NYIP Advisors for advice, just before the official start of Fashion Week. After a lot of discussion and a few e-mails, NYIP Complete Course in Professional Photography Student Ben Burnside went off to his session as a runway photographer on the weekend, and sent us a link to his photos by Monday.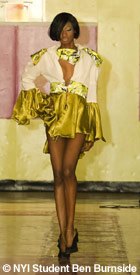 You recently had a chance to photograph your first fashion show as a "runway photographer." What's it like at the end of the runway?
It was great. The design of the runway was like a box. The models would enter the room from one corner, make a right, make a right, and make a right. I was the second right. (The perfect corner in my opinion. By the way, I got there super early and claimed my spot before anyone and held on to it because other photographers expressed they wanted my spot after it all started.) Having the second corner made it perfect because I had an opportunity to see them walk into the room, assess what they had on and prep myself for them to hit the corner and head my direction.
How early did you arrive before the event? How did you check the shooting conditions? What kind of conditions did you find?
I got there about two hours early. I found other photographers there when I got there. The shooting conditions were not the best in terms of a fashion show. I was expecting to photograph at a wider aperture, but I was not expecting candlelight. When I got there it was low tungsten light, but they dimmed the house and that made it an instance for flash to keep my shutter speed high enough to freeze action.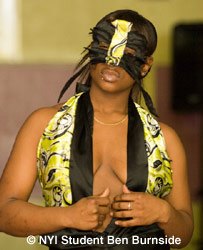 How did you adjust for those conditions?
Well, I realized that flash was necessary. They originally were going to use even less light, but I spoke to the coordinator and let them know that it would create huge focusing problems, not to mention that there was going to be a lot of flash that would probably mess up their presentation. They gave me liberty to change one light which was to my left. I was able to point the light to get a good portrait of the models when they got close. (They got as close as three feet away).
How did you relate to the other fashion photographers at the event? Is there a struggle for a good position at on the runway?
It was very easy in the beginning. One photographer wanted to drift around. (I really didn't see what good that was going to do because the light was going to change constantly and mess up his exposures.) Another took the middle of the side of a runway, and eventually tried to talk me out of mine, then to share mine, but I wasn't budging. I suggested that he take my flanking corner and see what happened. It was actually a good corner because he had good light. One where he was standing, and one facing him. (He still didn't like it, though, LOL.) Others were right at the models' entrance, and other strategic places.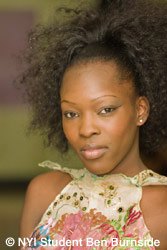 Runway shots are basically a model and a background—how do you see the relationship between the two? Did you try to minimize backgrounds, or include them to set the scene?
I tried my best to make the model the central focus (fill up the frame) of everything. I decided to crop with the lens to prevent a lot of post processing. There were times that would have been hard to do this, though, because I wanted to attempt to get a full body, half body and portrait of each model. I did talk to the coordinator before the show and asked them to move the seating back (6 inches or so) a little so they would be out of the frame as much as possible. Fortunately, I had a zoom lens and was able to get this done, although a great prime could have done the same thing.
What kind of timing worked for you? How did you decide when to shoot?
The minute a model would hit the corner I was ready. I had my focus already fixed on the turning corner. This gave me an opportunity to get that shot the minute they started my way, and the camera was able to keep focus very well under such low light conditions. Thank God for that. Again, I wanted a full body, half body and portrait due to the great advice of Rachel and Ted, both extremely knowledgeable photographers. It would have been a lot harder without their guidance.
What aperture/shutter speed combination did you end up using?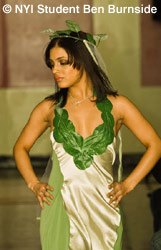 I used f/4 at 1/200 with ISO 500. I didn't want to push it too hard because my flash was compensating for me and I actually didn't want to burn out my batteries too fast. I went through two sets for my flash that night.
About how many pictures did you take at the event? How many memory cards did you need?
210 photos in RAW on one large memory card. I had three cards with me. Just in case.
When you got back from the event, how did you sort through your images?
Adobe's Lightroom did the trick for me! I love that application. You can organize, process (develop as they say) and then share as either a slideshow, print, or even make a web gallery. I ultimately made a web gallery.
Are there any things you would do differently next time?
There's not much. I had a good spot and was able to get the shot with my handy flash. There were instances that I would have liked to get better framing of the models. Making sure I didn't cut anyone off at the joint and that kind of stuff. I would have actually shot at a f/5.6 or f/6.3 to get a little sharper photo.
What type of shooting do you usually do?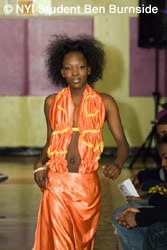 I can't say I've totally found myself photographically, so I'm trying to open myself up to all types of work to do. It's a great way to build my portfolio, and get necessary experience. I can say that I really loved doing this type of work. I could definitely see myself doing this on a more full time basis. I've actually signed up for another fashion show for this weekend. No compensation, but I really don't mind. Again, it builds my portfolio, gives me great experience, and even get a little credit. Either way, I really dig fashion photography.
Why did you want to try runway photography? Do you see yourself moving towards that professionally?
It was something different. I was basically walking all over the city trying to look at from my point of view. What really makes New York special to me. The diversity, constant motion, its pace, architecture and so much more. Things that I believe you could only find in NYC. Nonetheless, I found myself really liking fashion photography. I find myself looking for the next opportunity. I also have an affinity for wedding photography. In fact, I was just hired as a first assistant to a very good photographer in New Jersey. I plan to learn a lot and take my learning to the next level along with my excellent instruction from New York Institute of Photography. It's just what I've been looking for and it's giving me the learning experience that I've been struggling to get.
For more information on fashion photography, don't miss our article "Seven Tips for Runway Photographers".
---