They say that the best client is one you already have. If you are a wedding photographer, you might want to think about how to keep those clients — and the best way to do that is to keep photographing their growing families. Because what happens after the wedding? Babies!
However, if you think you can just easily move from wedding photography into portraits you are mistaken. Everything from how you approach it to how you sell it is different. It's important to understand how to photograph children in every developmental stage, because each stage requires a different skill set to handle your tiniest of clients. Then you can sell the heck out of it because you were able to capture those children doing what they do best — being themselves in their most natural state.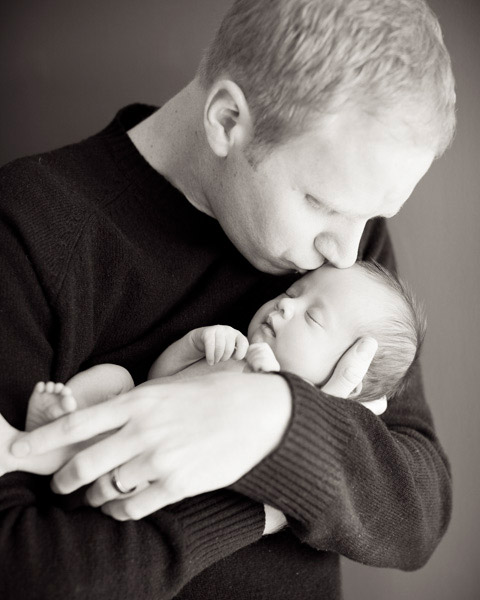 Newborns — Your Tiny Human Subject
So let's talk about newborns. What the heck do you even DO with a newborn? First of all, you must realize that you don't have a willing, happy subject who is thrilled to show off her $4000 Vera Wang gown, but instead you have a drooling, crying (albeit adorable) lump who is more likely to pee on her nightgown.
The good news? This is probably the one and only time you can mold your subject into almost anything, and they won't do much but maybe cry or sleep through the entire thing. It's irresistible to put them in bowls and baskets, Christmas stockings and pumpkins, or wrap them up in scarves and plop them next to puppies. Heck, one time we stuck a baby in a bookcase because she was named after a famous author.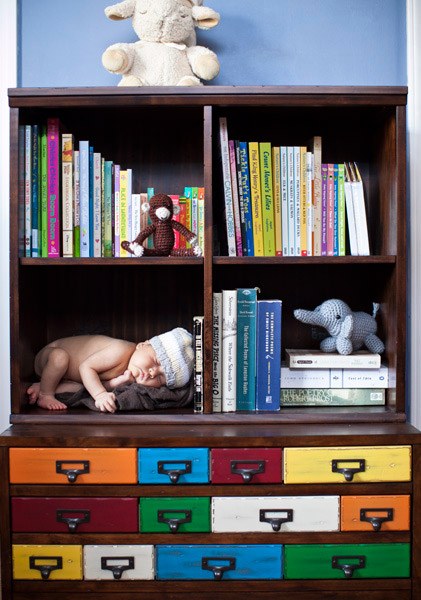 Schedule Early and Be Reassuring
Try to get on the calendar within the first four weeks of a baby's birth. When the mother is still pregnant, get a tentative shoot schedule on the calendar based on when she is due to give birth. The sooner you can get in to photograph the baby, the better. They are only tiny for a limited amount of time, and if you can capture that period, you'll have something worth selling. Sales on babies four weeks or younger are typically quite high because it's impossible to recreate that once it's gone.
I am a big believer in pre-shoot consultations, even if it is just on the phone. You will want to assess the level of anxiety the parents have about their brand new baby being photographed, and discuss accordingly. If you have a nervous mom — especially a first-time mom — display confidence with the baby, and always ask permission before you touch them. In fact, just before you begin the shoot, make an announcement that you are going to wash your hands before you get started so you won't get any germs on their fresh new addition to the family.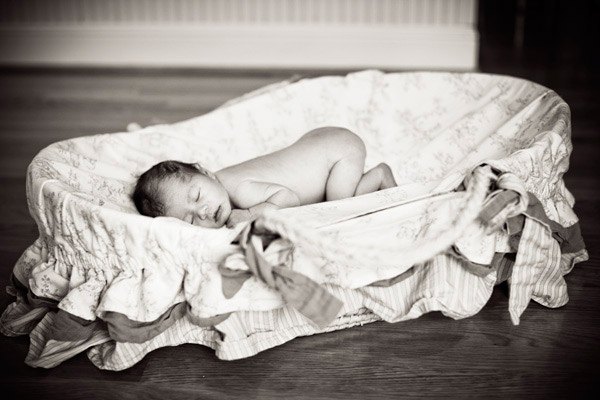 Essentials for Newborn Sessions
You want to come to a newborn shoot armed with a few essential items. One is a hair dryer. The other is a small beanbag. Oh, and infinite patience. Because half the time when photographing a newborn you'll be waiting for him to stop nursing, or crying, or changing, or crying, or nursing, or…you get it. And if you have a first-time mom, then that will take even longer.
So, about that hair dryer. Often you'll want to get a shot of the baby in the outfit they were born in, and there is nothing crankier than a cold, naked newborn. Enlist the help of grandma or dad in keeping a hairdryer on low, aimed directly above the baby so she doesn't get too hot. Not only will the warmth of the airflow help, but the hum of the dryer will also soothe her to sleep, making her the easiest subject you've ever had to work with.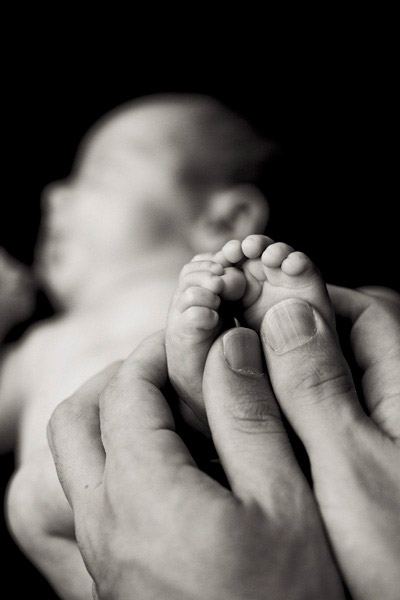 The other essential item is a small beanbag. It's perfect for hiding under a blanket and molding the newborn into whatever shape you like. Babies like to be tucked into tight spaces, and if you can snuggle them into their favorite blanket on a beanbag, you can get some great shots while they are happily sleeping. Keep your hands warm, and gently tuck the child into the position you want. If they start to fuss, wrap your hands around their body and hold them so you create a warm and snug sensation, and generally they will fall back asleep.
Prop Ideas for Newborns
The amazing thing about photographing a newborn is just how tiny they are. Showing relative size is a dramatic way to emphasize this. Photograph them next to a significant item or place them in the middle of something standard size. For example, showing tiny hands and feet next to mom's hands lets you see just how small they are.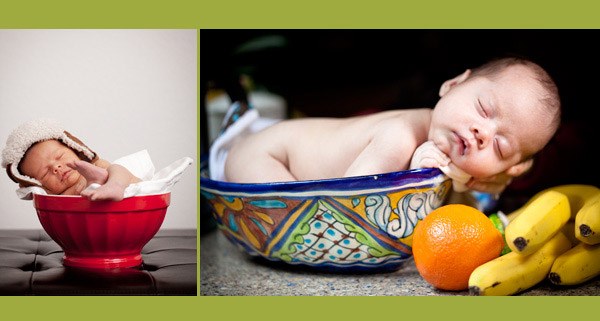 When thinking about what to use for props, I like to use items from my clients' homes (such as these babies in their mother's kitchen bowls) so that it has more significance for the client later. We had fun photographing this baby on the same couch throughout the year to show how he had grown. Don't be afraid to try something new — it could make for some great memories later!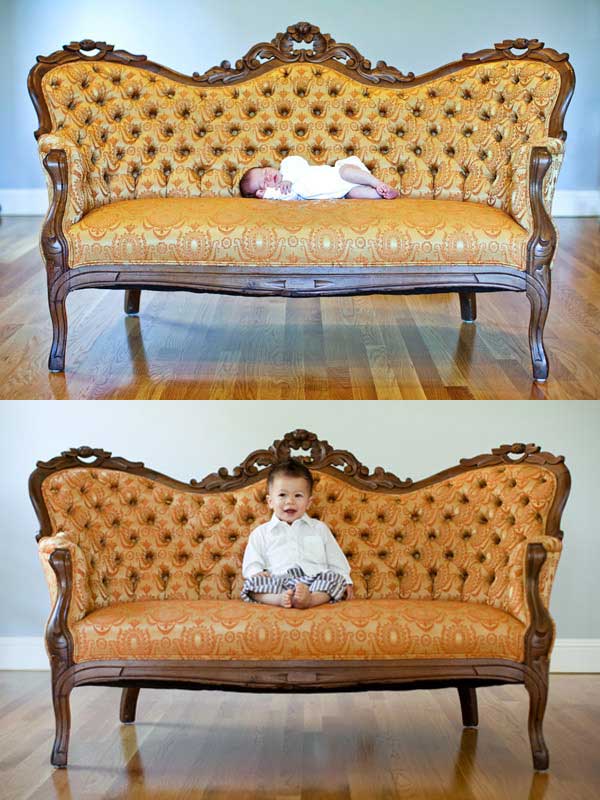 Bonus Offer: Want to learn how to take better photos? Sign up with NYIP today! Request a Free Catalog here.
---