Besides technical skills, the single most important tool you can have in your arsenal is good communication skills. Most people are not used to being photographed by a professional photographer. How that person feels about you may be projected into how he or she feels about the photos. That's why it's your job to make your subject trust you and feel comfortable.
I teach photography, and I always start out my classes by asking for a volunteer to come up to the front. First, I'll ask him to do a pose: "Put your foot forward and your hand in your pocket." However, maybe I meant his right foot and his left hand, and he did the opposite. So, I'll use a cheerful and positive tone of voice while saying, "No, not that way. Put your right hand in your pocket." I'll then continue to ask him to do a few things and correct him by saying, "No, not that way," or, "That doesn't look good," or, "That's not what I wanted."
I then tell him to imagine that I just took the best photos he's ever had of himself. How will he feel about the session? The answer is always, "I thought I did something wrong." Usually, the volunteer will also say he may not like the photos because he felt bad during the session, and he probably wouldn't recommend me to others. This may seem like common sense, but I've been out in the field and heard many photographers correct their subjects using negative language.
I then ask him to stay up at the front while I do things in a more positive way. Without changing any of my instructions or tone of voice, I use positive language. If he does something that needs to be corrected I'll still say, "That looks great." I'll then click and say, "Now let's try…" and I'll show him (not just tell him) how I want him to stand or what I want him to do. I always say positive and encouraging things to him while I'm shooting, even if he is doing something I don't want him to do or if it looks awkward. If my subject continues to do something that doesn't look good or isn't flattering, I might say, "Hey, do you want to see a few pictures?" I'll then have him tell me, "Oh, that accentuates my double chin." The negative comes from him, not me. I can then suggest a few ways to change the pose so he looks great. When I ask the volunteer how he felt when I used positive language and reinforcement, I always hear, "That felt much better."
Here are a few do's and don'ts:
Unless your subject is a professional model, don't ask her to hold a pose too long. The smile on your subject's face will look strained, and she will feel awkward.
Show instead of tell (or show while telling). Show your subject how you want him to stand. It will be easier for him to understand what you want.
Smile, smile, smile. You may be nervous; you may have technical difficulties; it may be hot and you have a leg cramp. It doesn't matter. Keep smiling. This is positive reinforcement. A smile means reassurance and likeability.
Talk, talk, talk. And when you're finished talking…talk. If you are directing a client, it's also reassuring for you to continue talking even if you aren't giving instructions. I often ask for a second volunteer to come up to the front of the class for another exercise. I'll first just give instructions and only a few, "that's great" comments. She will always tell me it felt awkward. Then, I pour it on. The entire time I'm shooting I say, "Now look this way…that's great…you look good…that's awesome…now move this way…oh, you look so good…you're very photogenic…oh wow, that looks great," and so on. I talk before clicking, while clicking and between clicking. When I ask a volunteer if I over-complimented or made her feel silly by the amount I was talking, the answer is always, "I felt more relaxed and like you knew what you were doing."
Compliment your subject, not your photo. I often hear photographers say, "Oh, my photos are turning out so great." (Or something along these lines). It will make your client feel better if he hears, "You look so great in these photos."
Set expectations. Let your client know if you're going to try something technical that may or may not work out. I always say, "I'm going to try something artsy. It may not work out. Is it okay if we spend a couple of minutes, and if it doesn't work we'll try something else?"
Ask your client if she is okay with doing an action, like climbing up a big hill, walking down a dock in high heels or twirling in her dress. Some people are afraid of heights or might have problems with dizziness. Let her tell you if she's uncomfortable. Never ask someone to do something dangerous.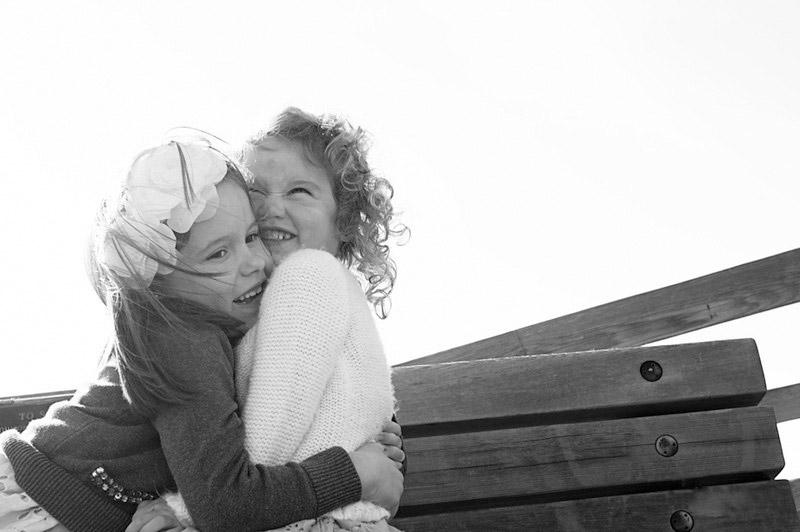 Often, I try to keep posing to a minimum and instead ask people to do things like hug or kiss a cheek. I find the same applies with children. Rather than asking a child to look at the camera or pose, I will often suggest they do something. In this case it was have a "squeeze fight." I appealed to the sister rivalry and got some fun shots.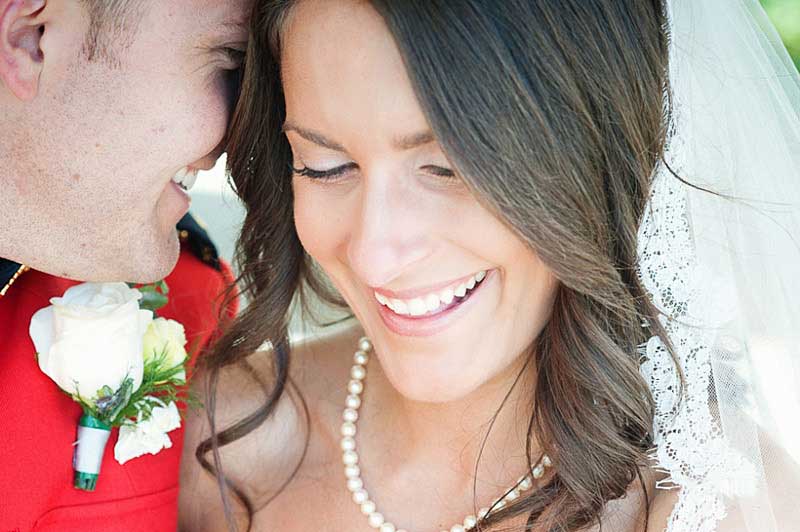 People feel more relaxed if they are paying attention to each other, not the camera. In this session, I asked the groom to whisper something into his bride's ear, and it made her laugh.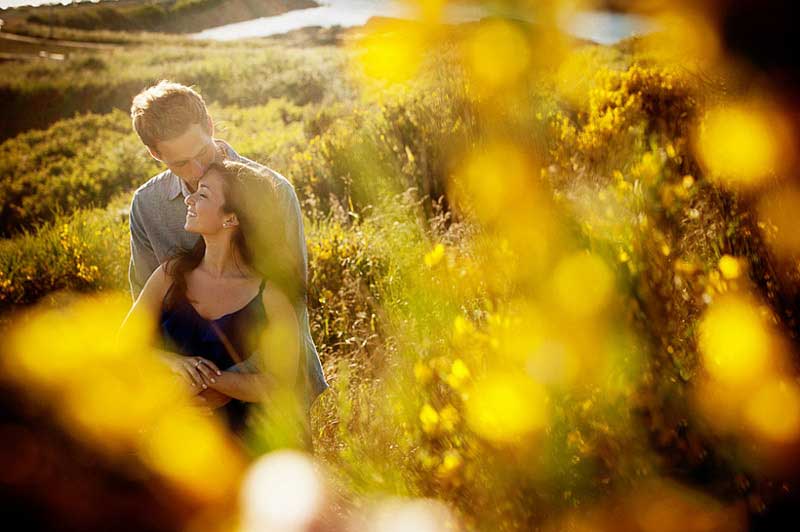 Again, I didn't ask this couple to pose. Instead, I told them to hold each other. I then asked him to kiss her everywhere but the lips and for her to "enjoy it." The entire time I was clicking, I told them how great they looked. Their smiles are natural, and the photo captures the love they have for each other instead of their relationship with my camera. Sometimes I'll ask a couple to say "I love you" to each other while I'm directing them. Saying terms of endearment always relaxes their faces.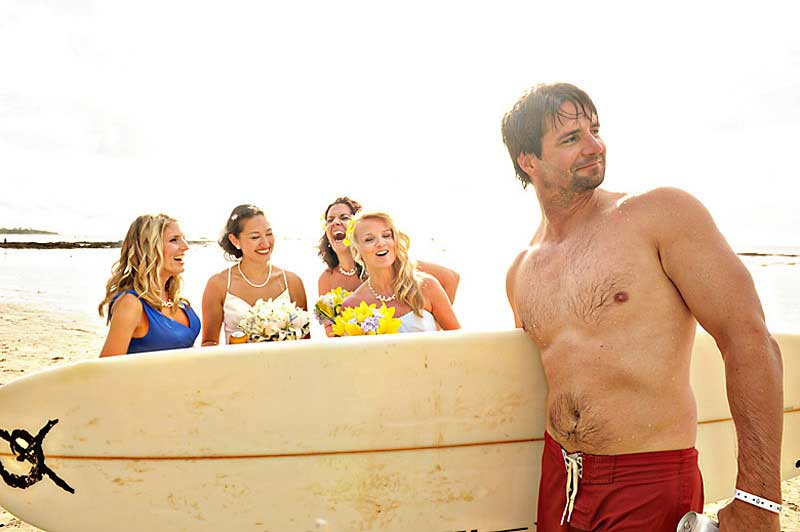 We were on a surfing beach, and we asked a good sport to pose for a quick photo. I told him to look away because "he's too good looking for them." This made everyone laugh.
I wanted to position this couple in a way that took advantage of the light. I explained ahead of time that I wanted to ensure her face was in a certain direction. I told her to lie on his lap and for them to look at each other. I took a few photos and asked her to position her hand in different ways. This gave them something to do while they were holding the same position. Every time I made a new request I said, "That's great. Now let's try…"
Bonus: If you want to learn more about photography and taking better photos, try a photography course from NYIP today! Request your free photo course catalog here.
---