Have you ever experienced the disappointment of missing a photographic opportunity because your flash was recycling? You suddenly find yourself transformed from a photographer into just another spectator as the golden moment flies away.
When you are photographing fast-moving events such as a baseball game, it's important to consider the equipment you are using. Unfortunately, many lower-priced consumer level digital cameras aren't very fast. In addition to flash recycle time, digital photographers must contend with two new problems, namely, shutter lag and camera recycle time.
Let's discuss each one separately.
Shutter Lag
For anyone who has used a point-and-shoot camera, shutter lag should be pretty familiar. You press the shutter button and a short period of time elapses before the exposure is actually made. Most digital cameras, much like their point-and-shoot counterparts, rely on auto-focus and auto exposure features that slow down camera operation. It's possible to compensate for this time lag by anticipating the action and pressing the shutter a split second before. This is dicey at best.
Camera Recycle Time
Most sports photographers utilize expensive professional cameras that allow for fast sequential shooting. Sometimes, this is the only way to capture the decisive action shot. Although digital cameras don't require film to be advanced before the next shot is taken, they do require that each image be processed and stored on the installed memory card. Here's the sequence of events: the shutter is depressed, light energy is converted to digital information, then the digital information is compressed as a JPEG, and finally written to the memory card. Don't forget that the type of memory card you are using will determine how fast the file is written. (For example, CompactFlash is typically faster than SmartMedia.) In fact, the higher the image quality, the longer the processing will take. That means a highly compressed image, suitable for e-mail, will transfer much quicker than a RAW or an uncompressed TIFF file. If you are anything like me, you want the highest quality images ALL the time and that means longer recycle times between exposures.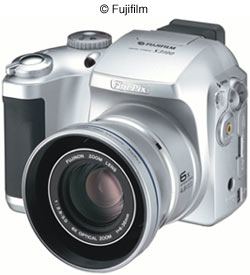 Prosumer models are stepping up to the plate
A few of the better prosumer digital cameras are solving these slow exposure problems by storing the image data as it is captured to a buffer before it is written to the card. By temporarily storing the image data in this way you can make fast sequential shots just like expensive 35mm cameras with motor drives.
Remember that cameras, digital or film, are just tools. It's important to choose the best tool for the job. Batter up!
For more baseball photo tips,click here:
Learn all about the best cameras and eqiopment in one of NYIP's online photography courses
---