Student Success: Student Profile Carl Auer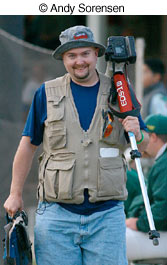 Sometimes a twist of fate can make all the difference in the direction person's life will take; for Carl Auer, it was a simple matter of having a drivers' license when he was a sports reporter for his high school newspaper.
The photographer, who was only a freshman, couldn't drive, and so Carl bought himself a used Pentax K-1000 and a cheap Vivitar lens so he could photograph some games. "I really liked it, and I had fun telling stories with my photos," he said. "The freshman photographer taught me how to develop my own film and make my own prints. That was the beginning for me."
After high school, Carl continued to pursue his passion for photography by taking classes at the local junior college. "And of course, as with most majors, once I finished, I went to work in a different field," he said.
Instead of taking the leap into photography at that point, Carl went into retail sales, where he was able to call upon his background in photography a little, but not as much as he wanted to. But after a few years, fate again turned her hand, and Carl went to work as a mechanical designer for an engineering firm north of Seattle.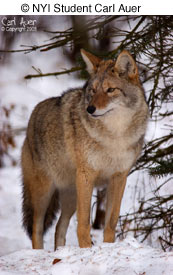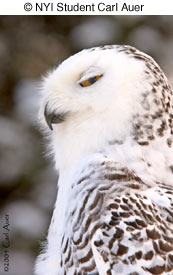 There, the company was doing "a lot of high profile jobs that were not really being documented by the company," and so Carl offered his services.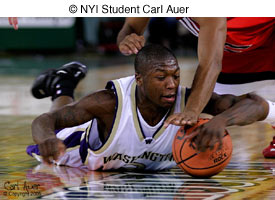 The New York Institute of Photography came into it when Carl realized he'd "better take a refresher course in photography.".
"I had heard great things about NYI, so I thought it would be the place to start. The information I received was enough to kick start my drive again," he said. "It reminded me to watch how I compose images, how to use filters, and so much more. I actually started getting too busy shooting photos to even think about the assignments."
Because Carl already had some experience with photography when he took the Course, it helped him to go over information he already had learned. "I liked the fact that the lesson books are full of info, but in plain English," he said. "That the videos are easy to watch, and the tapes are great. I still use the lessons when I face a new project that I am not used to shooting."
Since Carl now lives and works in Alaska, he has to be ready for anything. "Being a photographer in Alaska is exciting, because around any corner you could be face to face with anything from a Bald Eagle, to a bear or a moose. So, needless to say, I carry a camera with me at all times."
The natural world is all well and good, but the thing Carl most enjoys about his profession is the people.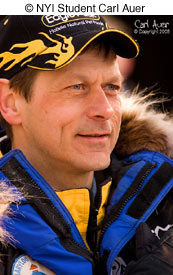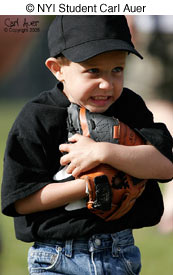 "One day I could be photographing a middle school basketball game, the next day it could be Ms. Alaska singing the National Anthem before the College Basketball Player of the Year takes the court, or covering a press conference with senators, diplomats, and celebrities."
Because he's in Alaska, Carl has to work hard to stay on top of deadlines, as he's an hour behind West Coast time, so he has earlier deadlines if he's submitting to a newspaper in the "lower 48."
"In order to meet an 8:00 deadline in Seattle, I have to upload before 7:00 Alaska time, and that can be tough when it is an event that starts at 7:00."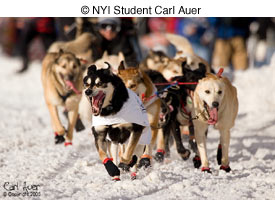 Carl's interests continue to grow and change. Currently, he's shooting a local college summer league baseball game, "getting some action shots for baseball cards, and I am in the process of signing freelance contracts for the AP and a local daily news paper, so, I think I will be pretty busy shooting what I love to shoot," he said.
Fate has also led Carl to now be teaching sports photography workshops, and he's just been credentialed for the 2006 Iditarod — "and I am planning on being at the start and the finish for the race," he said.
Carl's work can be seen at his Web site, www.digital-eos.com. In addition to his work as a freelance sports and media photographer, he's a senior member of SportsShooter.com and the moderator of the Sports Corner at www.fredmiranda.com.
---
Next Article

When asked about subject matter, most beginning photographers will name people, animals, landscapes and nature as their top picks. Not many would say they just love going out and shooting a giant backhoe, or a derelict building in the shadows of dusk. But then, NYI Graduate John Kerkacharian isn't most photographers. He is one of those photographers who has followed…