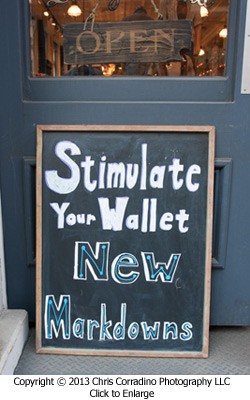 I'll never forget my first camera buying experience. I wanted to pay with a credit/debit card and the salesperson started waving his arms, yelling "Plastic!? Noooo...come on....show me the green, show me the green!" I think his outburst left an impression on me. Here are five things you should know before stepping foot in a camera store.
Your choice of lens will ultimately have a bigger impact on the clarity and sharpness of your images as opposed to a camera with more megapixels. You are better off spending less money on the DSLR and investing the savings in a high quality lens. This means staying away from the basic kit lenses like the 18-55mm or the 55-200mm, and stepping up to a faster, better made lens. This could be a zoom like the 18-135mm, or a 24-105 f4, or maybe some prime lenses like a 50mm f1.4 or 85mm f1.8.
The UV filter, also known as the "Skylight" filter, will not make your skies look any better. In fact, putting an inexpensive piece of plastic or poorly made glass filter will degrade the overall image quality of the expensive lens you just invested in. Still, I have seen beautiful lenses smash to the ground only to be saved by the completely obliterated UV filter which lay in hundreds of tiny shards. The lens was fine! If you tend to be hard on your gear and want the extra protection, use a Tiffen or Hoya UV which are known for their quality.
Those little lightweight aluminum tripods that sell for $75 will break shortly after purchasing it and should be avoided at all costs. Even before they fall apart, they are not stable, and are quite awkward to position the camera properly. For a detailed look at finding the perfect tripod, check my article here.
Rather than purchasing one memory card with massive storage capacity, you are better off with several smaller capacity cards. If the card is stolen, lost, damaged, or corrupt, you lose all of the photos from that journey. Stick with Lexar and Sandisk as they have proven to be the most reliable manufacturers.
The "extended warranty" is overpriced and unnecessary. Most new cameras come with a one-year manufacturer's warranty right out of the box. If something malfunctions you send it in and they fix it for free. Should something fail after the initial warranty period, they will still fix it, but charge to do so. Ironically, most of these repairs cost far less than the cost of the extended warranty. Even something extreme like a blown shutter is a reasonable repair in comparison to these expensive extensions.
Getting the right camera will be important on your journey, but so will taking classes at a photography school that has been a leader in photography education for over 100 years!
---