I don't know about you, but in my photographic endeavors I've always been looking for ways to bring that extra sparkle to my work. When I switched to shooting digital photography a few years back, I felt something was missing in the images. There was a quality in film that was lacking in my digital output. I loved shooting film because of its organic and raw qualities, richness of colors, and grain. So when I started experimenting with digital photography, I've been searching for ways to transform my digital images to look more like film. Then I discovered Alien Skin's Exposure software.
Exposure lets you simulate many different types of films. It allows you to shoot digitally while giving your images the look and feel of your favorite slide, negative, or Polaroid film, just to name a few. Not only that, but in the settings of the film you choose, Exposure lets you define the size, roughness and intensity of the grain, contrast of the filter, and the saturation of the colors. Exposure 3 actually lets you add simulated scratches and other grunge effects. Since finding Alien Skin Exposure, it has been my favorite Photoshop plug-in-my favorite digital tool in general. Every image that leaves Ella Manor Studios has been treated with Exposure. It's the best!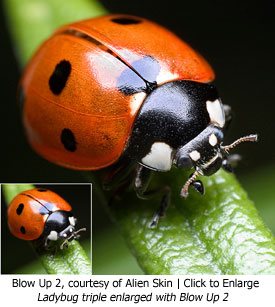 It doesn't end there though; Alien Skin makes other useful and creative software too. Blow Up 2, for example, is a filter that helps make significant enlargements to your photos with virtually no loss in quality. This feature is useful when you need to print oversized images for an art show, a billboard, or any other large-size print output. This could also be useful if you somehow got stuck with a smaller file and need a good way to enlarge it for print. For those of you who require large format printing and may not be using equipment that produces files suitable for large format printing, you might want to consider this plug-in. I've found Blow Up 2 to be a life saver worth the extra investment.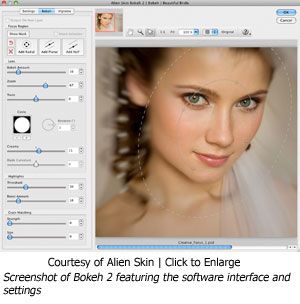 I'd also like to touch on Alien Skin's Bokeh software; it mimics effects created with specialty lenses, in a similar way to Lensbaby lenses (see my recent Lensbaby Creative Lenses Part II article.) In Bokeh, you can create an effect similar to what you would get if you shot with a view finder camera, Holga, or Diana. You will be able to choose the size, shape, orientation and location of your sweet spot (the sharpest area in the composition); there's also feathering, zoom ability and control over the amount of blur, creating effects like tilt-shift, depth of field, motion, and vignette. The controls are easy to understand and simple to test and experiment with.
Another phenomenal Software from Alien Skin is called Xenofex 2 and delivers 14 real world effects. With Xenofex 2, you can simulate natural phenomena in your digital photos such as lightning and clouds and transform them into interesting photo illustrations. Distortions like Flag and Television let you recreate your imagery into something new and exciting. Other transformations include jigsaw puzzles, crumpled paper and burnt edges. I especially like the television effect, in which you can add a curvature to the image, to make it look like an old television screen. You can also create scan-lines over the image, control their thickness and strength, or just use the existing settings to create effects like security camera or bad reception. See the image below to find out what these effects could look like.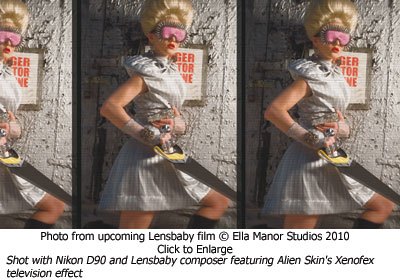 The last Plug in I'd like to discuss is Image Doctor 2, another popular Alien Skin plug-in which easily fixes imperfections in digital images, replacing unwanted objects with seamless background fill. Image Doctor 2 quickly restores old photos or retouches new ones. It removes undesirable items and repairs blocky JPEG images with one-click. Image Doctor 2's unique software algorithms can save what would be the perfect photo from the trash bin while saving hour upon hour of Photoshop work trying to fix it. This could be a great solution for those of you who are less knowledgeable in retouching, or who have certain time constraints when it comes to post production and are looking for a quick fix.
Anyone can find a plug-in that gives them the exact solution they were looking for and didn't know existed. The right plug-in can make your experience as a photographer more seamless and simple, allowing for concentration on shooting and not having to necessarily create certain effects in camera.
---