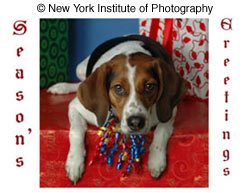 Introduction
"Mother died today. Or maybe it was yesterday, I don't know."
These electrifying first sentences of The Stranger by Albert Camus caused a stir when first published in the 1940s. Camus's novel was considered a classic of existentialism, a philosophical movement much in vogue in the middle of the last century, with roots that go back much further. My Webster's New Collegiate Dictionary defines "existentialism" as "embracing diverse doctrines but centering on analysis of individual existence in an unfathomable universe and the plight of the individual who must assume ultimate responsibility for acts of free will without any certain knowledge of what is right or wrong or good or bad."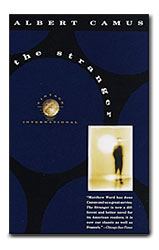 Sounds a bit scary, doesn't it? The existentialist plight also sounds a bit like the formerly "brave new cyberworld" to which we're now accustomed. Is that official looking e-mail really from your bank, or is it someone phishing? Is that person you meet in a chat room really a successful venture capitalist or a scam artist? Was the authoritative analysis on the medical condition affecting a family member written by someone who knows what he or she is talking about, or a charlatan?
When we sit alone at the keyboard, it's not entirely inaccurate to describe our situation as "individual existence in an unfathomable universe?" And don't we have to "assume ultimate responsibility' without any certain knowledge of what is right or wrong?"
There's no going back, but I'm going to take a moment to reminisce before we get to the crux of why I believe this is an age of both great opportunity and also great responsibility for photographers.
Background: Not So Long Ago
My father died thirty-plus years ago. But sometimes it feels like yesterday.
One of my students had the unfortunate experience of losing his father unexpectedly a few weeks ago. He was very upset naturally. I didn't have much in the way of solace to offer, other than that in my experience one's parents are always present in a sense – in a dream, in a recollection, in a situation where what they taught you helps you make the right decision.
My father had been a TV executive, and in his day, there were three networks (Fox had not been born) and "educational television." In the mid-1970s, four channel options were all that existed in most cities. Cable TV was something for mountainous areas where antennas couldn't pull in a clean television signal. There was no fax, no Sony walkman, no personal computers or cell phones, no CNN or MTV, and needless to say, no Internet, no e-mail and no identity fraud to speak of.
There were hot consumer electronic items back then, and one that fascinated my father was a simple Texas Instruments calculator with those pre-lcd green display lights. Then there were cameras, which had limited need for electricity at that point in time, and were not hot consumer items. Nikon had recently introduced the F2, the reigning camera for professionals of the era. Amateur cameras were very poor. Auto exposure point-and-shoot 35mm models had not been invented
Today: Congratulations! You are Time Magazine's Person of the Year!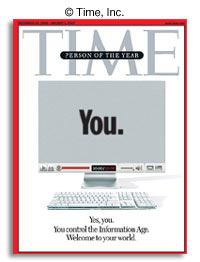 There have been some big developments in photography and related media in the past thirty years.
First, the gear got really good. And cheap. And then the broadband Internet world gave us all the opportunity to create content for everyone to view.
Now anybody can buy a good digital camera or digital camcorder, a laptop and some other stuff and become your own television station or newsblog. Want to learn more about the civil unrest in (let's say) Mexico's Oaxaca Province? Just type "Oaxaca" into YouTube.com's frustrating search mechanism (Good thing Google shelled out $1.6 billion for YouTube a few months back – if anyone can fix YouTube search, they can.).
You can see lots of videos made by people participating in the months of civil unrest that rocked this beautiful area of Mexico. If you look around a little, you'll see a 90 second video, the last ever filmed by the late Brad Will, a New York resident with a long activism background who went down to Oaxaca with his digital camera to record events and got killed by gunfire. The moment when he's hit by a bullet is painfully clear.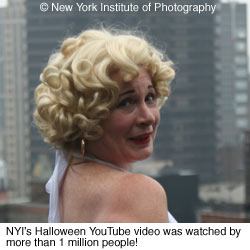 One last quick digression: Not only are you the person of the year, but I am too. We all are. Actually for me, it's the second time I've been so honored. If you scroll down this list of characters, you'll see that in 1966 it was Twenty-Five and Under – my generation!
Just think, it was only 15 years ago that Bruce Springsteen lamented in song, "Fifty Seven Channels (and Nothin' On)". Now, there are an infinite number of channels, and everything is on.
So What?
Let's start with three good things:
First, it still starts with good photography. Whether you're working in still photographs or video, composition, lighting, and creative use of the tools of focus, shutter speed and exposure are still key to content. Learning to get the most out of today's powerful digital cameras is the first step.
Second, everyone else is doing it, so you should too. We posted our first video spoof, Project Redeye, on YouTube just before Halloween. Today almost every professional photographer has a Web site, but many also have MySpace pages and a presence in other venues as well. There's a professional wedding video outfit in Toronto that's been posting all kinds of demo work on YouTube.
Third, the power of photography has just increased again – a lot. I've been writing about this for years, but it's incredible how badly each new medium needs photography. Watch any new story age on CNN or Fox News. Every hour or so, you'll notice that the still photo changes, whether there's a new angle on the story or not. Pictures! Pictures! Feed me!
As I've noted many times, the opportunities for the colossal day rate specialty photographer have dwindled, but there's a huge demand for what we do. The possibilities are endless.
One sobering note:
There's a lot of ugly out there, as well as deception and temptation. That means we all have some responsibility. Not long ago, the world was shown a Web cast of the beheading U.S. citizen Nick Berg who had been kidnapped by Iraqi terrorists. In the past year several photojournalists have been caught doctoring photos. As digital tools have gotten better and better, they can capture the imaginary as "realistically" as real things. It's up to us as the makers of the images to maintain a sense of standards and ethics.
The need for standards isn't new, of course. Back in 1980 the New York Post ran a picture someone had taken without permission of John Lennon's corpse in the morgue just hours after he had been shot to death.
It's rare that great opportunity doesn't come without the need for judgment and a sense of right and wrong.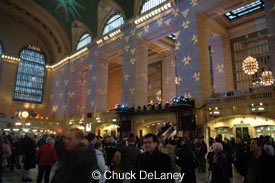 Today, as I often do, I got out of the subway and walked into New York's Grand Central Station. What a great place it is. Today, it dawned on me that between the subway and rail connections in and out of Grand Central, a person can start a trip to anywhere from there. It is a hub to the entire world. So too, photography has taken center stage in the daunting web of communications that we enjoy today. A picture from your cell phone can travel anywhere in the world in a few moments. Security cameras record more and more activities of people in major cities in the world. People are using photographs in all kinds of interesting ways.
The "unfathomable universe" that cowed the existential world seems both very small and very large at the same time. It will grow in ways we can't imagine today. The adventure is there for all of us.
Best wishes to us all for a healthy and peaceful New Year.
---