Photo by NYIP Student Jeong Hwa Min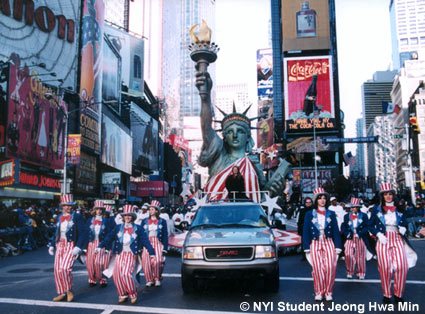 It all started, officially, on July 4, 1776 in Philadelphia, Pennsylvania – my hometown, by the way. They rang the Liberty Bell and proclaimed liberty throughout the land to all the inhabitants thereof. I wasn't actually there though some might think so.
It was a great day, America's birthday! The United States of America, a term first used in the Declaration of Independence, became a reality and patriotic Americans have vigorously celebrated that birthday ever since.
What better subject for our NYIP Picture of the Month! NYIP Student Jeong Hwa Min, a New Yorker from Long Island City (just across the East River from Manhattan) made this excellent photograph depicting a variety of American patriotic symbols and a number of other cultural icons, too all in one broad expansive photograph.
The width of the picture is an important element, I think. Ours is a big wide land and about as tall as it is wide; the addition of Alaska and Hawaii make it even bigger. You just can't comprehend America quickly, easily. You need to scrutinize this great country carefully.
What do I see here? Why, there's a replica of Miss Liberty – give us your tired poor, your huddled masses yearning to be free, as Emma Lazarus said. And there's about a dozen pretty girls in Uncle Sam outfits and youthful marchers in baseball caps. A General Motors truck and a Coca-Cola sign. Howard Johnson (a double dip tutti-frutti cone, please). And so much more.
I can hear, in my mind's ear, George and Ira Gershwin's Strike Up the Band, John Philip Sousa's The Stars and Stripes Forever, Georgie Cohan's You're a Grand Old Flag. But for all the hoopla, bonhomie, and birthday zeitgeist I can also hear bittersweet Taps at Arlington, The Battle Hymn of the Republic at Gettysburg, The Bonnie Blue Flag at bloody Shiloh.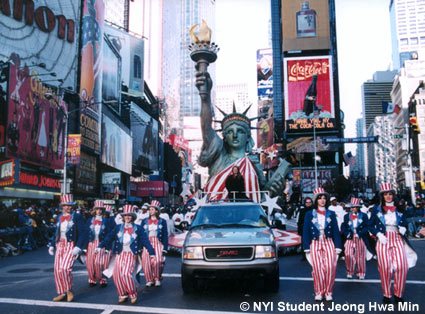 But most of all I hear Woody Guthrie: "This land is your land, this land is my land. From California to the New York island, from the redwood forests to the Gulf Stream waters, this land was made for you and me."
Viewing this photograph in terms of the famous NYIP Guidelines, there can be no doubt that Jeong Hwa Min has very strong subject matter as his theme. The first NYIP Guideline has been well served here. The emotional response to patriotism, whether in the form of jubilant celebration or solemn memorial service, is powerful and of considerable interest to millions of viewers.
The second NYIP Guideline explores means for focusing attention on the subject. I've already mentioned the importance of the width of the photograph. You could not do justice to this photograph unless you allow the subject matter to expand from one side of New York's Times Square to the other.
Yet another means of focusing attention on the subject can be seen in the clutter of the picture. Yes, it is cluttered and yes, NYIP does tell its students to simplify the picture (third NYIP Guideline). So, are we contradicting ourselves? No, of course not. Times Square is indeed a cluttered crowded area even with a parade. In order to get the true feeling of that gaudy and overblown area you simply have to fill it up with buildings, advertisements, crowds of people. It's Manhattan in New York, not Manhattan, Kansas!
It's hard to write about simplifying the picture when I've just talked about how deliberately cluttered the photograph is. But I feel that the clutter is in this case an absolute necessity.
---