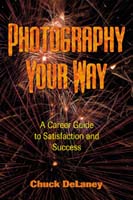 Background: It's out! My latest book, Photography Your Way: a Career Guide to Satisfaction and Success ' published by Allworth Press, is in the bookstores or, you can purchase it on line at allworth.com, bn.com or amazon.com. I've done my best to put everything into the book that I know about how to get started in photography and how to create your own breaks in the field. I hope it helps you.
But, NYI Students know that I would never "sell down your throat" and push my own book, unless there was a good reason to do so. And there is a good reason. I had so much fun writing one chapter, entitled "Show Me!", that we decided to turn the concept into an ongoing digital contest, an on-line exchange between us, here at NYI World Headquarters and all you wonderful Web visitors out there wherever you are ' all around the world.
The general idea is simple ' I pick a topic that I think would provide interesting photographs that I would enjoy looking at. Often I try to pick a topic that doesn't get as much coverage as I would like to see. Other times, we'll ask for something relatively simple. The idea is to help you hone your skills finding new ways to tell an unusual story or a common one.
If you're a first-time visitor to this feature and want to learn how "Show Me!" works, see the "Show Me!" Information and Rules of Engagement, Release 3.0 at the end of this article.
Ah, there's nothing like a Monday morning...or a Tuesday morning, or a Wednesday...well, you get the drift. So did all those photographers who entered our "Show Me!" Early Morning contest. Bleary -eyed or not, many of them got up at 6 or 7am, grabbed their cameras and took some wonderful photographs early in the morning. We expected to see photos which pictured all those characters you see at the crack of dawn, like the newspaper delivery guy, the sanitation workers, kids waiting for the school bus and more, but people were not the subject of most of the photographs we received. Most of the entries were beautiful scenics, making those of us city folk who commute through metropolitan areas every morning very jealous. However, before we show you what you showed us, let's check out the "Show Me!" contests you can still enter.
CLOSED CONTEST: ' Wheels ' Deadline August 20, report in the December issue.
Whether it's public transportation, your own car, bicycle, skateboard or a Segway, wheels are a necessary part of everyone's day. So, "Show Me!" the wheels in your life. Don't limit yourself to transporation either, if you encounter wheels of a different sort, send their photos on in. And, remember, the "wheels on the bus go round and round" so feel free to illustrate movement in your photos of the wheels you encounter.
SOON TO CLOSE CONTEST: ' Summer Events ' Deadline November 20, report in the January issue.
Summer is the perfect time for this contest. In communities all over the world, summer means street fairs, craft shows, parades, county fairs, baseball games and outdoor concerts. So, "Show Me!" the events that get you out into the world this summer. Hop on a hayride, jump on a float, hang out on the sidelines or in the middle of the fray, but bring your camera and "Show Me!" your favorite summer event.
NEW CONTEST: ' Walking the Dog ' Deadline December 20, report in the February issue.
Ok, it can be a cat, a parrot or any other pet friend that you can romp outside with. One of the funniest photographs I ever saw was an elegant woman walking her pet tortise on a leash on Fifth Avenue in New York City. The looks on the faces of the people passing by her was priceless! And remember, New Yorkers are notorious for being blaise, so this was something special. Now, we're not suggesting that you need an unusual pet to parade down the street with. Just that take some great photographs outside with the pet or pets in your life and Show Me! your version of Walking the Dog!
Early Morning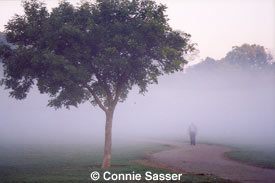 Connie Sasser was walking in a park with her husband early one Saturday morning when she came upon this eerie and beautiful scene.We received a lot of entries that had similar elements ' winding paths, lone walkers and fog ' but Connie's photograph was the only one that put all of these elements together in one picture. Notice the strong composition of this photograph which effectively uses the Rule of Thirds ' notice how the path starts at the bottom right of the photo and disappears into the fog on the upper left. Congratulations!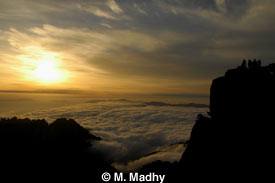 M. Madhy of Hong Kong sent in this dramatic early morning sunset photograph which was taken at Huangshan (Yellow Mountain), in Anhui Province, China. Those are clouds in the center of the picture between the cliffs, not waves rolling in. One of the reasons that this photograph works so well is the fact that there's multiple areas of interest which draw your eye from the bright yellow sun on the right to the billowing clouds below to the silhouetted figures on the rocks on the right. Beautiful!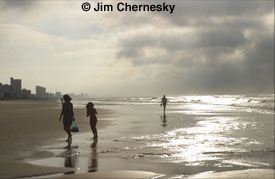 Jim Chernesky calls this photograph "After the Storm" because he took it early one morning after a hurricane had hit Myrtle Beach, South Carolina the evening before. The still ominous looking clouds are a nice counterpoint to the strong sunlight glistening on the water. The two girls silhouetted in the foreground help balance the picture. We hope that Jim took a second shot as a vertical, isolating the lone beachcomber, because that too would have been a wonderful photograph.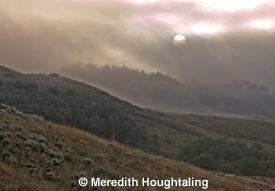 Getting up really early in the morning enabled Meredith Houghtaling to take this picture in her daughter's "backyard". We suspect that Meredith had to wait patiently for just the right moment when the clouds perfectly obscured the sun, but the wait was definitely worth it. Now, all this picture needs is a rainbow arching over the mountains or a deer standing on the grassy knoll...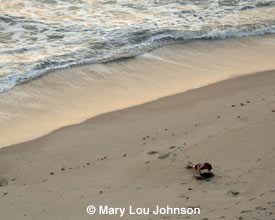 Mary Lou Johnson, of Longboat Key, FL photographed this energetic woman doing her morning workout routine from the window of her eighth floor hotel room. As Mary Lou puts it, "What a gorgeous gym! No monthly fees!" Sure beats the dingy, smelly workout rooms so many of us spend time in! Notice the strong diagonal lines in this photograph which adds a good bit of dynamic tension to the photograph. Our only question ' wouldn't the pushups be easier to do looking at the ocean instead of turning your back to that beautiful scene?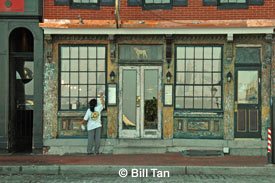 Bill Tan of Westminster, MD captured this early morning scene of a woman washing the windows of a bar in Baltimore's Fells Point. It's an area Bill says has the dubious distinction of having the more bars per city bock than any other neighborhood in the city. This was one of the few photographs we received which featured a person, though it is the interesting building which truly is the subject of this picture. We liked the muted colors of the bar ' notice the streetlights reflecting in the windows ' which are a nice contrast to the bright red brick on both the sidewalk and on top of the building.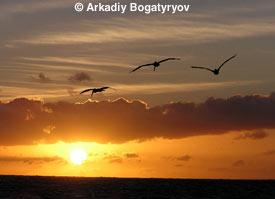 Here's another sunset photo this time taken by Arkadiy Bogatyryov of Little Neck, NY. The bright colors and rich black tones are what made this picture stand out from the many sunset photographs we received. Arkadiy photographed this lovely sunset in the Dominican Republic at 6:30am. You may not be able to see this onscreen, but the birds are beautifully backlit against the sky, helping to draw attention to them. Nice job!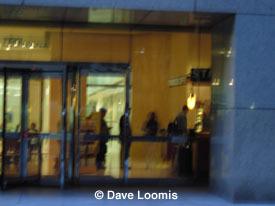 Out of focus on purpose? This time, we think so as Bob Gates of Spring, TX deliberately photographed this coffee shop line from a moving vehicle with his camera set to the "Sunrise" setting. The soft-focus dreamy look of this picture goes along with Bob's prose: "Early in the morning your eyelids are heavy and barely open, the world around you is a bit out of focus until you reach the head of the line at your favorite coffee spot……. and have a chance to become fully awake!" Don't wake me, please!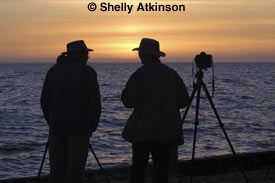 Finally, no early morning photography contest would be complete without a picture of photographers awaiting the perfect shot (sans caffeine). Shelly Atkinson of Stafford, VA was at a photographers' workshop and said she almost didn't get out of bed that morning after having been disappointed by the weather the day before. Fortunately, Shelly did get up and was rewarded for her early morning perserverance with this shot!.
Thanks to all the photographers who shared their camera phone images! Next time we'll feature the winning photos from the "Show Me!" Wheels contest. Continue to send in your entries for all of the open contests!
Good Luck. We hope you enter and we look forward to seeing your submissions.
What is "Show Me!"?
The "Show Me!" chapter in my book is designed to offer some suggestions for self-assignments. These are photo subjects that I don't think I've seen fully treated, or at least not in recent times. I've been thinking up assignments for years, and I often share them with students since I know I can think up a lot more subjects that I would like to photograph than I'll ever be able to get around to in the coming years. Hence, I'm happy to share them with you.
How "Show Me!" Works:
Each month, there's a new subject put into play and we close out and review the subject that was announced 2-1/2 months before. That means you have about 80 days to make photos and e-mail them to us. Where and how to send them is explained below.
Why do we give you 80 days? Why not, in this rush-around world, give you 8 days, or for that matter, 8 minutes? Well, it's because we've found that it still takes you some time to get it together. Lots of you want to actually think about the subject and then go out to make some photographs. That's excellent. Then, since lots of you are still using film, you need some added time for processing and scanning. That's fine too, and that's why we give you 80 days.
The month after a contest closes, we post the most interesting images we've received. Sometimes we offer up some comments and suggestions, along with a new "Show Me!" assignment. Prizes are awarded at the discretion of the Dean.
What are the Rules?
Glad you asked. Here are the Official "Show Me!" Rules of Engagement, Release 3.0"
Photos may be e-mailed only as jpg files no larger than 800x600 pixels, 75 d.p.i. only. Send the file as an attachment to your e-mail to This email address is being protected from spambots. You need JavaScript enabled to view it.. DO NOT send them to any other school e-mail address.

Include your name, address and any other information in your e-mail. This could include additional comments or data about your photo, along with release information.

Files submitted for this contest that don't meet the requirements in rule number 1 will not be considered.
You can also enter ONE photo print per contest. It must be received at NYI by the close of the contest period. No prints will be returned. DO NOT send originals. Make sure your name, address and telephone number are included on the back of the print. Prints larger than 8x10 won't be considered.
By submitting an image to "Show Me!" you agree to the following terms and conditions

You certify that the image you submit is an original image that you created.
You allow us to use your image on the Internet anywhere on www.nyip.com or www.photocourses.com, and for use within NYI educational materials in printed or electronic form.
You can supply releases if required for anyone shown in the image, or a property release if necessary.

A new topic will be announced each month. Entries for each contest will be accepted for eighty days after the topic is announced on our Website, unless the deadline is modified by the judges.
Prizes will be awarded at the discretion of the judges. The decision of the judges is final.
---