It's important to know developmental stages when photographing children. How you handle a newborn is completely different than photographing a baby from six months to toddlerhood. It's such a fun transition from the tiny lump of newbornness to a laughing, giggling, bright-eyed actual little person, that photographing a child at six months can be such a joy. The family is starting to gel, everyone is used to having a baby in the house and usually their little personality is coming through.
Set up for success.
Make sure you've talked to mom and dad ahead of the shoot and that you've scheduled a time when baby is rested and well fed. There is nothing worse than trying to make a tired and cranky child laugh — you'll just get that squirming, upset whine that will drive everyone crazy and make the mom start singing Old McDonald six times faster than it is supposed to go just to try and make her son smile. Trust me, that doesn't work.
Speaking of the parents — oftentimes they are more hilarious than the kids when it comes to the antics they pull to get a smile out of their children. You might want to pull them aside and tell them to just relax and let you do the toy squeaking. Often, if several different people are calling out to the child all at the same time from different directions, you just get a confused child — the shoot will take that much longer, and the child will get that much more tired.
Often if a child is cranky, just let mom or dad hold them to sooth them, and you can get a shot over their shoulder. Make sure you hone in on those newly developed eyes — the ones that are now taking in life quicker than you can imagine.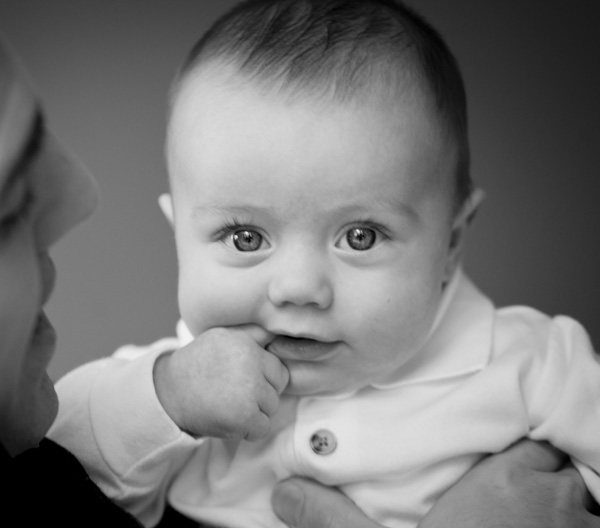 Quick is the name of the game.
Especially with a baby from six to nine months old, they don't have much patience for much. You want to take a squeak toy and squeak it, then get your shot. If you keep trying for that perfect look, you'll lose the patience of the baby and the parents, and you'll be the most unpopular person in the room.
So what can a six month old even do?
First of all, let's talk about a six-month old child. Most babies are barely sitting up at this stage. You don't want to prop them up on the floor only to have them keel over on their face and smash their nose in the first sixty seconds. If they are sitting up, you still want to make sure that that baby is well balanced and has plenty of safety net all around — whether it's a soft cushion or a mom that is within a second's reach, never leave a baby unattended. If they aren't sitting up yet, you can often fake it because a baby can hold up her own head by the time she is four months old, so you can prop her in a corner and snuggle her up with toys and blankets for that cute sitting-up look.
You can let big sister give her baby sister a big hug for an adorable sibling shot that will eliminate worries of spills too, as long as sister is careful! Make sure to get down low with them and shoot from their point of view.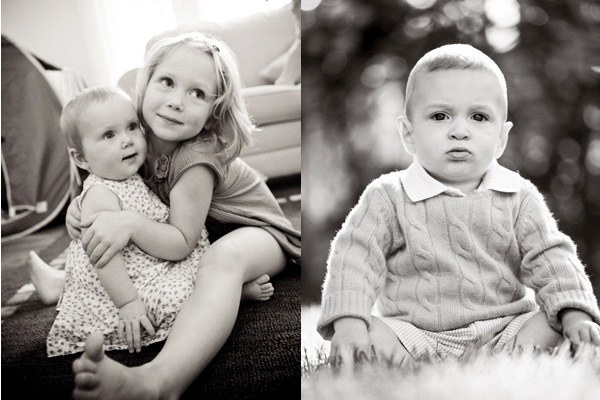 Another great idea for a baby that isn't mobile yet is to lie them on their tummy — this can get tiring for a baby, so make sure that you are quick to photograph, and bring a squeaky toy to grab their attention. When they pop up their head for the noise, you pop the picture. If you are indoors, you might want to try and shoot as wide open as you can, or pop the flash on the ceiling so that it doesn't disturb the baby's eyes.
Nine months old is fun in the sun.
A baby who is around nine months old is fun to photograph because they are so aware of lots of things, and yet still very compliant. They don't even realize they are being photographed, so they are just having fun with mommy and daddy making all kinds of silly noises and trying to get their attention. Many babies are not walking at nine months yet — but trying to — so it's fun to get low on the ground and grab some shots of your little subject while both parents each hold one hand and help her try out those as yet-unused feet.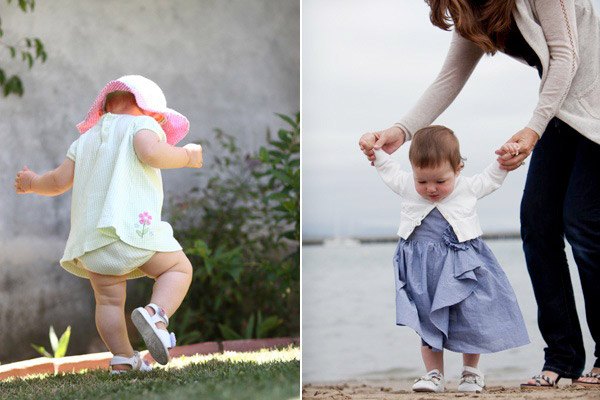 Shoot from the baby's point of view for some really interesting and different looks, and let the baby go! Have the parents get low with their baby too. Follow them around and capture them just playing and laughing. Those are the moments parents will want to remember forever, and they will forever thank you for capturing it.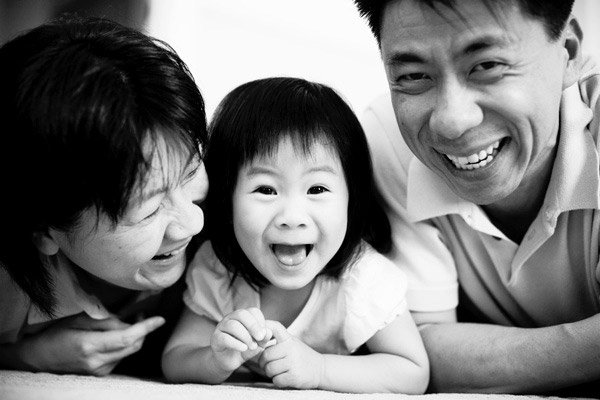 Bonus Offer:Want to become a better photographer? Taking an online photography course at NYIP will get you there! Enroll Today!.
---