Karen Schuld is an NYIP photography school Instructor and began her career as a still-life and food photographer in New York City. Her approach is to rely on instinct plus the photographic skills she has developed throughout her career. Major corporations, such as Colgate-Palmolive Company, Revlon, and Procter & Gamble commissioned her to create looks unique to their products. She gives every shot a natural, not contrived, look. For samples from Karen, visit Karenphoto.com and Sprouts in the Hood.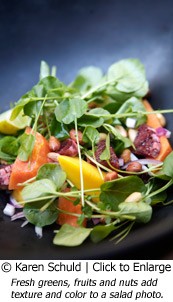 One thing I have learned over the years is that it is easy for a photographer to make food look bland and tasteless. But, of course, the goal of a food photographer is to make the viewer desire the subject of your shot. Making food look appetizing requires a knack for styling, a careful eye for detail, and an ability to use light in a way that will bring romance and drama to your subject. Here are some tips and suggestions that can enable you to achieve a photograph that will whet the imagination — and the appetite — of the viewer.
While some photographers approach food shots in a static way by carefully contriving the shot, I prefer a more free-flowing, spontaneous approach to styling. As I shoot, I rearrange the food as often as it takes to get the right look. I view the plate as my canvas, and the food as my medium. Just as with any photograph, I try to achieve a design that draws the viewer's attention to my subject — in this case, the food. But, in shooting food, my goal is also to create a whimsical, playful design that juxtaposes unexpected colors and textures. For example, I toss herbs onto an entrée to add zest or include colorful fruit to achieve a more vibrant shot. The way I position myself and my camera also enhances the flow of the shot. While I sometimes shoot food large format with a tripod, I prefer shooting with my DSLR. It leaves me freer to move around my canvas and experiment with different camera positions and angles.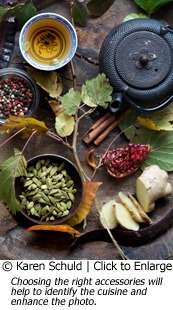 Food that looks fresh is appealing to a viewer; so it is important make your food look natural and not too staged. You should constantly check that your food stays fresh. Greens tend to wilt quickly. Meat can start to look exceedingly dry if you're not careful. A little water spritz can add moisture to your food, while steam can give it a "hot out of the oven" look. If you are a beginner, it can be beneficial to work with an experienced food stylist. A stylist can prepare your food so it is photo-ready and can bring another set of eyes to the set.
A good photographer always pays attention to detail. For any photograph to be successful, the photographer must select the right props and surfaces. Food photography is no exception. Choosing a special location or creating a staged environment for your subject can greatly enhance your shot. Choosing the right plate, bowl, glass or cutlery can also significantly improve the look of your shot. When you shoot food, it is important to choose a color scheme that that will complement the color or character of the food. A black background can intensify the color of a dish, while shooting on a white background will always create a clean look. Also, be aware that cuisine and culture go hand in hand, so document food by covering a region's people, markets, restaurants, and special dishes. Consider shooting a series of both close-up, medium, and wide shots that begins with the ingredients and ends with final food presentation.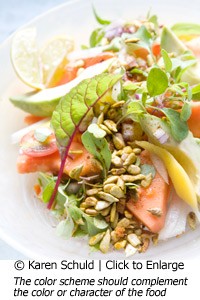 Lighting is key to setting the mood for your photograph. Whether your concept requires drama or mystery, excitement or stability, you must carefully consider the lighting that will work for the situation. Use lighting you feel comfortable with. Natural light can work well with food but artificial light gives you more control over the look of the shot. A backlight with a little fill can make your food look luscious, while a sidelight can show texture and depth. It is very helpful to use a "stand in" entrée while you set up your lights, to get just the right atmosphere.
In conclusion, it is important that you spend adequate time preparing to ensure that you have the right foods, props, surfaces, lighting setup and personnel to make the shoot successful. It is essential to focus on styling and attend to all the details involved in the shot. Although there is no one right way to plan, style, light, and shoot food, always keep in mind that the end goal is to make your food look fresh, colorful, dramatic and, hence, appealing to the appetite. Your final shot should be one that stimulates the senses.
Links to some styling tips on my blog.
Examples of a documentary approach to shooting food at http://sproutsinthehood.blogspot.com/2010/10/basmati-rice-garnished-with-fried.html
---