A self-portrait is taken of you, by you. Is that scary or intimidating? Awkward, maybe? It doesn't have to be — it can be a fun, creative process to think of different ways to portray yourself in images over time.
Have you ever thought, "Why do I need to take a picture of myself?" I think to some it may appear vain or silly to take a picture of yourself, but I see it as an opportunity to be artistic and document you in your current surroundings, from your own perspective. Whether you use a tripod, table, or extend your arms, I've got some tips for creativity in self-portraits. On my site, called Capture the Joy, I've shared the importance of being in pictures with your loved ones — not just taking pictures of them. I've extended the challenge to tag #capturethejoy when sharing on social media as well, and I'd love more to play along! The documenter needs to be documented just as much as his subjects. Today I'll share some tips on taking creative self-portraits: true, real, and raw.
1. Document yourself in a vulnerable state. This is me first thing in the morning, in my messy bathroom. Can't get any more real than this! Though it is quite embarrassing to share this image, I believe in the beauty of raw vulnerability, which in this case shows me without makeup in an unkempt space. Because I am the one taking the picture, it shows that I'm willing to share myself with those viewing the image, as is.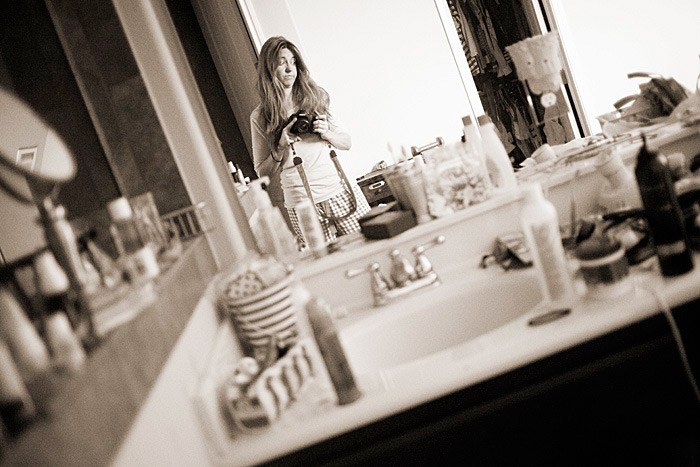 2. Use props to express your personality. Pull in elements that you love, whether it's a camera, ice cream, a hammer or a car. Posing with an object that you like or use every day shares more about you with the viewers.
3. Self-timers rock. I love my self-timer. Find a stool or table to place your camera on, and run into the shot. It's fun to jump or pull a face, and it's another opportunity to be creative instead of just standing and posing. It's real life in action. Below, I bravely pulled out my phone and used a self-timer app to snag this pic at the end of my step workout class.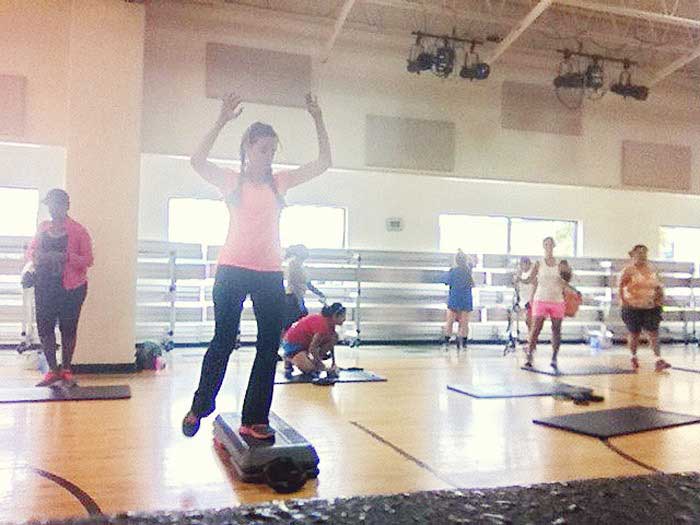 4. Look up to the sky. If you are extending your arms to grab a face shot, always look up towards the sky for the best angle. Looking down produces chin rolls, which don't look good on even the most slender person.
5. Don't look at the camera. I actually prefer myself from a candid perspective. When I have my family portraits taken, I emphasize snapping the candid because it's my favorite view of me (and of my family). So when I take pictures of myself, I prefer to look away. It does feel awkward though, I'll admit it.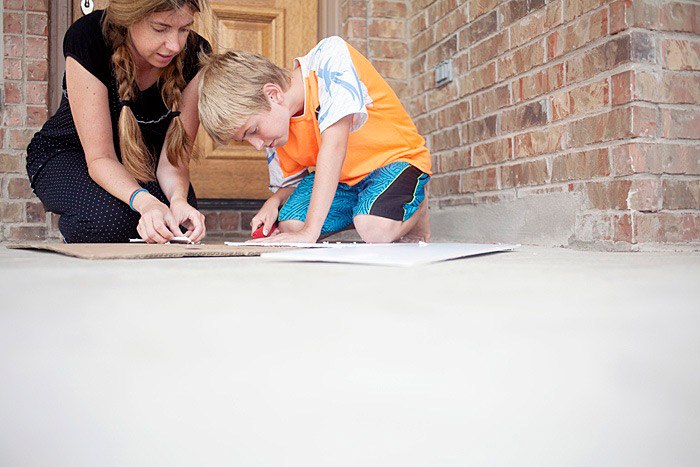 6. Bring in a stuffed animal or something to focus on before using the self-timer. Sometimes I'll use my child as a stand in, but they aren't always around. If you want a clear shot, you'll need something to focus on before you hit the button and run.
7. Set your camera to take multiple shots. When running into a timed shot, don't just take one — set your camera to take a few! This way, you can pull faces and act crazy in real motion, and pick your favorite from the candids. You also don't have to keep running back to take one shot at a time.
8. You don't have to show your face. Take a picture of you without the most recognizable part. Maybe you are wearing your favorite shoes or shirt and want to document that.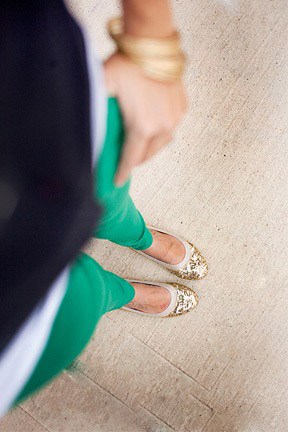 9. Find a reflective object. Of course we all know mirrors reflect, but what about the oven door, the glass on the fireplace, an ornament, or lid of a pot?
10. Creatively crop. Whether the camera is tilted funny or your cropped it that way, a unique cropping of an image draws the viewer in.
11. Don't be happy. You don't have to share a smile — show the anger or tears.
12. Use creative lighting. With a flashlight or laptop or phone, you can be creative with lighting.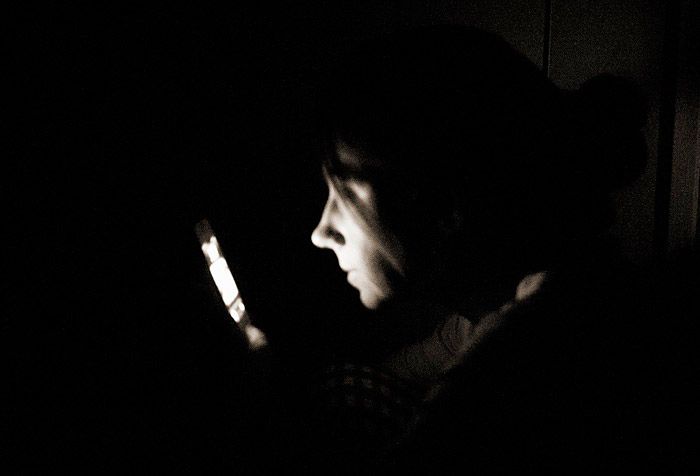 13. Write out words. Using a pen, chalk, or marker, share words to your favorite song, poem, or movie quote. Write it on your skin, a piece of paper, or a chalkboard behind you.
14. Grab those you love. Self portraits don't mean you have to be all alone. Include your children, your spouse, or a pet in the image you create of yourself.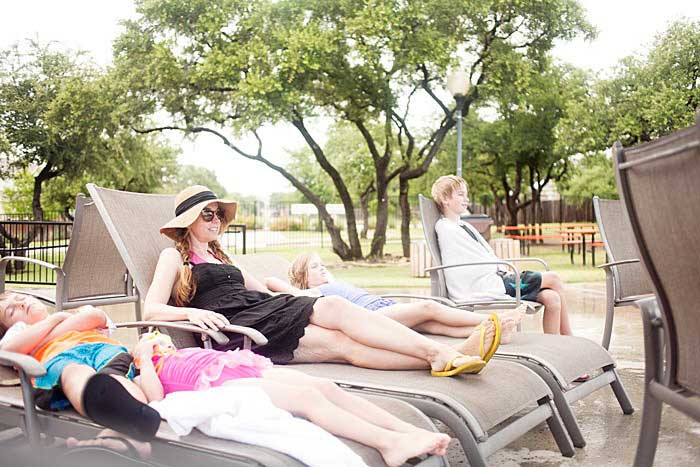 15. Look straight into the lens. I mentioned above that I prefer my profile while looking away. But close-up self-portraits, with the eyes fixed on the camera lens, share a depth much different from the playful candid images.
Aim to not just capture you, but to tell a story. Make memories.
Bonus: If you want to learn more about photography and taking better photos, try an online online photography course from NYIP today!
---