The New York Institute of Photography is one of the world's largest photography schools and because we are, we often publish fun and useful photography tips on our photography blog. Please enjoy!
NYIP faculty were on hand at the WPPI Expo is Las Vegas this March. The conference was held in the MGM Grand and attended by thousands of photographers from all over the world. While many vendors had products on display, we were there to promote the WPPI Certification program. By getting certified, wedding and portrait photographers have a powerful way to separate themselves from the competition. You can learn more about it here. https://www.nyip.edu/

After the show, there was time to explore and photograph Las Vegas and the surrounding landscapes of Nevada. I brought my tripod to take very long exposures of the traffic pulsing through the strip. Las Vegas is a city of perpetual motion and I wanted to capture this movement in a still photograph. This image was captured with an exposure time of several minutes.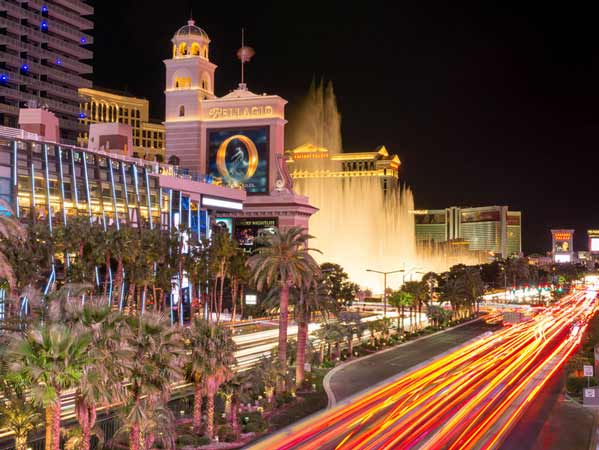 The next morning was time to capture the golden light of sunrise. The time of day one shoots at can make all the difference. Not only was the area very quiet, but the light had that magical quality. With no wind to disturb the reflection, the castle was reflected nicely in a man-made reflecting pool. To ensure proper depth of field, the shot was taken at f8. This kept everything sharp from near to far.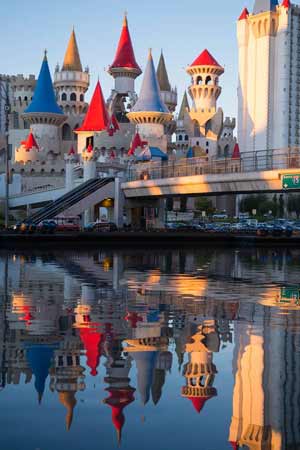 The amazing thing about Las Vegas is how close it is to spectacular scenery in various parks. A half-hour drive brought me to the mountains of Red Rock Canyon. Rolling away the miles in a rented Ford Focus, I was surprised to see the speed limit was 75mph. The clouds formed a terrific pattern and I pulled over onto the shoulder. For this particular composition I used leading lines to bring the viewer's eye through the frame. Later at the hotel, I added color toning with Exposure by Alien Skin Software.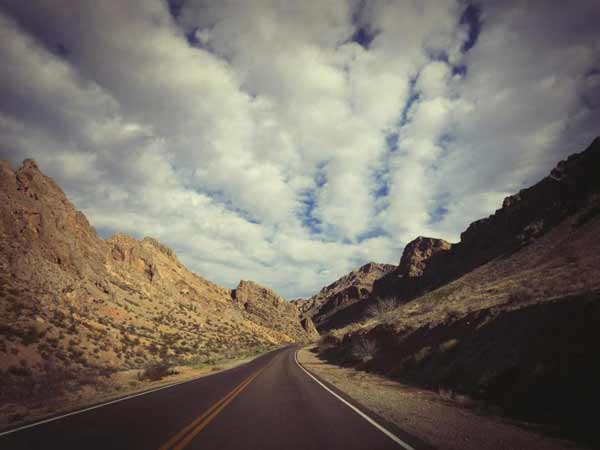 In addition to the scenery I also found beautiful wildlife, and was surprised to see a Ruby Throated Hummingbird. Using a 300mm telephoto lens, I was able to get fairly close to the bird without scaring it away. A fast shutter speed of 1/1000 was selected to make sure everything was tack sharp. To bring attention to the subject and throw the background out of focus, I chose a very wide aperture of f2.8.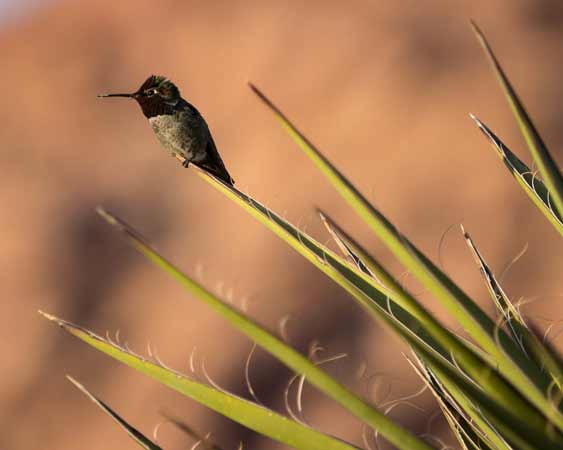 My next location was Valley of Fire State Park, approximately one hour from Las Vegas. Upon entering the park the bold colors are enough to make you gasp, as I certainly did when I saw this scene. It was now mid afternoon when most photographers pack away their gear. However, it's still possible to create beautiful landscape shots when the sun is high in the sky, Perhaps the most important filter a photographer can have in their bag is the circular polarizer. With it, you can deepen blue skies and work to bring clouds to life with added contrast. Again, great depth of field was achieved with a small aperture of f8.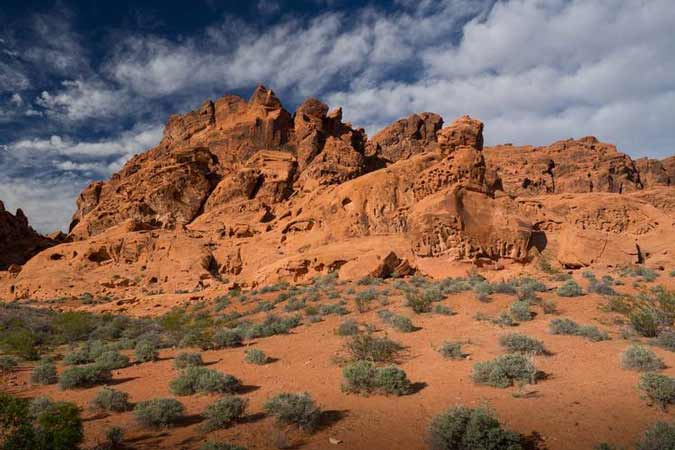 Another highlight of this region are ancient Petraglyphs that decorate various canyon walls. If you're not careful you can walk right past them without noticing their presence. This is why I recommend that photographers slow down and really take their time to explore an area. Think of yourself as a visual detective, on the lookout for interesting scenes.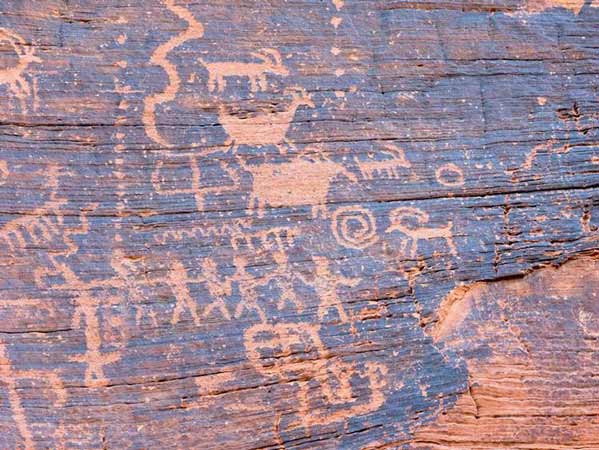 No one knows for certain just how old this artwork is, but photographing them seemed to connect me with people from long ago. While I could have stayed here all day, the sun was starting to set so I headed to my final location of the day.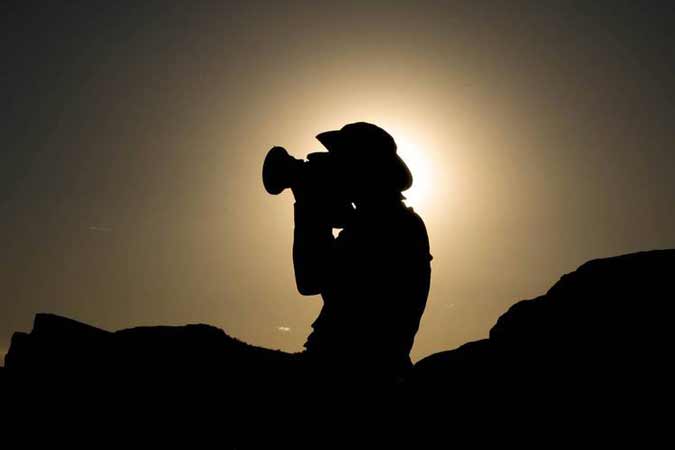 I hiked a mile or so to the Fire Wave, a beautiful eroded mountain that features strong lines and patterns. Who says photographers can't be friendly? I met a number of really nice people along the trails. This person didn't know it, but I was using him as my subject. By purposely underexposing the scene and positioning myself so he was against the bright sky, it made for an ideal silhouette.
The sun finally dipped behind the mountains and with it, soft light settled over the valley. Without much light to work with, a slow shutter speed was needed for a proper exposure. Here again the tripod came in very handy. Put simply, it opens up a whole new world of options that are missed when hand-holding. I composed carefully to include the Fire Wave along with the colorful dusk sky. With landscapes like this, great depth of field is essential, and mine was set to f11. This was enough to keep even the most distant mountains sharp.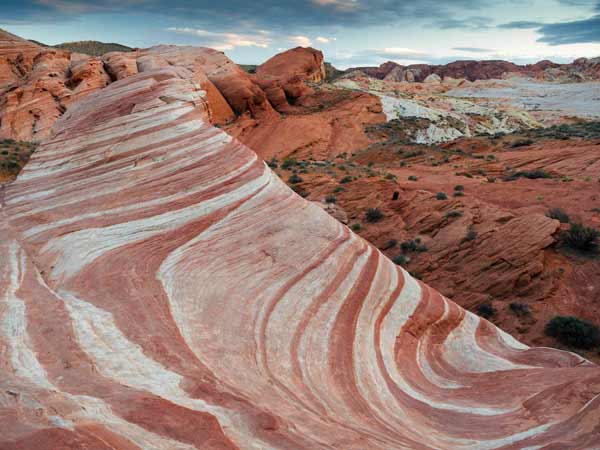 I hiked back to the car in near darkness as there are no artificial lights here. If you do a lot of work at sunset and dusk, it pays to carry a small flashlight to guide your way. It's even useful for seeing the dark buttons on your camera.
The next morning, I set out for Death Valley. Having never been there before, I was not sure what to expect. I did research the area beforehand, and knew I wanted to hike the Mesquite Flat Dunes. Crossing the state line in California after a three hour drive I finally made it to my desired location. In these types of desert conditions, it's essential to have enough drinking water. I carried four bottles of water along with several granola bars to fuel up along the dunes.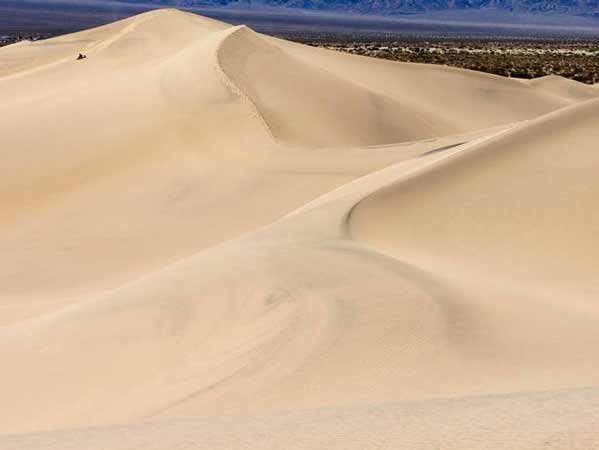 The further I hiked the better the view became. It was hot, but I really wanted to find lines in the sand that stretched into the horizon. After a long hot hike, this scene unfolded before me. To capture the expansive feeling of space, I used a wide angle lens of 24mm, and got down very low to the ground. The best views are often found just a few inches from the earth. Again, I used the circular polarizer to enhance the blue in the sky. The tricky part was not getting my foot prints in the shot so I made a careful composition with no distracting elements. Photography is often a process of subtraction. The more you remove the more attention you bring to the subject.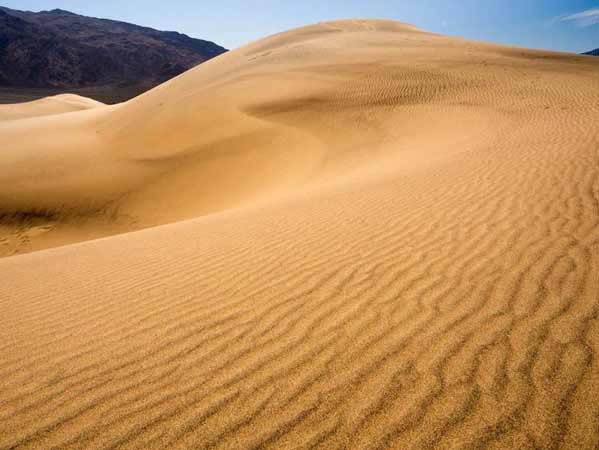 After the dunes, I explore more of the park. At 100 feet below sea level the ground was scorched and cracked. After some research I learned that the hottest recorded temperature was 134 degrees back in Sharon Gumerove3. I lied down to capture the essence of just how hot it is here. For this particular shot a wide aperture was used to render the background out of focus. This makes the dried earth the focal point.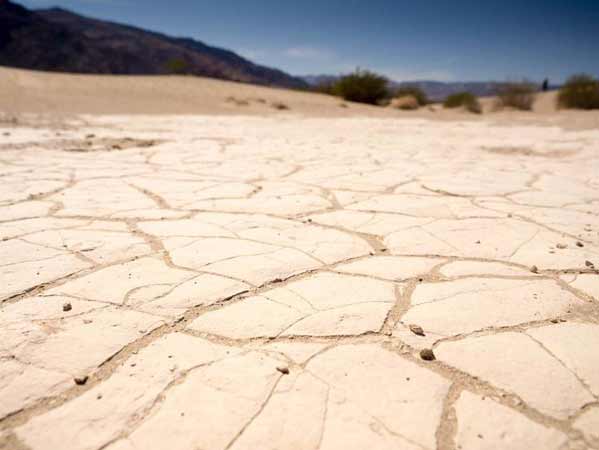 The technical details I describe above were what worked best to fulfill my artistic vision. Of course you may have approached certain scenes differently. That's one of the beauties of photography. Several photographers can be at the same location and all come back with entirely different images.
Want to learn more? NYIP offers accredited photography courses online that can help you improve your hobby or start a new career. Request your free course catalog today!
---