Editor's Note: In Part One of Football Photography, NYIP Student Advisor Chris Corradino took us to the sidelines of the high school games that are part of his sports photography business. He discussed the equipment and techniques he uses to record all the action and take other photographs that he can sell to players and parents. We even saw a timetable of Chris's busy weekend schedule during football season.
Part Two of Football Photography, we're going to take you to the NFL sidelines with professional photographer Ben Shyman. Ben got his initial access to the NFL shooting for the New York Giants, and we prepared this article two years ago. Ben then moved to California and spent several seasons photographing San Francisco 49ers games.
Just as the 49ers became a powerhouse team this season, Ben decided he's a dyed-in-the-wool New Yorker and came back to his hometown. While the 49ers were sorry to see him go, the Giants are glad to have him back and he's been on the sidelines this season as the Giants (and their local rivals the Jets) try to make the playoffs and land a berth in Superbowl XLVI in Indianapolis.
Finally, we're excited to report that we'll be running a special report from Ben on some new gear he's testing in the near future. Stay tuned.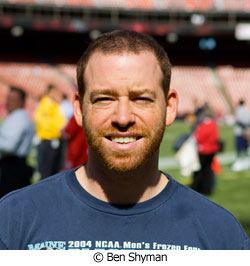 When I met Ben Shyman he was an inquisitive photography student. He's gone on to a part-time professional career and, most notably, has been able to find a niche on the sidelines of NFL games, starting with the New York Giants, then with the San Francisco 49ers. Not long ago, I sat down with Ben to learn more about how he worked his way up to those coveted sidelines, and what advice on technique and opportunities he can pass along to other photographers who love taking dramatic sports action photos. We recorded my interview and posted them as two podcasts: the first about how Ben got started and established himself as a sports photographer and how to handle yourself working on the sidelines, and the second talking about some of Ben's favorite NFL action photos. You'll hear more details in the podcasts, but the following account will give you a good idea of how Ben turned professional.
Getting Started
Tip One: Rent the best equipment.
Premium sports photography requires expensive equipment. You need Digital Single Lens Reflex models with high frames-per-second speeds and fast buffering, and long, fast lenses. This can easily require an investment of $5,000 or more. Since Ben is a good business person, he hesitated to make that investment until he had to do so. So, the answer is to rent high-grade professional equipment. In most major cities you'll find rental houses, or you can work with one of the specialists in New York or Los Angeles. In New York, you could check with Calumet, Lens and Repro, B&H or Adorama. Many companies will rent and ship camera equipment. You will need a credit card that can handle a large "hold" that roughly equals the value of the equipment. This hold is reduced to the rental charge once you return the equipment in good condition. If you look around, you'll find that some rental houses charge a one-day rate for the entire weekend, and weekends are when most sporting events take place. Phenomenal!
Tip Two: It's all about access. Start with a local college.
Ben attended Columbia College on New York City's upper West side. While it's in the Ivy League, Columbia has never been known as an athletic powerhouse, but that doesn't matter. What does matter, and what's true of colleges all across the country, is that they host a variety of collegiate sports on a competitive level, and all of them provide relatively easy access.
While some college football and basketball games are massively popular, there are lots of sports — swimming, wrestling, women's basketball, track and field, where there are no large crowds of spectators, and it is relatively easy to get good photography access. While the action from many of these events may not be of interest to the local newspapers, college athletic departments and college Web sites always need good photographs of all the sports activities that take place. Even if the school has an official photographer, even an official "sports photographer," there's more going on than the regular staff can handle. That's why the school will likely be interested in using additional photographers on a freelance basis.
So, if you live near a school that you attended, you could start there. If not, research the colleges and universities near you. Which schools have a good collection of team sports? Contact the athletic department and ask who you should approach to gain access to certain games. Make sure you've researched the teams on the school's Web site so you know the dates and times of the home contests. Offer to come in ahead of time to meet with the necessary officials and show your portfolio.
You will probably need a portfolio of sports photographs to show to the college to convince them that you can do a good job. Remember, you won't need to show them images that would be worthy of a two-page spread in Sports Illustrated. But you do need sharp, well-exposed images that show you understand the peak moments in different sports and that you can capture the emotion and excitement of competition. To develop that portfolio, you may have to start with little league games, local softball leagues, or the high school teams. It doesn't matter. Really good sports photographs can be taken at any level of play.
To make sure you're ready to take that high-caliber rented gear and photograph collegiate level competition, you need to be familiar with the photographic possibilities of the sports you'll be covering. If you love football, and your goal is to photograph the pros, that's not enough if you're offered a chance to start by covering a wrestling match or swim meet. You need to understand the elements that go into great photographs of the sport you'll be covering. You need to do some research.
Tip Three: Sportsshooter.com.
There are lots of seminars and learning opportunities for photographers that want to hone their sports photography skills. A good place to start is www.sportsshooter.com. Ben's a senior member there, and these days formally joining the Sportsshooter community requires some credentials, but it's certainly worth a visit. There are also special programs that specialize in seminars of interest budding sports photographers.
The key element is making great sports photographs, and doing that on a high level means having your work reviewed by your peers. It's the best way to make sure you have a portfolio that shows your best work.
In addition, if there are players with predictable styles, be prepared to use the right lens for what you're likely to encounter. Covering the quarterback that likes to scramble may require a different approach than the player who reliably retreats to the pocket and almost always works from there. Does the running back like to dive over a pile of players clumped at the line of scrimmage? Think about focal length and a good background from your sightline.
Inside Ben's Camera Bag
On the podcasts, Ben will explain why he uses a particular lens for a given situation, but here's a list of the gear he carries: Two Canon Mark II bodies, and the following Canon lenses: an f/2.8 400mm lens, a 70-200mm f2.8 zoom lens, a 24-70 f/2.8 zoom lens, and a 100-400 f/4.5-5.6 lens for use "in daytime only."
---