Student Success: Student Profile John Collins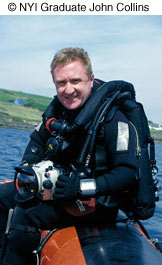 It's challenging enough to suit up in the proper equipment and plunge from the side of a boat into the deep waters of the world's seas. But just try doing it with a camera and the necessary protective gear, and you'll be hard-pressed to end up with high-quality photographs.
But for John Collins, this is precisely what he loves best: capturing on film the mysterious bounty of the deep. And his skill and passion have paid off, with his first book of sea photographs coming out this summer with Cork University Press, based in Ireland.
The publication of "Cool Waters, Emerald Seas: Diving in Temperate Waters" is the culmination of twenty years of Collins' travels around the world, diving in seas from Tasmania to Canada.
But Collins' love of photography dates back to his childhood.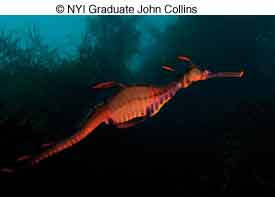 "I think most of us who become photographers begin with the fascination of capturing slices of light and time with our mind's eye," he said. "We start to see the world around us in images that say more than we can with words."
Collins started out by building up a portfolio of landscapes taken in his homeland of Ireland, but once he learned to scuba dive in his last year at college, his interests began "progressing towards the underwater world."
When he landed a spot on a university archaeology expedition excavating a shipwreck, he was asked to photograph artifact finds "and some of the underwater action."
"This was my first experience with the venerable Nikonos amphibious camera system, which I went on to use for several years."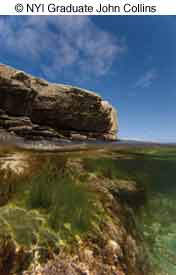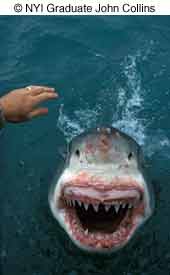 After college, Collins traveled in Australia, not knowing this would lead him to a life-long passion. "Through a lucky break, I got a crew job on the Swedish tall-ship Amorina and sailed from Brisbane to Marmaris in southern Turkey for the following four months. This formed the basis for my first article, published by SportDiver Magazine in 1990."
But Collins sensibly didn't yet give up his day job — he had trained in school to become a pharmacist, and kept working in that profession, knowing that "such a specialized area would be a difficult one to work in." By making time to continue underwater photography on the side, he was able to get several more articles published over the years.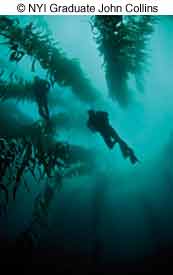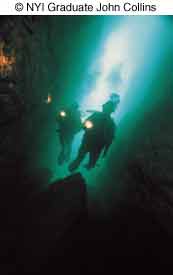 And then came the break that led to the book. An editor of Dive International asked Collins what his long-term goals were in his photography.
"Almost without thinking, I said I would like to tackle a book on diving the temperate waters around Ireland, Britain and similar places."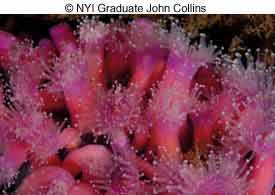 The images of the sea offer plenty of opportunity for diversity of expression. Some of Collins' photographs are portraits of the sea's beauty, such as the close-up of a pink sea anemone, while others are haunting, showing a pre-historic-looking sea creature swimming through the waters.
This is where the patience and diligence came in. It took a few more years for Collins to build his portfolio of "images from these waters" and started putting together the proposal. A stack of rejection letters later, Cork University Press said they wanted to publish the book.
"From there the process of writing the text, editing the photographs, working with the designer has been terrific. I think the result of so many people brainstorming ideas creates a unique record and I am very pleased with the result."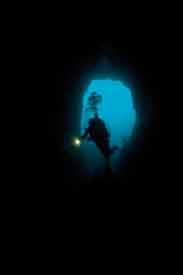 The book is more specialized than a general book on deep sea diving, because it focuses on temperate waters, which is Collins' own special interest. "While coral reef scuba diving is obviously the most popular, so many people live in areas where the waters are cooler and miss out on the superb diving here. With modern dive suits and equipment, diving temperate seas is not the hardship it once was. I love the vibrancy and surprise of cool waters — no two dives are the same."
It was after Collins had already been making photographs for many years that he decided to enroll in the NYI Course. "I knew a lot of the 'hows' of photography but longed to understand more of the 'whys'," he said. The Course helped him learn more of the technical information that as an untrained photographer he'd been lacking. His favorite part of the training was the relationship he built up with his instructor, Elinor Stecker-Orel.
His advice to current or future students is simple: "Apply yourself fully to the assignments. You will enjoy the challenge the higher you raise the bar for yourself. I was particularly pleased to receive two Awards of Merit during the NYI Course and found that setting a target of excellence in all of my work a great goal."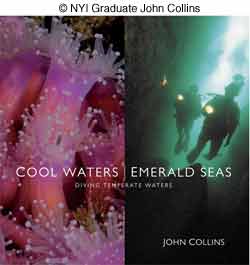 Even though Collins has met with great success with the publication of his book, he decided some time ago not to pursue a career as a portrait or events photographer.
"I tried wedding and portraiture as well as commercial assignments and while I enjoyed them to an extent, this was not the photography I wanted to do," he said. "My interests are in the natural world, both above and below the sea and I prefer to 'pay the bills' with my first career and have more choice in my photographic work."
That work will include a new book, which Collins said is a "land-based" project. We can't wait!
To order Cool Waters, Emerald Seas, contact Cork University Press.
---
Next Article

When the economy heads south, anything people perceive as a luxury is usually the first thing to go, and that can include photography, whether it's the annual family portrait, the photography budget for the wedding, or updating headshots for a business. But NYI grad Tony Martin remains undaunted, and continues running his business, finding that shooting for stock agencies is still a good way of…