Student Success: Student Profile Paul Kline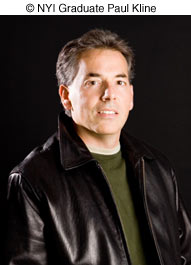 Some new photographers thrive on the unpredictable nature of the event photographers; they love nothing more than entering a wedding hall or convention center and having to keep up with all the changing faces, shooting as they go, grabbing the shots where they can.
Not so for Paul Kline. Even though he was interested in photography and suspected that he might want to pursue it, when he went to his first job — a friend of a friend's 50th birthday party — he learned that working as an events photograher would not be for him.
"It was a good experience for many reasons, but I knew after that job that event photography was not for me," he said. "Even though I like working with people, there are too many elements that I can't control."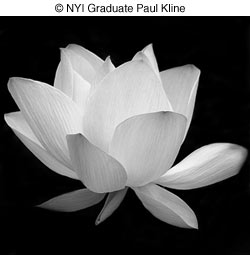 Today, he does mostly with advertising and commercial work, and occasionally does headshots and his own personal work for fun. And his focus on doing what he loves is obviously paying, as one of his photographs was chosen for the cover of the American Society of Media Photographers (ASMP) year end 2005 Bulletin Magazine. This elegant lotus blossom print is one his top sellers, captured digitally. You can see more of Paul's photographs on his Web site — www.paulkline.com.
Paul has embraced cutting edge digital photography both in his commercial and personal work. "I am a complete convert from film to digital based photography. The speed, quality and flexibility that digital photography offers is unrivaled by film — although I still shoot a roll of film from time to time for nostalgia."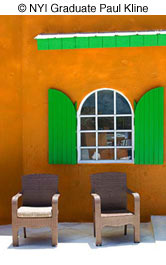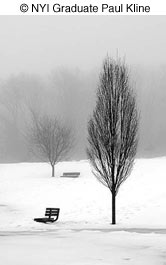 Of course, having your photo on the ASMP cover doesn't happen without a lot of other work going into the business. Paul has his own studio in Maryland, which offers a diverse range of services including world-class photography for advertising, magazines and corporations.
Since that first job which showed Paul what direction he didn't want to go in, he has developed two interests which he now concentrates on. One of his favorite subjects is something that doesn't threaten to throw any surprise moves during the shoot: glassware. "I love the optical properties of glass and have a lot of fun shooting glass products."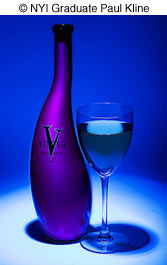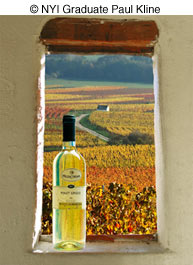 But his other favorite subject is, perhaps surprisingly given his response to shooting his first event, people — just not in a crowd.
"I love the dynamic nature of working with people," he said. "They always are able to surprise me, and I really try to connect with my subject.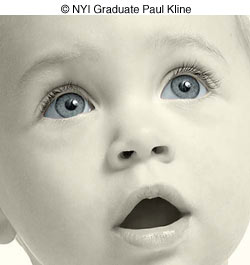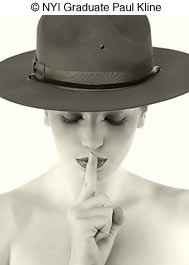 It was Paul's delight in the visual world around him that first ignited his interest in photography.
"I am a very visual person. My father was a photographer and taught me many things about photography, he really instilled the love of photography in me."
Paul's father gave him a good understanding about photography, but once he realized he wanted to pursue the business seriously, Paul looked into taking a course.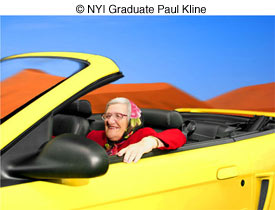 "Even though I had a pretty solid base from my dad, I decided some formal training would really help me with my career. NYIP also introduced me to a wide array of categories within photography."
Once he was enrolled in the Course, Paul found that he enjoyed the direction that the assignments gave him.
"I liked the photo assignments the best. The honest and constructive feedback I got from my mentor has helped me develop as a photographer. I found myself really pushing myself in the assignments. It was really great."
Even with the success he's achieved, Paul says that the business aspect of being a professional, independent photographer remains the most difficult part of the job.
"I think for most photographers the business aspect is the most challenging thing. We are creative people and running your own business involves accounting and many other mundane tasks."
But despite that, all the work is worth it — and will be more rewarding the more you can be specific about what you want to do.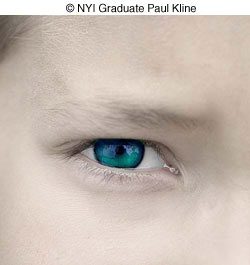 "Be honest with yourself and focus," he says. "Photographers tend to want to do it all, but we all have are strong points and weak points. Use your strengths to focus on a category within photography."
Luckily for Paul, he found out early on at that birthday celebration what was for him, and what was not.
"For me, I found that advertising and commercial photography is my strong point. So, if I get a call to shoot a wedding I will refer them to another photographer."
---
Next Article

It's challenging enough to suit up in the proper equipment and plunge from the side of a boat into the deep waters of the world's seas. But just try doing it with a camera and the necessary protective gear, and you'll be hard-pressed to end up with high-quality photographs. But for John…