Student Success: Student Profile Kathy Anderson
NAME: Kathy Anderson CITY: Red Wing, MN
What do you like best about photography?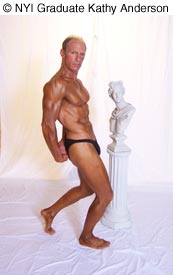 Working in photography gives me an artistic outlet that I can't capture with pencil and paper. It is something I will be able to do long after I retire from my full time job. It is something I can share with other people and give them an image they can treasure. It allows me to capture moments in time in a way that the mind can't quite hold in the same way. I love experimenting with different "models." I enjoy nature photography, will start to get involved in high school Senior portraits, and have aspirations of getting some images suitable for publishing in magazines. No matter what I am photographing, I look for different angles, lighting, etc. I learn something every time I shoot.
Why Photography?
I have always loved photography since my early teens, when I was teaching myself how to use my father's old Argus camera. I was encouraged by friends and family when they liked the images I captured on film. I pursued other interests in between, but photography was always in the back of my mind. I continued to take photographs with whatever camera I had, trying different things and looking for ways to improve.
How did you get your first paying photography job?
I got my feet wet in the photography business by starting a pet/animal portrait business out of my home. I concentrated my efforts on dogs and horses. Most of my work was done on location at the owner's home with a portable lighting system and background, and using whatever backgrounds suited the outdoors. I also was asked to be show photographer for the local saddle club at some of their "fun shows." During that time, I was asked to be the show photographer for a two-day major Arabian horse show in Wisconsin. I operated my business for two years and was featured in the local newspaper, the Republican Eagle, as a new entrepreneur.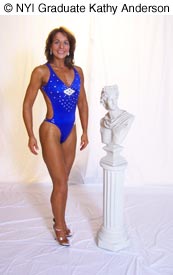 Why NYI?
I took the NYI Complete Course in Professional Photography back in the early 90's, when I was looking for a way to get a good education in photography while still working full time and raising kids as a single mother. After reading the magazine advertisements for NYI and looking into the history of the school, it seemed like a good fit for me to study at home through NYI.
How was the NYI Course?
I found the NYI Course very informative, easy to follow, and the instructor feedback was invaluable. I still continue to refer to the books that came with the Course, and have now turned them over to my 16-year-old daughter, as she is interested in learning also.
What's your favorite photo?
I have a favorite photo that I took during a local Native American Pow-wow at the reservation near our city. It shows a Native American dancer in all his colorful dress, up close, with the dancer's face showing the concentration on the dance itself.
Awards or Prizes?
I have not entered any contests to date.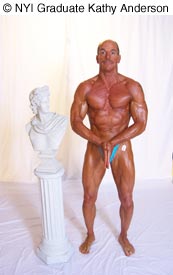 What's next for you in photography?
Over the last five years, I have gotten involved in Amateur Bodybuilding via my husband, who competes. Three years ago, a local couple held their first competition in our city. After observing the photographer they hired for that first competition, and after seeing some of my photos I took of their new home and from my previous business, they asked me to be the photographer for their next competition and I agreed. The NYI Photography Course taught me about lighting, backgrounds and I used all that to create a background fitting for this venue. I was able to set up an on-site "studio" for posed shots for the morning compulsories, where competitors could go backstage and order posed shots of themselves. I shot digital at that point in order to have the finished prints ready for them when they returned for the evening finals. During the evening finals, I shot print film of on-stage competitors during their posing and awards. These were also made available for order shortly after the competition. I have been asked to return this year in the same capacity.
I enjoy the sport, the hard work that goes into preparing for such a competition, and enjoy showing the athletes in their best light either on stage or off. The human form is art itself, and bodybuilders, fitness competitors and figure competitors all work very hard to create the best possible body. Photography, creative lighting and sets can be a tool to show that to its fullest. I hope to get a few images published in bodybuilding magazines this year.
---
Next Article

One of the tenets of highly successful people is that the more you do, the more you do. In other words, the more projects you're involved with, the more active you are, the more you'll get done in the course of a day. Garry Hampton would seem to be proof of this…