Student Success: Student Profile Louis Barton 2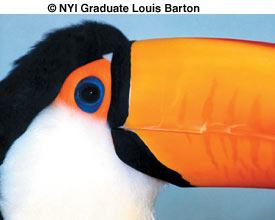 NYIP Graduate Louis Barton made this powerful portrait of a toucan at the Dallas Zoo.
The image is arresting because it brings us so close to the toucan's eye and the rear portion of the bird's beak. This close proximity was made possible because Barton chose to crop the remainder of the toucan's remarkably large beak out of the photograph. This is a daring choice because we associate the toucan with that oversize giant beak. By cutting the beak off, Barton brings us eye-to-eye with the bird behind the beak, showing us something familiar in a new way. Isn't that what photography is all about?
People familiar with the New York Institute may recognize Louis Barton's name. While he was a student at NYIP, in fact as part of his first Photo Project, Barton made a photograph of the night time Dallas skyline that has earned him over one quarter of a million dollars!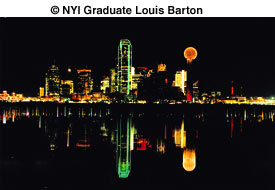 That's a big number, but part of the skill Louis brought to his NYIP training was his uncanny ability to promote himself. The NYIP faculty voted Louis the NYIP Merit Award for his Dallas skyline photo. Barton took it from there. First he had letterhead and business cards made up that correctly identified him as an "award-winning photographer." He started selling copies of his skyline photo at the Dallas airport, and on the advice of his NYIP student advisor, increased his sales by offering framed versions of the photo as well.
After making some photos at the Dallas Zoo, Barton approached that staff there and was soon given access to zoo animals in exchange for his work. That's how he was able to make this striking photo of the toucan.
Over the years we've enjoyed seeing a number of striking images made by Louis. He combined his skill as a photographer with an innate sense of good promotion techniques and then made the most of his NYIP training. We're proud to have helped Louis achieve so much in his career as a photographer.
---
Next Article

The story behind this photograph is one that I enjoy sharing. Louis submitted this picture as part of his very first NYI assignment -- the Unit One Photo Project calls for a picture of a landscape or cityscape. After evaluating this photograph, Louis's instructor marked it for consideration by the faculty for an Award…