Student Success: Student Profile Louis Barton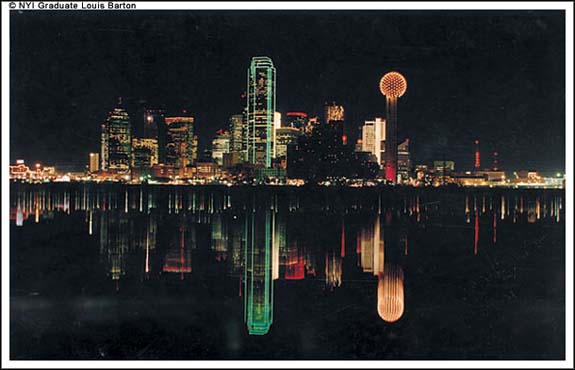 The story behind this photograph is one that I enjoy sharing. Louis submitted this picture as part of his very first NYI assignment -- the Unit One Photo Project calls for a picture of a landscape or cityscape. After evaluating this photograph, Louis's instructor marked it for consideration by the faculty for an Award of Merit.
The picture was given that Award, and when forwarding the Award to Louis, I enclosed a short note congratulating him on the picture, and offering the suggestion that perhaps the photo had some commercial potential. I suggested perhaps contacting companies that specialize in regional and metropolitan postcards to see if any of them would have any interest in the image.
Because NYI is a busy place, in the press of events I forgot about the note I had sent to Louis. Imagine my surprise some months later when one of the student advisors showed me a note that he had received from Louis, who wrote to tell us that in eight months he had sold $48,000 worth of prints of the image -- the money he made exceeded his salary as an officer at the local bank!
By the time he stopped marketing the image, he had sold over $250,000 worth of framed prints of the Dallas skyline.
How did he do it? Simple. He used solid marketing techniques and a touch of public relations. He decided that tourists and business travelers might make good customers. So he ordered a batch of prints, rented a sales cart at the Dallas/Fort Worth airport, and arranged for someone to staff it during peak travel hours.
But he didn't stop there. He sent prints as gifts to dignitaries - the Governor, the President, even the Queen of England! And naturally, he got "thank you" letters from all of them. He framed those letters and hung them on the cart. He called his student advisor at NYI to report how he was doing, and she wisely suggested that instead of just selling prints he should sell the image already matted and framed. That way he could raise his prices and the customers would have a ready-to-hang present or souvenir of their visit to Dallas.
Along the way, one of the photo magazines took an interest in Louis's story and published the photo. Letters came into the magazine. The picture, it was claimed, was a fake. There's no body of water where such a reflection could be found. He must have used some kind of trickery. Quite the contrary, Louis explained to us. He had noticed that a parking lot the comprises the foreground of the image sometimes flooded after a heavy rain storm and made a mental note to make an evening visit after the next heavy rain.
The next time there was a rainy day in Dallas, Louis grabbed his camera as night fell and headed to the site. Along the way he discovered he had neglected to pack any film, so he stopped at a drug store and bought a 24-exposure roll of ISO 100 film, the only film the store stocked. He shot three frames at the location, and immediately had the roll processed. The rest, as they say, is history.
Louis didn't make a quarter of a million dollars without some hard work, but it shows that preparation, planning, and solid training can combine to produce big profits in photography.
Not long ago, I was asked to give a presentation at a state federation of camera clubs on marketing photography. In conjunction with the talk, I brought along some photographs to display, including a large print of Louis's Dallas Skyline. As I was hanging the photograph, two club members who were watching remarked, "That photo would score very poorly in our competition. The judges don't like pictures where the horizon line is dead center." That may be true, but judges aren't necessarily people who buy photos. Louis's picture did very well in the marketplace, and we congratulate him on his hard work and good fortune.
---
Next Article

As an NYI graduate, Freysteinn G. Johnsson flashed his PhotoWorld press card and was given access to the action at the Icelandic Championship Tournament of A-Formula Off-road Racing. Standing only 35-50 feet away, Johnsson used his Canon EOS 1V and 35-80 mm zoom lens to photograph this driver steering…