Student Success: Student Profile Misty Woodward
NAME: Misty Woodward
CITY: Overland Park, Kansas
What kind of photography are you doing now?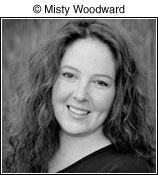 I am somewhat of a Jack-of-All-Trades. We photographed 40 weddings last year and this year we knocked it down to just 10. We really wanted to have more time to concentrate on children and families. And we have. We photograph mostly pregnancy, babies and children and our studio is known rather well for the best pregnancy portraits in the area. With all the new babies and pregnancy portraits we have replaced every dollar we lost in weddings and are spending a fraction of the time it took to make that money.
Our new studio is absolutely beautiful. We have a whopping 3000 square feet and 10 foot high ceilings. We have a gorgeous lobby that resembles a beautifully decorated home with deep red walls, a gorgeous black iron chandelier, plush furniture and wall portraits all around. We also have a fantastic kids room with a flat screen tv, dvd player, professional foosball table, coloring books, toys, etc. Kids love coming here! Our camera room is just giant with muslins wall to wall! And our sales room is definitely working for us as we are now projecting all sessions and our sales are better than ever.
How did you get your first photography job?
My first photography job came from the suggestion of my mother. Her company was looking for executive portraits to be used in their annual report. Fortunately for me, she suggested my name to the board and I was in. I put everything I had into doing a perfect job for them and it paid off. Several booked me for their own family sessions and are still customers to this day.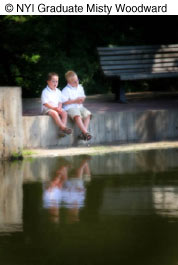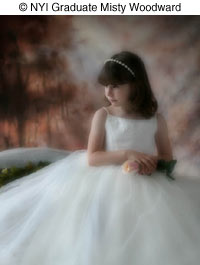 What subjects do you like shooting the most, and why?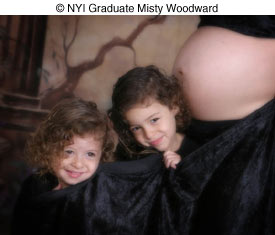 My favorite subject is relationships. It's a type of photograph that appeals to my emotional side. The photography and environment are used in a way that shows the close interpersonal relationship a family, father and daughter, or even brothers and sisters have with each other. It is the simplest form of portraiture using no fancy backdrops, no props and instead, turns the focus onto the relationship that the subjects have. As a photographer, natural expressions and emotion are what I find key in a successful portrait.
We have done a lot of work with the Downs Syndrome Guild in Kansas City. In fact we just finished up photographing for the Kansas City Chiefs First Down for Downs Calendar to help raise money for the DS guild.
What drew you to photography in the first place?
When I was about 13 years old my mother took me to an art show in Kansas City. It was an all-photography exhibit and I thought it was going to be the most boring time ever. To my surprise, it was amazing! My eyes were wide open the whole time just taking everything in. I saw photographs that just spewed forth emotion and were just beautiful. At 13 I'm not sure how much of it I understood, but I remember leaving the exhibit thinking how one day I would love to be able to create art like that. But of course reality set in with my family telling me I would need to go to college and get a "real job". So I did. I went to college and got a degree in Computer Science and was a programmer for several years. I had continued to pursue photography as a freelance photographer and of course enrolled in NYIP and I loved it. Then one day I was sitting at work and realized I didn't want to continue doing something because I had to. It was just a strong realization and I quit that very day.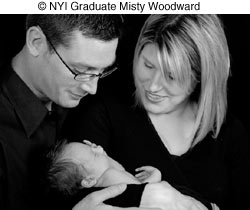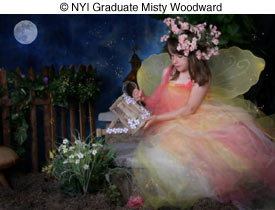 What made you enroll in the NYI Course?
I was taking some college classes for introduction to photography, studio lighting, etc. But as every starving artist knows, you have to work another job to support your passion. That left me with no time to continue my education for what I really wanted to do. I came across NYIP one day on the Internet and saw that I could get everything I needed to know in one course! I was really impressed by the materials they sent me and signed up for it immediately. I haven't been back in the classroom since. NYIP besides being a convenient way for me to learn, turned into my motivator. It got me on track to do something I loved and pushed me to push myself to do better.
What did you like best about the NYI Course? What did you get out of it?
The part that really impressed me about the course was the personal critiques I received from my instructor. He was very detail oriented in my work and got so detailed as to pull a ruler out, so I knew exactly what spot in my photograph he was referring to.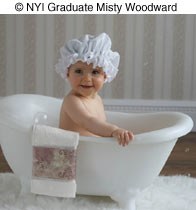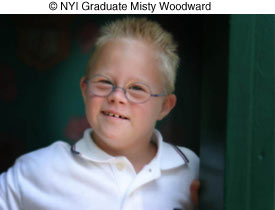 What advice do you have for future students, or for beginning photographers?
Develop your own style. We all have favorite photographers we love to emulate and use for inspiration. But don't be afraid to do something different, to set yourself apart in the crowd. Photography is a tough market and to make it a success you have to be unique.
What is most challenging about being a professional photographer?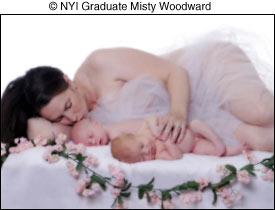 The most challenging thing to me is getting your name out there. I have put a lot of leg work, time and money into having my work displayed in boutiques, coffee shops, bridal shows and exhibits. I have had my work showcased in The Perfect Wedding Guide and have ads in The Knot and in the Kansas City Baby Magazine. It's been tough to learn what works and what doesn't and even tougher to see your time and money wasted on an unsuccessful attempt. But it is all necessary to get to the desired end result.
What is your favorite photograph?
My favorite photograph of all time is that of Winston Churchill photographed by Yousuf Karsh. Karsh is one of my all time favorite portrait photographers and all of his work has a wonderful story behind it.
What's next for you in photography?
We just started plans for our "Spirit of Motherhood" art display. We hope to have it travel to various businesses. It is a collection of pregnancy portraits that we are still in the process of photographing. But my goal with it is to spread awareness and openness about pregnancy, to show that pregnant women are beautiful and are making their own little miracles that should be showcased and appreciated. We are in the stage of photographing and selecting the images for the display which will not be available until next Spring when we hold the actual art show. After that it will travel around.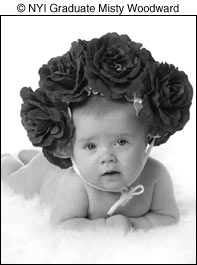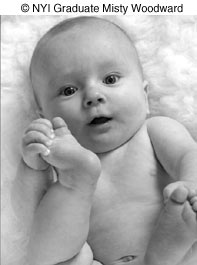 I just got back from giving a lecture near Fargo North Dakota, speaking on children'''s portrait photography. We had a full day of marketing for children's photography and then a half day of actually shooting a pregnancy session and 2 babies. I was the main speaker for their Summer PPA Seminar. I also was one of two main speakers at the Kansas PPA Winter Seminar in February. And I have also gotten to travel for some PPA Guild meetings 1 to 2 hour seminars. And this September, I am teaming up Tim Schooler who is the #1 Senior Photographer in the country and Gregg Hejna who is a fabuous Wedding photographer and we are doing a 3 day workshop through H&H Color Lab.
---
Next Article

NAME: J. Daniel Roberts CITY: Red Wing, MN BUSINESS: J. Daniel Photography: "Drawing visual inspiration from nature." How did you first become interested in photography? My interest in 35mm photography began in about 1976-77 in Europe. I was on a job assignment in London and took a…