Student Success: Student Profile Ronald Zincone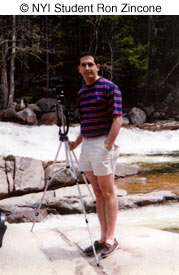 Every classroom had one: the kid who was always dreaming, looking up at the stars in the night sky instead of watching a re-run of "The Love Boat," the kid who'd rather get a telescope than a basketball for Christmas.
Well, often those kids grow up to become the most successful scientists of their generation. For NYI Student Ron Zincone, his early love of astronomy metamorphosed into a love of photographing the planets, which has in turn made him a successful specialized photographer.
"As a kid, I was always interested in taking photographs of nature and observing the night sky with one of those department store telescopes my parents bought me for Christmas one year," he says. "I enjoyed observing the moon and some of the planets."
In college, Ron started working as a photographer, landing a position with the school paper, for which he did his own developing. It wasn't until after he was married and with a family that his two interests came together, when Ron and his family moved to Richmond, Rhode Island, "one of a few dark-sky sites."
Suddenly, his love of star-gazing snapped back to attention, now that it had the right conditions.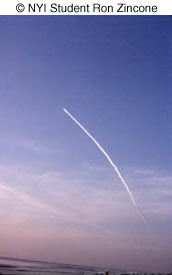 "Seeing all those stars and the Milky Way against a black sky was something that I could only imagine as a kid, since I grew up in the city," he says. "I bought myself a serious astronomical telescope and some new photographic equipment, and started to settle back into astronomical observing." This led him to read up on the latest in "astronomical imaging" - all the methods now available for capturing the magic of what happens in the night sky.
"Since I enjoyed photography and astronomy, I decided to try my hand at imaging the night sky and that's how it all started," says Ron. Now it's the field in which Ron has enjoyed a good deal of success.
And Ron's photography isn't just about the cold realm of deep space. In fact, he uses his knowledge of astrophotography in order to create photographs that capture the human condition.
"One of my main photographic goals is to establish a theme that emphasizes earth and sky. Some of my favorite imaging is during twilight when the light is warm and angled low," he says. "This allows me to avoid harsh contrast but also to include a beautiful landscape in my composition to connect humanity and nature. A lighthouse, steepled church or bridge can add balance and scale as well as tell a wonderful story about the place of humanity in the grand scheme of nature."
Astrophotography, or "sky photography", is a very specialized field of photography that isn't taught in classes, so Ron studied it through books on his own. It was when he wanted to branch out into "daytime photography," emphasizing nature, that he found the NYI Web site and began the NYI Course.
"It seemed perfect for my situation," he says, given that returning to college would be a financial stretch, and he wanted to continue devoting time to his family.
"The fact that I could expand my knowledge of photography from the comfort of home at my own pace and at such a reasonable cost really made me want to sign on," he says. "I was also impressed that NYI has been around for so long."
Because Ron was dedicated to building on the photography skills he had already worked to develop, he was particularly interested in NYI's professional critiques on his photos. "The best part though is NYI's professional photographers as teachers and advisors who critique your work and send it back to you. This, I felt, was so much more advantageous than just going to a workshop and learning from texts and handouts."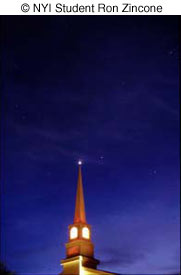 Ron continues to love what he does. "What I enjoy most about being a photographer or 'astrophotographer' in my case, is to be able to capture nature whether it be the 'night sky' or a nice seascape, a lighthouse during sunset, and capturing a moment that tells a story of humanity's place in the bigger picture," he says. "These moments can be historical and rare or scientifically valuable or just tell a story that emphasizes the earth and sky with or without the hand of man."
Ron's also a natural "people person," and it's important to him to be able to get his photography out to the public and share it with others. "The ability to archive and preserve is especially thrilling," he says. "This is important to me because as an astrophotographer, the night sky is crucial to me in my ability to record nature's wonders in detail."
Because being able to see, and photograph, the night sky has been so important to Ron's work, he gives 5% of his photo sales to the International Dark Sky Association (IDA), which works to fight light pollution.
Ron has found that there is no better teacher than hands-on experience, especially with astrophotography.
"Astrophotographers have an especially tough learning curve because we deal with extreme low-light photography and subjects that are points of light that require us to regularly exposure at minutes or hours," he said. "Film and camera optics are not designed for such endeavors. We do all our imaging outdoors, mostly in dark conditions, sometimes in the wilderness during all hours of the night, especially when most people are sleeping. We often brave harsh weather conditions like extreme cold and snow or wind in order to 'capture the moment' or that historical event."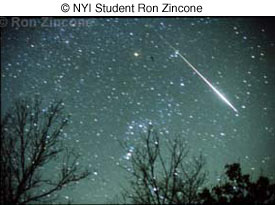 One example of this is Ron's trophy photo "The Great Leonid Storm of 2001."
"I was out from 11pm to 6am on that November morning in 20 degree temperatures in order to realize that one successful prize image," he says.
"Astrophotography, as well as photography in general, often means sacrifice, practice, taking good notes and burning lots of film. Currently, one of my new challenges is adapting to the differences between daylight photography and 'night-sky photography' since many of the rules that apply in daytime compositions do not need to be used in astrophotography."
Ron's found that there is not only an audience for his work, but a paying audience at that. He's has sold his photographs on Internet sites such as eBay, and on his own Web site www.ronaldzinconephotography.com.
His work is shown at www.MiGallery.com, as well as venues throughout southern Rhode Island. He's sold over 200 prints of "Great Leonid Storm of 2001" (Great Fireball in Orion) throughout the United States and abroad, and it has been published several times
Ron plans to continue with his photography, and with astrophotography in particular.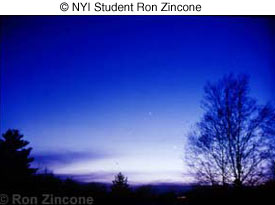 "I hope to continue with and expand upon my publishing and selling successes as well as entering photo contests. I have been a field contributor for Nature Photographer Magazine for about a year now and hope to have one of my articles on astrophotography published soon," he says. He also hopes to expand into freelance work.
"I look forward, especially, to continuing my NYI Course and hope to graduate from the program in the future with new skills and abilities and a more confident and successful photographer" he says.
We're sure that with his skill and dedication, Ron's career will take him to the stars — and beyond.
---
Next Article

Student Name: J.C. Lopez-Johnston City: Atlanta, Georgia How did you first become interested in photography? I have always been interested in photography. Since I was a child in Maracaibo,…