Have you ever wondered how to get a soft focus or "Bokeh" effect in-camera with a DSLR?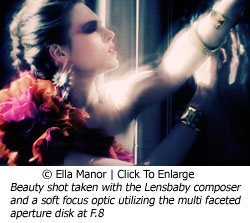 Have you tried putting Vaseline or hair gel on your lens in order to get that effect?
Well wipe your lens clean and listen up! Lensbaby SLR lenses, optics and accessories let you do that and more with the utmost of ease. Lensbaby gear is meant to increase a photographer's creative process and make the use of digital equipment more organic and friendly.
For this article, we at NYIP digital photography school have produced a fashion shoot using a selection of Lensbaby products — mainly the Composer with the Soft Focus lens and the Fisheye lens (You can view the pictures throughout the article, for the full photo story visit www.ellamanor.com.)
Before we give you an overview of the different tools and ways to apply them, let's tell you a little bit about how the idea began. In order to get some inside information about how the Lensbaby concept started, we spoke to Craig Strong, the inventor of Lensbaby. Strong told us he came up with the idea for the Lensbaby because he wanted to have a more organic look from images shot with his first DSLR. "The life that film gave images, even images shot with the best glass, was gone and my images felt sterile in comparison. I was searching for a lens that would fuse the selective focus of a (difficult to use) Tilt-Shift lens with the more spontaneous, random quality of a Holga."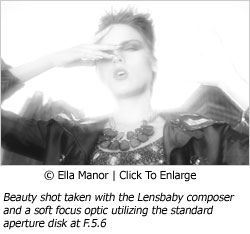 In his free time, Strong put anything and everything in front of his DSLR body that would focus light. The first Lensbaby was made with a piece of ShopVac hose ("a hardware-store moment of inspiration"), a body cap with a hole cut in it, and a 101 mm Kodak lens off of Strong's old Speed Graphic camera that had been sitting as an ornament on his bookshelf. After playing around with the prototype Lensbaby and loving the photos he made with it, the company started when Strong partnered up with Sam Pardue, co-founder and CEO of Lensbaby.
When trying to decide on a Lensbaby, there are three different types of lenses: The Muse, The Composer and the Control Freak. In this article we will mostly touch on the Composer, a manual focus SLR lens based on a ball and socket configuration that delivers smooth selective focus and other creative effects. It comes with the selective focus Double Glass Optic installed, which delivers a sharp focus surrounded by graduated blur. You can tilt the Composer to a desired bent position and then manually focus. Use any of the lenses on the composer to get the desired effect.
You can turn your Lensbaby Composer into a fisheye lens with the Fisheye Optic, part of the Lensbaby Optic Swap System. The Fisheye Optic's wide 12mm focal length captures a fisheye view from infinity all the way down to one inch. It's designed for use with the Composer, but can also be used with the Muse, (another type of Lensbaby lens which has a built in "accordion" looking gadget that you can manually squeeze in and out to get the desired "Bokeh" effect) with a special adapter. Due to the extremely wide angle of view, full frame shooters will generally see a black circle around almost the entire image.
Almost all Lensbaby optics that fit into the composer have interchangeable aperture disks, with aperture settings ranging from f/4 to f/22. At f/4, the edges of images will be soft. Stopping down to smaller apertures will increase edge sharpness. At f/22 the entire image will be quite sharp. These disks are replaced manually with the use of a small magnet that's attached to the aperture box.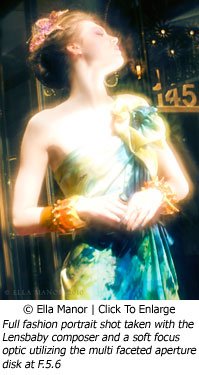 The other lens we used extensively was the soft focus optic. This lens is my personal favorite. The images created by the Soft Focus Optic have a dreamy, otherworldly feel to them. The soft focus optic also features a lens flare effect that causes the edge areas to glow with color whenever there are bright light sources in the image. The Soft Focus Optic comes with three soft focus multi-hole apertures that combine one large opening over the optic's sharp center with small openings over the optic's soft edges. This hole pattern creates a sharp underlying image with a soft overlay. Specifically with this type of multi-hole aperture disks - any sparkly or shiny objects will create a colorful star like glow around the bright object in the photo.
I've had a wonderful time shooting and experimenting with these products. The most exciting and fun thing about it for me is never knowing what type of unique or crazy effect I'm going to get! I've applied this medium to fashion photography but it can lend itself beautifully to any genre of photography. Can't wait to get your creative juices flowing?
---