Editor's Note: One of the great benefits of the Internet is that there is a tremendous amount of information about photographers now available on line. From Ansel Adams to Monte Zucker, from the nineteenth century pioneers to today's cutting-edge photographers, you can find an ever-growing body of information about photographers on the Internet, along with examples of their work. While the Web is a powerful new research tool, not all information is necessarily accurate.
We've decided to harness that power to drive Photographer's Spotlight. Each month, we'll run a brief biography of a photographer that we consider important enough so that everyone interested in photography should be familiar with that person's work. In addition to printed resources, we'll give you the URL addresses of some of the best sites we've found that showcase the life and work of the photographer that is featured this month. We'll also note books about the photographer or books that show the photographer's work. If you would like to suggest photographers you feel we should cover, e-mail us with their names. This month we feature one of our most popular Photographer's Spotlight columns on Philip-Lorca diCorcia.
Upon viewing Philip-Lorca diCorcia's photographs, you may think if you had been there at that moment, you could have taken the same photo. His photographs are ordinary yet abduct the viewer's imagination. Looking at one his images, we are encouraged to make up our own stories. Though the photos look simple to take, in reality each scene has been well choreographed by diCorcia long before the shutter has been clicked.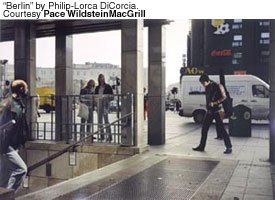 "Photography is a foreign language everyone thinks he speaks," once commented diCorcia. The Yale-educated photographer has a cinematic approach to photography. Just as a film director must focus his or her attention on a critical scene, diCorcia takes many Polaroid test shots before taking the final photograph. He is also well known for his use of mixing artificial and natural light in his images in a distinctive way. His photographs are not candids.
He developed an interest in photography while he was attending the University of Hartford in the early 1970s. A couple years later he transferred to the Museum of Fine Arts in Boston and graduated in 1975. He continued his education at Yale where he graduated with a Master of Fine Arts degree in Photography in 1979. He wrote his thesis on two styles of filmmaking — the unseen world vs. the closed world.
After graduating from Yale, diCorcia continued making photographs but wasn't sure how he would transform this hobby of his into a lucrative career so he hopped a jet to the land of La-La, Los Angeles, to see if he could find a job in the film industry. After giving up on that career path, he returned to New York City and found a job working as an assistant to professional photographers. As is the case with many assistants, he learned about the techniques used in commercial photography. By 1984, diCorcia was making his living as a freelance photographer, taking photos for Fortune, Esquire, and later some Cond?© Nast publications - every travel photographer's dream.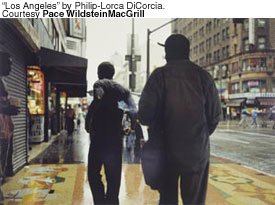 The National Endowments for the Arts awarded diCorcia with an artist's fellowship in 1989. At the time, the NEA was under attack for representing the controversial nude photography of Robert Maplethorpe. Remember how in the midst of the AIDS crisis right wing Senator Jesse Helms accused Maplethorpe's photos of explicit homosexuality as being obscene? Many photographers banded together in support of Maplethorpe's artistic freedom and First Amendment right!
The NEA became cautious about limiting the work toward which its grant awards money could be spent. Therefore, as part of the fellowship contract diCorcia had to sign on a dotted line promising that the work he produced during the fellowship would not be obscene. During the next two years, he traveled to Los Angeles repeatedly. With an assistant to help him with his time consuming set-up of each shot, he frequented a seedy section of Santa Monica Boulevard in search of interesting subjects to photograph.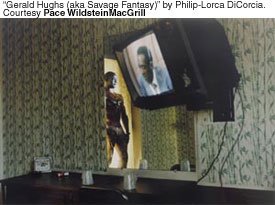 As we can see from this selection from his Hollywood series, the people in the shadows of the Hollywood glitz are just as interesting as the ones decorating Universal Studios parking lot. The images from his series on Hollywood drifters are gloomy and bewitching. DiCorcia asked each model for his age, hometown, and modeling fee. No doubt, he was quite gleeful about paying his models who were drifters, prostitutes, and runaways with his NEA stash. The information in the caption reads like a quirky epitaph. See Gerald Hughes (a.k.a Savage Fantasy); about 25 years old; Southern California; $50.
In the late 1970s, diCorcia began to explore and discover his artistic style while taking photographs of his friends and family as in this photo of his brother Mario standing in front of the fridge — forlorn and disillusioned.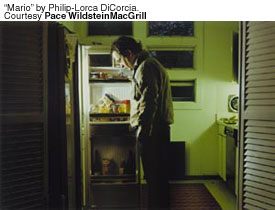 No matter how many times we stare into the lonely eyes of a fridge at midnight, there never seems to be anything good to eat — Swiss cheese, Maraschino cherries, PAM, and Dole fruit juice. The scene looks improvised yet diCorcia has arranged the props with strategically placed electronic flashes inside the fridge. Mario was very patient as his brother made him re-enact this moment repeatedly to capture a moment of dull reality.
Taking a cinematic approach to photography, diCorcia can spend long tedious hours setting up for one shot that he has imagined in his head. Instead of striving to accumulate a large body of work, he focused his creative energy on printing around twelve or so masterpieces a year.
Whether we see a bedroom still life like Bruce and Ronnie 1982 or Ralph Smith; 21 years old; Ft, Lauderdale, Florida, the viewer feels privy to secrets he doesn't quite know yet. "The more specific the interpretation suggested by a picture," says diCorcia, "the less happy I am with it," said diCorcia.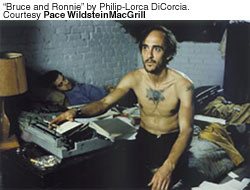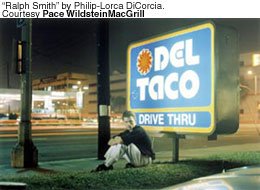 What can we learn from studying diCorcia's work? Well, by visualizing a portrait so well in advance and planning every detail, you must become aware of every nuance. Notice the kitschy props and background? For example, the token hermetically sealed plastic cups in the bare motel room, the chained television set tuned to an old Bill Cosby show, the optimistic gleam of the Del Taco sign.
The items are important to diCorcia's work. "They enclose the figure in a field of psychological force, lending diCorcia's photographic frame a voyeuristic urgency, as if the unseen viewer, possessing secret knowledge, is in the process of unraveling a mystery," wrote Peter Galassi in "Contemporaries: Philip-Lorca diCorcia" published by The Museum of Modern Art in New York.
Visit these links to view diCorcia's arresting photographs:
http://www.noorderlicht.com http://artscenecal.com http://www.whitechapel.org/content479.html
---