Joe McNally is an internationally acclaimed photographer with an unbeatably adaptable edge. With over 35 years under his belt, McNally has completed countless photography projects, working in 60 different countries worldwide. Often times, Joe is assigned a massive project theme- like 'Sight' for example. Through his photographic storytelling expertise, he's challenged to show viewers what something as expansive as Sight looks like on paper.
We spent the day at Adorama's NYC headquarters talking to Joe about his past projects and gaining some insight on the unique challenge of tackling visual narrative missions on a deadline. Here's what we learned: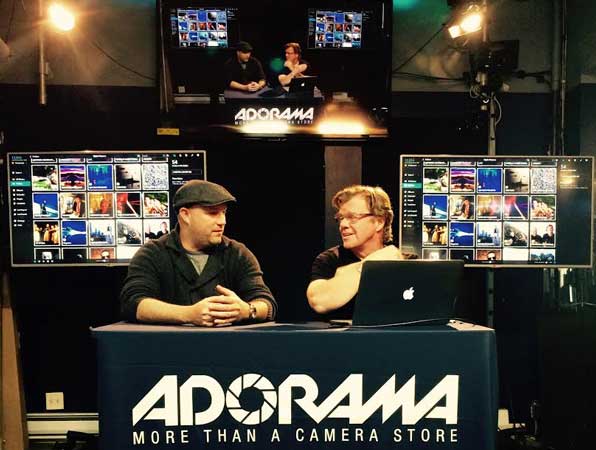 Don't forget the smaller picture.

Yes, you read that right. Although many photographers are advised to consider a much broader overall message when shooting within a theme, Joe reminds us the importance of starting small.
"When you're trying to tell a great story about a massive narrative overall, it's really the smaller sub-stories and less all-encompassing pictures that make up the backbone of the project," he shared. "Remember these tenants of the storytelling trajectory. Use these smaller, seemingly less intense photos to lead up to that big picture."

Simplify.

"If you're given a massive shoot to tackle, thinking about the totality of the project can really mess with your head. So don't. On each specific shoot you complete for that larger project, try to imagine that you're just spending that day doing one shoot for a smaller newspaper story."

Shift your storytelling perspective to a more reasonable, relaxed one.

"Sometimes when I'm on location photographing something unique for the day, like planes taking off from the Air Force hanger, I like to imagine I'm just sending a visual letter home to someone. 'Hey everyone, wish you were here- this is what happened today.'"

Embrace change.

"People aren't telling stories the way they used to anymore, and that's okay. There are tons of new technological resources available to us now, and it's important to value these changes. I could take a selfie right now, and with the push of a few buttons, someone in London could be looking at that image in seconds- I don't know why they'd want to, but they could."

Go with your gut.

"When National Geographic asked me to tell a story about vision, I broke that project up into several smaller sub-shoots I'd do to tell that overall story as a whole. I had scheduled one of those shoots as a 3 day trip I'd take to cover a certain vision disorder being treated at a clinic overseas. When I got there and started the shoot, I fell in love- and I sensed that there was a much bigger story to be told than I could ever effectively do in 3 days. So I stayed for 3 weeks."
Couldn't make it to Adorama today? No worries! You can watch a full live-stream of the event here, or follow along our live-tweet account on Twitter.
Want to learn more? NYIP offers accredited photography classes that can help you improve your hobby or start a new career. Request your free course catalog today!
---