Student Success: Student Profile Jennifer Dohner
It started as a challenge, and it remains a challenge today: Jennifer Dohner's specialization in photographing live performances by musicians, promotional shots for CD covers, and photo spreads on bands for magazines.
"My first job in the music industry was actually done on a dare from my daughter. I was trying to figure out where I wanted to go with my photography. One day she said, "I bet you couldn't get pictures of Kenny Chesney." I honestly believed she was right, but I had to try — after all, she dared me!" Dohner said. "To everyone's amazement, I managed to get photos of Kenny Chesney. After shooting him, I was hooked. Combining music and photography became my passion."
Dohner finds that shooting musicians is a pleasure, because they are artists as well and are less inhibited than most subjects. But they also provide Dohner with plenty of challenges, especially when she's photographing them while they perform.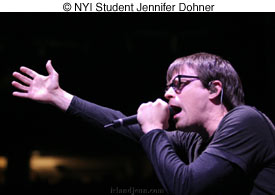 "I cannot pose them, or tell them to move a little to the left," she said, and the lighting also provides its own set of challenges: " I cannot use any flash whatsoever, and the lighting conditions are usually less than ideal. Lots of red and blue lights as well as very low light, which is not exactly flattering," she said.
There is also the "pit" — a narrow walkway in front of the stage and filled with security guards.
And then there is the physical danger, with "bodies being flung over the top of the crowd. I have had my share of feet to my head," Dohner said. But perhaps most challenging is keeping up with the competition of the other music photographers shooting the same event. "I must walk away with something completely different. It's about risk-taking while maintaining the integrity of your art."
But, undaunted, Dohner is able to get all the technical aspects of a shoot in order, and then she can concentrate on portraying the musicians in a way that best reflects their art as well as her own.
But because of NYI's emphasis on the need for a photographer to continue expanding the boundaries of what she shoots, Dohner hasn't restricted herself to photographing music.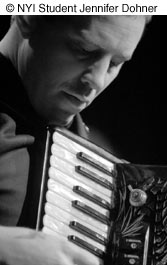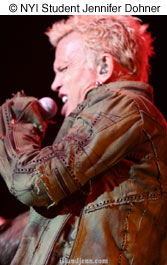 "I learned very early on, through NYI, that it is extremely important to be a well-rounded photographer. I also shoot portraits, landscapes, weddings, food and occasionally real estate."
She also credits the NYI Course with giving her a "new approach to photography. "Both artistically and technically, I was provided with all the necessary tools to succeed in photography. I was impressed that the courses appealed to all my learning senses. I could read material as well as listen and view material. Once I had achieved a solid comprehension of the lessons, I could go out and practice them," she said.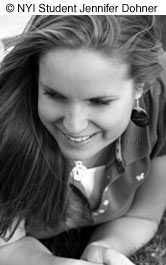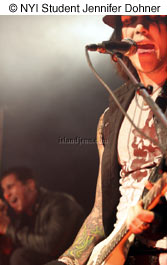 "The most rewarding thing I got out of the Course was the confidence to chase my dreams. I'm still chasing."
Dohner also learned that persistence, as well as taking on challenges, pays off. Last spring she was desperate to photograph the band Pearl Jam. Not knowing that they had refused photographers for the past nine years, she sent them a request, was told "no," and sent another request, explaining that she was a photography student and a long-time fan of their music. The answer was "no" again.
"About two weeks before the show, I received a call from their management firm. They said they had looked at my Web site, enjoyed my work, and the band collectively decided to allow me to photograph their performance. I almost fainted! It was one of the many highlights of my career as a music photographer."
But that wasn't all. Months later, an editor from a Chilean magazine, Rockaxis, sent her an email asking to use one of her photos of the band on the magazine's cover. It ended up as a spread inside the magazine.
"Never in a million years did I think my work would find its way to a rock and roll magazine in South America! This was my first time being published. As soon as I became published, other magazines wanted my work."
Dohner knows, as many photographers do, how competitive the field is, and she says she learned from NYI how to make herself just as competitive as the others out there.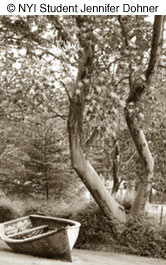 "I really want to stress that NYI launched my journey as a photographer. For every shoot I request, there are fifty other photographers doing the same thing. It has taken extreme perseverance and dedication. I have been competing with people who have been in this industry way longer than I have, and I am finally beating out the established photographers for gigs," she said.
But Dohner also brings in her people skills and then produces images that are simply great. " It is a constant challenge that I love. I went from being a stay-at-home Mom to taking photographs of famous musicians. I had no idea when I enrolled at NYI that I could ever do what I am doing now."
Dohner has come a long way from the days of just dreaming of being a professional photographer. Right now she's shooting for three magazines and a radio station, and was just named the Music Editor/Senior Photographer for a magazine set to launch this June. You can see more of Jennifer's photos, including some of her non-music related images on her Web site.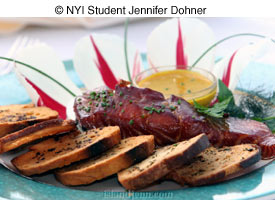 "So who knows what's next? All I know is I am having the time of my life and I have NYIP to thank for it."
In fact, when Dohner gives advice to beginners, she starts by telling them to enroll in the NYI Course.
"The NYI Course will make you a well-rounded photographer, able to tackle any photo project or challenge you have. If there is a particular type of photography you are interested in, go full steam ahead and pursue it," she said.
It's this kind of encouragement that brings success, Dohner said.
"I was told by many people, many times, that I could not do what I am doing now. It is a competitive market out there, but I feel very strongly that NYI will provide you with the knowledge and skills you will need. Do not try and be Ansel Adams, find your own niche and put your own spin on it."
---
Next Article

One of the great joys of working at NYI is that we get to see the passion that infuses the work of our students and graduates. And that passion is contagious!. For Chris Corradino, the satisfaction from photography comes both from getting the shot and from working with clients. He's always aware…