Student Success: Student Profile Rick Reddy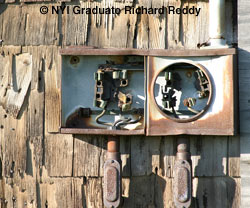 The reason most people pursue a career in photography can often be summed up in three words: creativity, creativity, creativity.
But then again, there is also the technical aspect of photography, which often boils down to equipment, equipment, equipment.
Richard Reddy has found a way to blend the two into a business that allows him to explore his creative side while carefully keeping up with all the advances in technology — advances which only help him to express his creative side.
"In my family, everyone was encouraged to learn a musical instrument or some form of art," he says. For him, the art form was photography.
"I've been doing photography for 40 years, mostly for enjoyment, with some commercial work," he says. "I wanted to do enough commercial work to pay for the party (equipment, darkroom, et cetera)."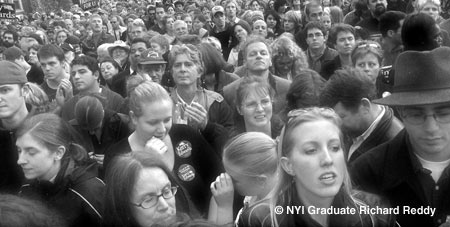 However, what he most likes to shoot is what he calls "General" photography. "It requires more effort and more gear to be a generalist that it does to be a specialist," Reddy says. "But I would drop dead from boredom shooting weddings all the time, or products, so this setup is right for me."
In fact, Reddy so enjoys the "great range of creative choices available to photographers" that he works in several film formats — 35mm, 6x6cm, 6x7cm, 4x5", 5x7" as well as shooting some digital images.
"Camera and lens designs are richly varied, so artists can usually find something suitable for the shooting they do," he says. "I have some expensive gear, but am very happy shooting with a humble Pentax K1000, a feel-good camera. Photography is all about feeling, why not? I also have Kodak #1 5x7 wood view camera. With modern film and a Fujinon lens, this camera never had it so good! I replaced the bellows and put it back to work."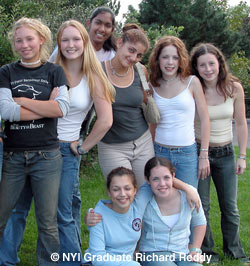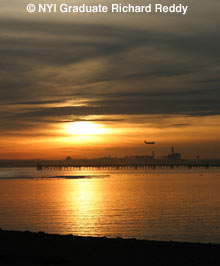 "Somebody might change the world using a trusty Pentax K1000. Look at the marvelous work Bresson did with a Leica rangefinder and 50mm lens! Since image content is what wins the day, I have no objections to using small format or digital."
Reddy has been lucky in finding "very good enlargers" for his work — Omega Chromega E 5x7 diffusion enlarger, and Omega Prolab 4x5 condensor.
Why does he enjoy printing his own images? Reddy is very clear on his reasons. "Anyone is free to take film to a lab. Whether labs are cheaper or quicker is an open question. I drive to a lab to drop off film, wait a few days, then drive back and pay $22 to develop and print a 220 contact sheet. This is very slow, and costs a lot more than film I process and print myself."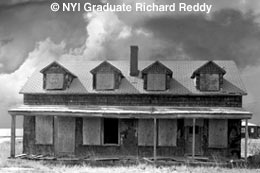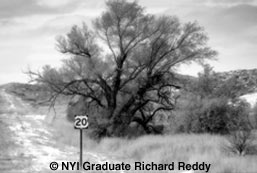 "I like having control of the whole process from beginning to end, without hungry middlemen. It keeps costs down. Also, artists have a wonderful feedback-loop. What we learn printing a difficult photo is just what comes to mind later on, when you're shooting."
"I like shooting black-and-white, which benefits from medium or large format. There are no colors to trick our perception. My eyes are not what they used to be, so it's also easier to print 6x7 than 35mm. This is also true if your vision is 20/20. Some photographers base their perception of darkroom work on experience printing 35mm film, which can be very difficult to handle and print. Before ruling-out a home darkroom, it is advisable to try printing some medium format negatives. At any size the prints have finer grain and easier to handle."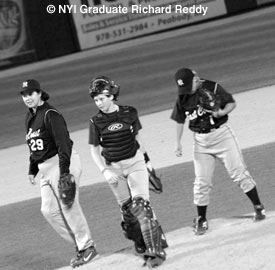 Right now, Reddy is only printing black-and-white, but he has read the NYI primers on color darkrooms with interest, and next year plans to be able to do some color printing on the Omega E.
Those primers aren't the only thing NYIP has given him. Reddy says he chose NYIP for his continued education in photography because the school has been teaching photography for nearly a hundred years.
"The NYI Complete Course in Professional Photography is very comprehensive but not expensive. The lessons are very clear, and obviously a product of long refinement and a continuous effort."
Reddy found the Course helpful even though he was already taking picture before enrolling.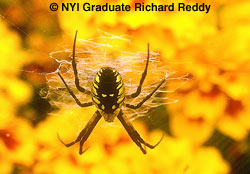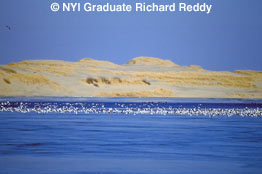 "Most of my lenses cost as much as the NYI Course, so why not?" he says. "NYIP was a big surprise — much better than I imagined it would be. Lessons are clear, organized, and very practical."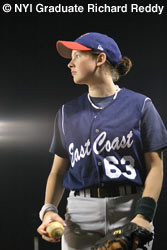 Reddy also used NYI Course materials to help design his darkroom, and often use the lessons as a reference. "The breadth of the Course is equivalent to six or eight university courses in photography, but NYI has a knack for cutting to the chase. Anyone is free to read books, where more depth is desired. The Ansel Adams series (Camera, Negative, Print, Polaroids) is highly recommended."
Just in case you think Reddy only uses film, he also shoots digital, mainly for sports. "Digital is a forgiving medium," he says, "because you can easily correct a range of problems, or revise images extensively, with image manipulation software. I accept digital because it allows the three things that matter most in photographs: Content! Content! Content!"
That said, he's clear on the differences between the two mediums and where his heart truly lies. "There's a quote I like by Ansel Adams, who said 'There's nothing worse than a sharp image of a fuzzy concept.' If film is expensive, and slow compared to digital (large format is very slow!), this is not a bad thing. We can all benefit from taking more time and thought to visualize images. Why not try to get 15 or 18 good shots on a roll with 20 frames? This makes photography much more satisfying (and economical).
Reddy's interest in sports photography was sparked while he was taking the Course, and today he's director of photography for the North American Women's Baseball League.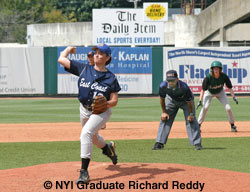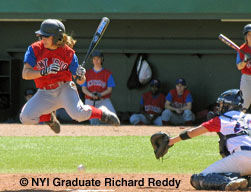 He recently delivered DVDs with 5,000 finished digital images, full-size, for athletes on five NAWBL teams, and two visiting teams.
"Each year, the photos are distributed to all the players, who can print, copy, publish or share photos with family and friends for non-commercial purposes. Photos are free, but the ladies also play baseball for free, so I think they deserve this consideration."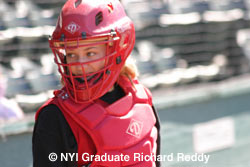 It's a lot of work, but it's work that Reddy loves.
"This is enough work for three photographers, challenging to say the least! The next baseball season will begin soon. Using our enormous archive, I am putting together a "coffee table" book on women's baseball."
Like many photographers, Reddy is happy to do some of his work free of charge, simply for the pleasure it gives him and others.
"I am doing something I enjoy, for people I think highly of. It's a direct exchange. It's not necessary to squeeze money out of every photograph or essay. I often have a "day job" to pay my bills, and do photography for enjoyment."
Next at bat for Reddy is to go "retro" and shoot large and medium format, making better use of his extensive darkroom and expanding it to print color negatives and Cibachrome.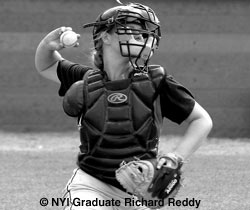 "Also, I want to choose and sequence photos for a book on women's baseball. And I want to develop services for fellow artists, especially painters, who want large-format quality work."
In addition to pursuing his photography, Reddy also puts his BS degree in Information Technology to work by designing Web sites for artists, including one he put together for his brother, Robert, which can be seen at ww.robertreddy.com.
"Like most photographers, I would like to sell fine-art photographic prints," he said. "As most people have never seen an actual large format print, I enjoy handing them out from time to time, as portraits."
Reddy,who lives and works in Winthrop, Massachusetts, has his own Web site, and you can see more of his work at www.richardreddy.com.
---
Next Article

Take a risk. We hear all the time about how important this is in getting ahead in any field, and it's especially important in getting into professional photography. NYI Graduate Rob Medina is a great example of this. He was just starting out in the field, and hadn't yet shot a wedding — and…