One of the advantages to taking online photography courses is the ability to travel while still in school! These essential tips will help you get the best out of your trip!
Recently, NYIP Student Advisor Chris Corradino had the chance to lead a 2012 Autumn Arts Photo Workshop in Tuscany, Italy. In Part 1 of Travel Photography Tips from Abroad, Chris discussed some smart travel solutions he found in preparation for his trip.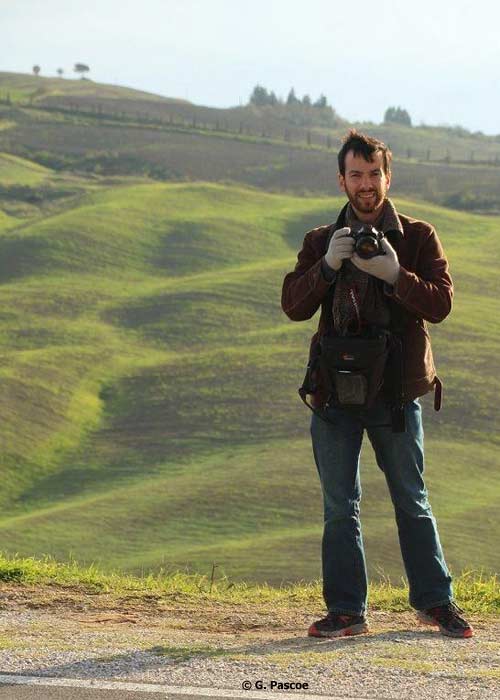 Before heading to Toscana (Tuscany), St. Peter's Basilica was number one on my list of things to photograph in Rome. First and foremost, it's a holy place, but also one of spectacular beauty, history, and grandeur. Thankfully I actually found my way there as my first few hours in Rome were far from storybook type material.
It started well enough, as I successfully took the Metro from FCO airport to a stop just a few blocks from my hotel. As the saying goes, the best laid plans don't always work out, and I quickly realized I was lost! Maybe I was foolish to think I could navigate my way through a strange city in a different language. Sweaty and starving, I asked a few people "Scusi, Parla Inglese?" (excuse me, do you speak english?) Luckily, I also learned three important words; sinistra (left), destra (right), and dirrito (straight). With this, and a bit of luck, I finally reached my hotel feeling defeated and worn out.
Everything changed the moment I picked up my camera and headed into the streets. I no longer felt like a stranger, but walked with purpose and visualized this shot in my mind. I had come over 4,000 miles and could feel I was just minutes from something special. The tripod slung over my tired shoulders, no longer just part of my luggage, but now a welcome piece of gear. I arrived at the Ponte Umberto bridge and peered out at one of the most beautiful sights in all of Rome. Twinkling there in the pink evening sky, the Basilica glowed from within, while a golden cross on top reached towards the heavens. No longer did I feel road weary, scared, or uncertain of what the next 2 weeks would hold. A small aperture created the necessary depth of field, and an 85mm lens was ideal for a tight composition.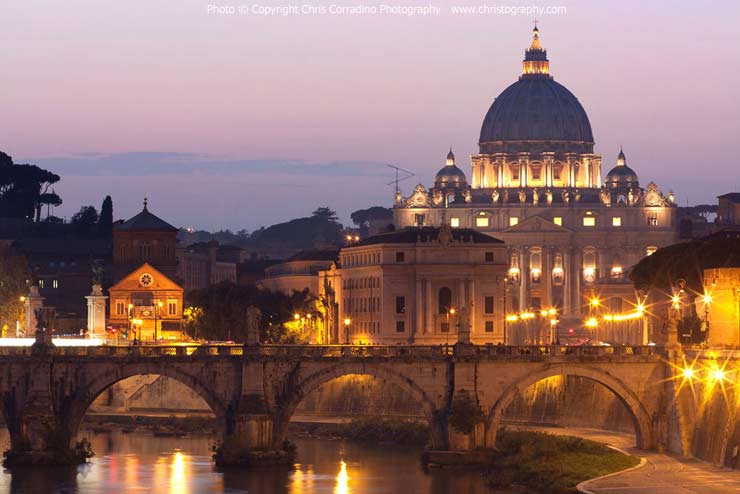 The next night, I shot the Colosseum. As much of a hassle it was to pack and lug my tripod across the Atlantic, I sure was happy to have it at this moment. With a small aperture for great depth of field and a low ISO of 100, I needed shutter speeds between 5 and 10 seconds. The Colosseum seemed to leap from the dusk sky, brilliantly lit with deep vibrant reds and oranges. I took many frames from various angles including the classic view of the full structure, and then a more detailed view where I got down very low and pointed the camera upwards to purposely create a sense of perspective distortion with my wide angle 17-40mm lens.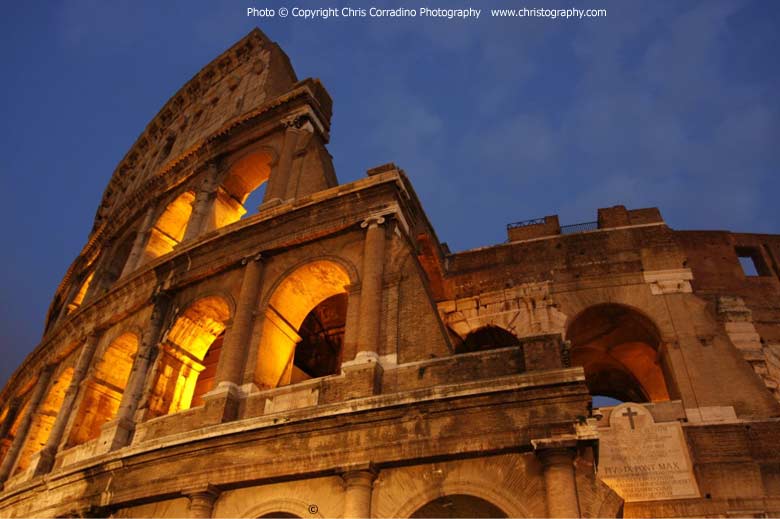 The architecture in Italy highlighted the amazing feats that human beings are capable of. Much of the structures were built well before the technological advancements we've come to rely on. Structures like the Colosseum in Roma, St. Peter's Basilica, the Duomo in Siena, and the Duomo in Florence were beyond anything I could have previously comprehended both in sheer scale, and beauty.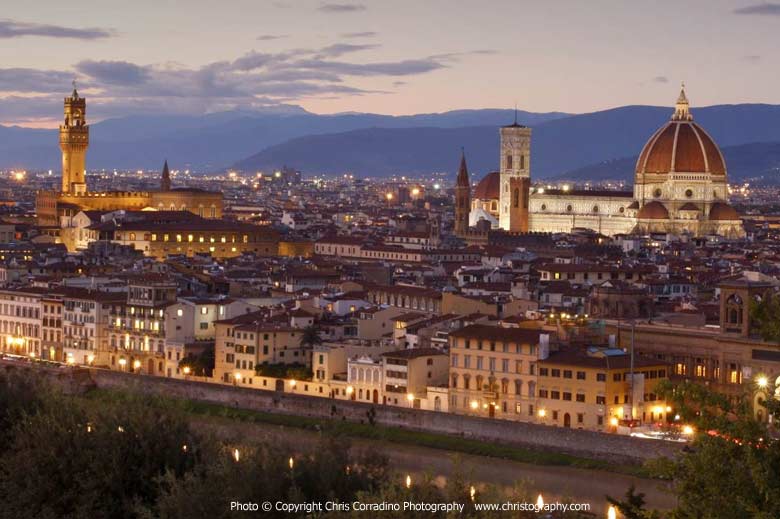 Professionally speaking, this was an outstanding opportunity to teach photography to participants from all over the world with different experience levels. There were five photographers in my group, and each one had truly remarkable stories and backgrounds. We had many glorious shoots from foggy vineyards at sunrise, to portrait sessions, and impossibly beautiful vistas. When we were not out shooting, we spent time in the photography studio viewing Keynote presentations that proved informative and entertaining. This studio space was more than I could have asked for with a digital projector, comfortable seating, and picturesque windows with endless views of the surrounding country.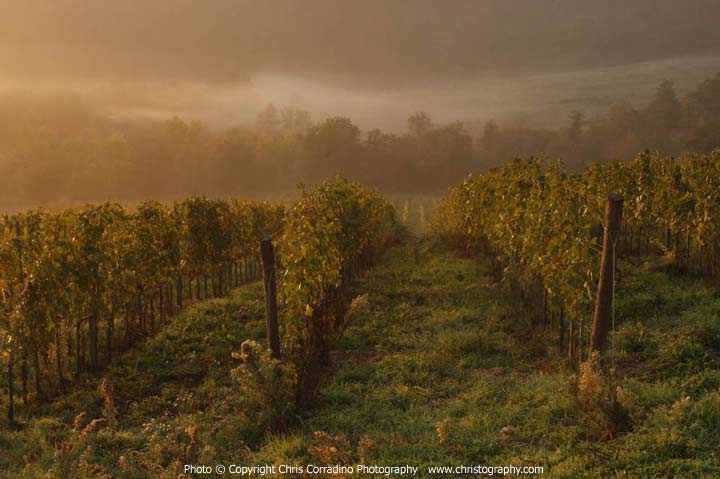 The light in Tuscany is unlike any that I've ever worked in. The magic hour seems to linger for at least twice as long, and sometimes beyond that. There were several occasions where I literally gasped at the scene in front of me, and ran towards it with reckless abandon for my equipment. Whether in the country or the city, every part of Toscana was a visual feast with spectacular scenery in every direction. As such, I believe some of my finest work to date was captured over this period. I am eager to sort through and share my favorites from the forty plus gigabytes of photos.
It wasn't all about landscapes! In fact, one of the techniques I taught was a street photography process known as "shooting from the hip". This is best used when you don't want to bring attention to yourself and lose a candid moment. It's about trying to catch people as they really are, rather than manufacturing a perfect pose. While walking through town of Siena, I saw this stylish woman inside a shop with a helmet under her arm. The scooter was parked just outside, and the texture of the surrounding bricks was just magnificent. I lingered around for a few minutes and didn't see her come out. When I turned back around, she was just about ready to take off. I quickly shot a single frame from the hip with my Canon 40D and 17-40mm lens. Clearly, she knew exactly what I was up to and flashed a terrific expression just oozing with attitude.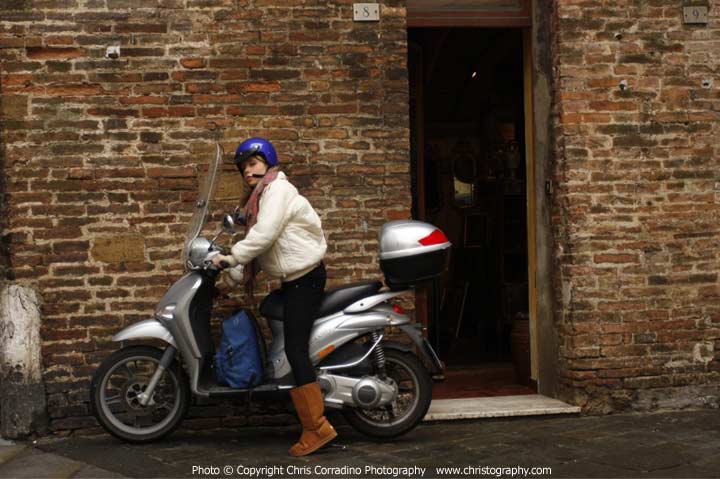 Ironically, the whole scene looks staged, almost as if she's part of a commercial shoot. Yet, there were no studio lights, soft-boxes, or tethered laptops. In this historic city filled with so much architectural beauty, this quiet and seemingly unremarkable moment may be the frame I connect with most on a personal level.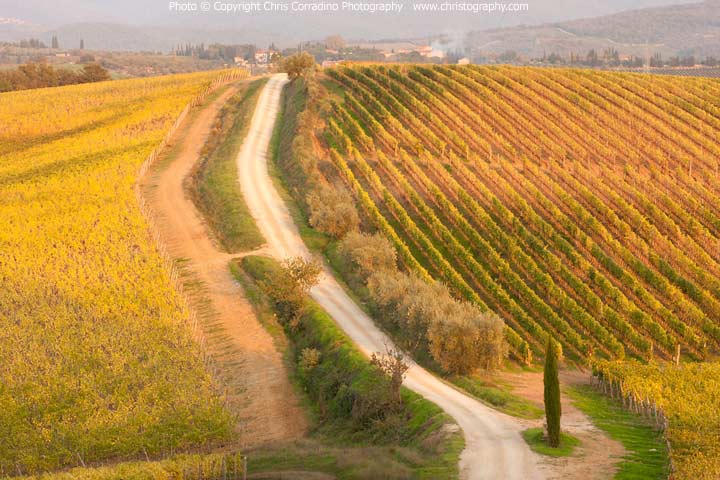 With its abundance of natural beauty, great food, and kind people, the Dievole vineyard was a splendid home-base for a photo workshop. We studied the quality of light which mingled with the leaves in the evening, and the way the sun spilled over the mountains in the morning. The silvery coloration of the olive trees shimmered gently in the breeze, mere days from harvest. As Autumn unfolded before us, the vineyard was transformed from green to a brilliant golden hue.
"Arrivederci" isn't just goodbye. In fact, it means "bye for now". This is important to note, as I'm happy to report that I've been asked to return to this beautiful land in October of 2013! I'm so grateful for this, and hope to share the Italy I just experienced with more photographers. Ciao! For more info, visit online at: IlChiostro.com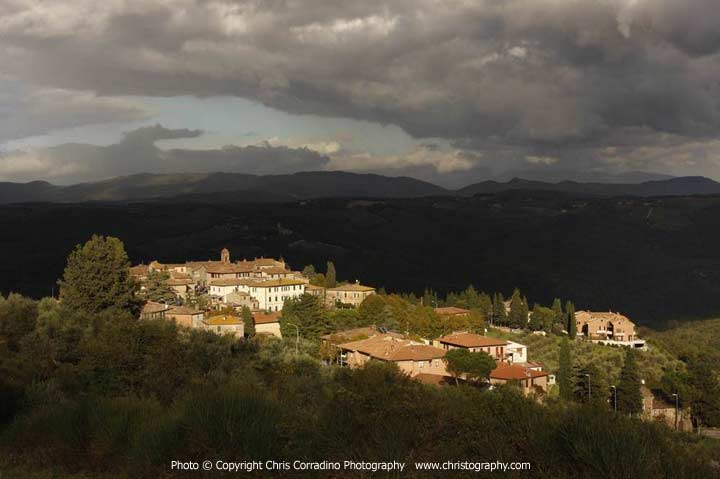 ---