If you're a nature photography enthusiast, autumn is a wonderful time of year to check out your local park or wildlife reserve and capture some beautiful outdoor scenery shots. To help you get started, we've come up with a list of simple tips worth browsing before you head out. From packing the right gear to adjusting your settings properly, these quick modifications will help ensure you capture the beauty of the season more clearly.
One of the most popular autumn compositional techniques is to find a scenic body of water surrounded by lots of leafy foliage, then capture a reflection shot of the two. This technique sort of gives the visual interest of the foliage colors doubled mileage as the viewer gets to experience them in two different parts of the frame. If there's a nice lake or river somewhere nearby and this water photography shot is one you'd like to try, do your best to schedule this shoot on a day when the weather forecast isn't predicting a lot of wind. That way, the water itself won't be filled with ripples and waves that could otherwise distort and garble the look of the foliage that you're trying to convey. Instead, if your schedule is flexible enough for you to be selective, try to pick a day that's nice and calm. That way you'll have a perfect, mirror-like body of water to use when capturing your reflection photos.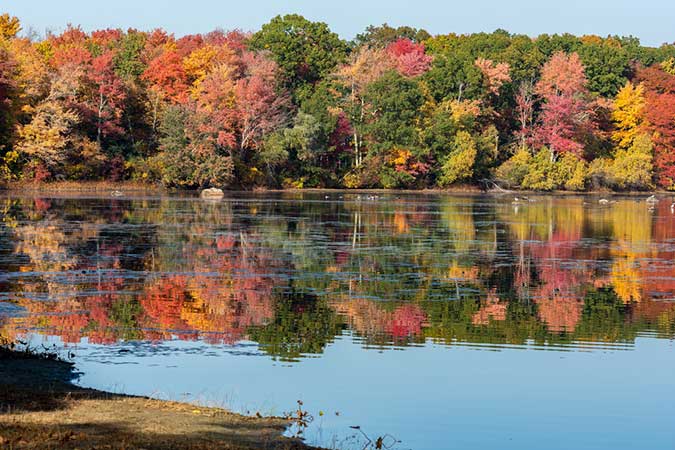 In the case of this reflection shot, another useful tip to keep in mind is that sometimes adding an element of interest is a great way to prevent a perfectly flat body of water from looking too static in your photo. To add a little element of curiosity to that shot, walk around the lake you're photographing and try to pick a scene that includes something interesting- think rocks, a hanging rope swing or even a log.
As all photographers know, time of day will also have an incredible impact on the look and feel of your photo. While portable flash units offer some flexibility if you're interested in working with artificial light, we tend to find that most wildlife photography enthusiasts prefer working with natural lighting as to more accurately represent the beauty of the landscape without having to make too many edits and unnatural modifications. That being said, we recommend you try to avoid working during the middle of the day. That's when the sun will be directly overhead, and will therefore cast a super harsh, bright light on your scene, which isn't always the most flattering. Especially considering the peaceful, serene mood we often associate with autumn and therefore would hope to encapsulate in an image, early morning or sundown will provide you with the most flattering natural light for doing so.
Finally, it's important for you to pack practical gear. Wide angle lenses are a great choice for images like these where you want to capture a large amount of space in one image. Beyond that, you might also capture some interesting shots if you experiment with a polarizing filter. Especially if the sun is just a bit brighter than you're comfortable with and you're looking to somewhat soften the overall look, working with a polarizing filter will help you to cut the glare (think reflection shots) and add more vibrancy to the colors in the trees.
---