Student Profile Chad Mitchell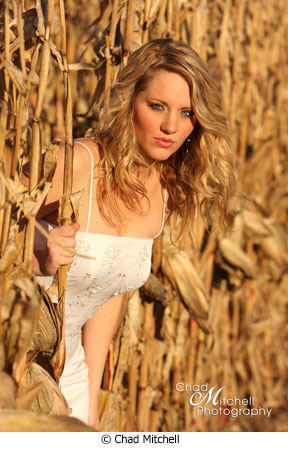 It's time to plan your wedding, and all you can think about is the dress. You never knew there were so many variations on "white." Or on length, or depth of décolletage, or types of beading, or style of sleeve. You consult with your wedding planner; you consult with your mother, your sister, your gay ex-boyfriend. Finally, you spend an extraordinary amount of money, wondering why you're going through all this for an item of clothing you will wear exactly once.
And after the wedding, what will you do with the thing? Keep it bagged and hanging in the back hall closet on the off chance you'll one day have a daughter who wants an out-of-style wedding dress?
Times have changed since women handed down wedding dresses to the next generation. Now, the wedding dress often ends up on eBay. A recent look there revealed prices ranging from one dollar to five million dollars.
But if you want to do something different with your wedding dress, there is one guy to call: NYI Graduate Chad Mitchell, a photographer based in Forsyth, Illinois, who has developed a niche specialty in his photographic work, which he calls "trash the dress." He's been so successful with this work that he's recently put out a book, titled, of course, "Trash The Dress."
"I started doing Trash The Dress type shoots about six to seven years ago when I would photograph high school senior girls in water." At that time, it was trendy to be photographed standing knee-deep in a stream, lake or body of water. I took it further and started incorporating the same outfits, but then having the girls get into more interesting and dirty situations."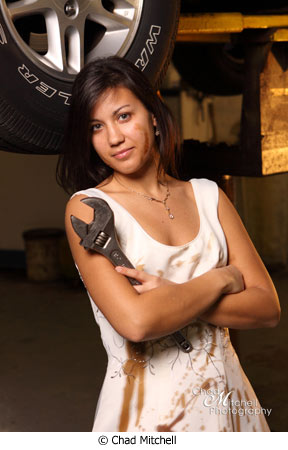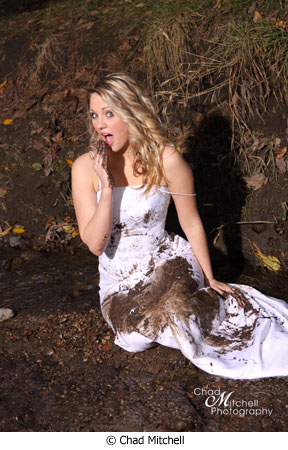 In case you're wondering, Mitchell means "dirty" literally — everyone remains fully clothed, but they're letting sand fall over their dresses, or they're posed at construction sites in floor-length gowns.
"Some girls would wear an old prom or homecoming dress, and I would pose them sitting or laying in water, climbing trees, laying in old and dirty industrial locations, and basically posing in situations you would normally never pose in a formal dress and shoes."
Mitchell, who is known as a wedding photographer, suggested that a bride could have a similar photo shoot — after the wedding, of course. Part of reason this has become popular is the idea that you will most certainly not be wearing your wedding dress ever again: this is your one and only marriage.
Where Mitchell poses a bride — and yes, sometimes the groom gets in on it, too, in full tux — depends on the setting of the wedding and the preferences of the bride. Mitchell's first "trash the dress" bride posed in a "nasty industrial park near railroad tracks."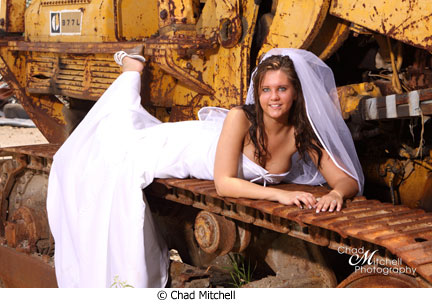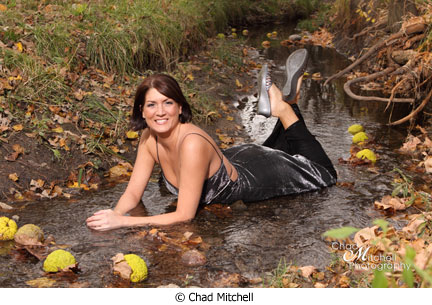 "I just liked the "contrast" of someone beautiful and white being posed in such a dirty and decadent setting. From there, I got known in my area for the creative ways I would pose girls in formal dresses and heels, but in fun ways and settings," he said.
Now, Mitchell does "trash the dress" sessions with brides, high school seniors for their yearbook photos, and bridesmaids.
"They may range from subtle Trash The Dress shoots, where a subject will pose lying in the surf to sessions where the wedding dresses are drenched in paint, covered in mud, or even cut apart. Each person, dress, and scene is different, so it's an all-around fun session for both the photographer and the customer."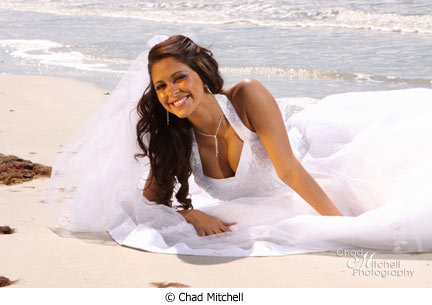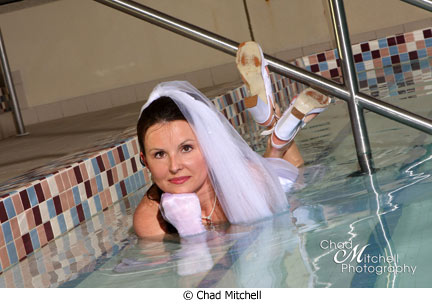 "Photography, like many other things, is a field that requires a good balance of technical skills, creative awareness and people management. Being comfortable articulating your skills and value to prospective clients in a balanced and humble way is critical to establishing the necessary foundation upon which a business relationship can flourish. I would recommend to anyone intending to enter the photography business to do five things," he said.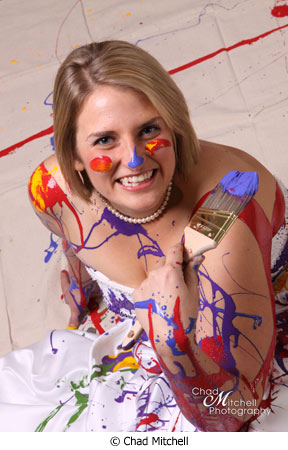 Looking at the photos, it's clear that the participants are having some irreverent fun. Mitchell says one of his most fun sessions was with a bride posing in wedding dress and heels; Mitchell's two kids helps drizzle paint in four colors over her dress, eventually drenching her in colors.
"The subject loved it, my kids loved helping for a photo shoot, I loved shooting the project, and the final end result was striking, fun and unique."
Another challenging shoot was in November in Central Illinois, on a frigid day with temperatures in the 30s, with a woman whose wedding Mitchell had shot. "She actually got into the freezing water to get a water shot. It was in a park, the stream wasn't iced-over, but it did have ice around the edges. While she was in a wedding dress and high heels, she climbed into the freezing water to get the shot. She was amazingly brave, and when you see the photos, you can't tell she's cold either.
And it isn't surprising to learn that Mitchell is one of those fortunate people who really enjoy their work. Because he's self-employed, Mitchell can, for the most part, choose the types of photography he wants to do. Currently, he's concentrating on weddings, high school seniors, family portraits, and commercial photography.
"I love being a professional photographer, because I can shoot such a wide variety of subjects. I have been asked to shoot anything from my weddings to television participants for a reality TV show to unique products, to just about anything you can dream up. With the route I am taking my photography and my photography business, it definitely keeps life interesting."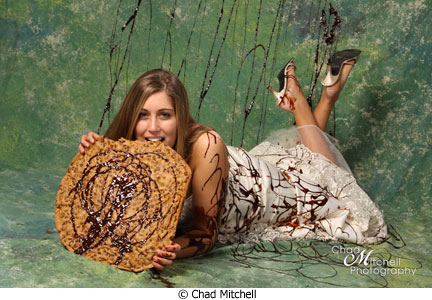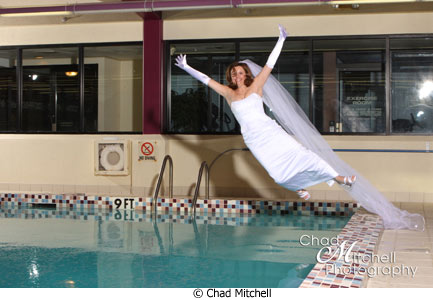 Working on the "trash the dress" shoots, and then creating a book appropriately titled "Trash The Dress," helps Mitchell keep his work lively and challenging.
My biggest challenges in my work are to stay fresh with every aspect of my photography. I've been very blessed to have a successful studio, so that also includes the growth involved with shooting so many people. For me, I never want to be a cookie-cutting photographer, who shoots everything the same way. My goal is to always change and always keep my photography new, innovative and fresh. As a businessman, it keeps my customers coming back. As a photographer, it keeps my creative juices flowing."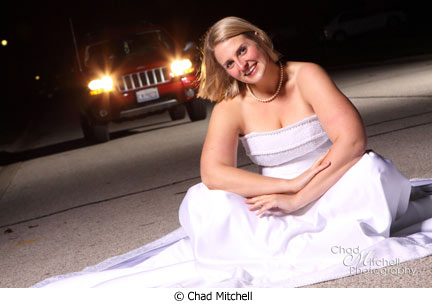 Being creative and following his instinct has led to some good publicity for Mitchell, with a local television station doing a feature on his studio and the "trash the dress" sessions.
Mitchell's business had more ordinary beginnings: after completing the New York Institute of Photography Course in November, 2004, he shot a wedding for a friend who worked at the same place where Mitchell did some commercial photography. By word of mouth, clients learned of Mitchell, and one job led to another, until, before he knew it, he was running his own business — and having a great time photographing weddings, and their dresses getting trashed.