Student Profile Dubi Roman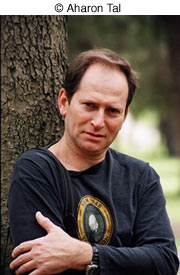 For Dubi Roman, photography is in large measure about exploring creativity, and about finding a way to contribute his own unique vision to the world of photography. In 1994, the year he graduated from NYI, he started to develop his "unique style of impressionistic photography," and that's led him to where he is today: invited to join the prestigious Family of Man 2 Project, teaching artistic nature photography, and having art exhibitions in Israel and the U.S.
"The technique I use - based on multiple exposures, changing planes of focus, soft focusing and scattered light - gives a romantic and impressionistic effect, colored in the colors of dreams. It became my path of expressing myself and a way of exposing my heart," he explains.
"In general, I think the subconscious mind is a bit misty and out of focus," he says. "Lower definition seems to be a key element for the ability to capture deeply buried sights: our visual memories and deepest wishes or fears. In my opinion, we need to have sights with lower resolutions in order to make us listen more carefully to our inner voices."
As you can see from these photos, indeed they share with dreams a certain mysterious quality, as if they were taken in a landscape other than our own earthly one.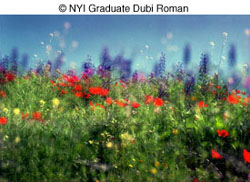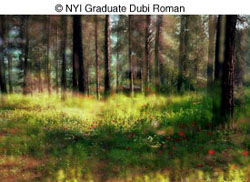 But in fact, the very real land in which Dubi lives - Israel - deeply affects his life and his work. In fact, since the escalation of the Israeli-Palestinian confrontation in September, 2000, Dubi has higher hopes for his work than simply giving people interesting art to look at.
"I have the feeling that my images answer a certain need to escape into a different reality of beauty and tranquility," he says. Furthermore, he has hopes that his work as a photographer can help alleviate some of the suffering caused by the war around him.
"The most challenging thing about a professional photographer is your ability to influence people by touching them deep inside," he says. "Through my own personal search after the important things in life - freedom, peace of mind, fulfillment and personal security - I found that these needs are common to most people. Politically, I am not happy with our reality - I do not believe in occupation, or in force, or in terror; since I am not a politician or a warrior, the only way I can influence others is through my art."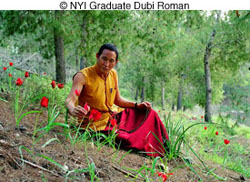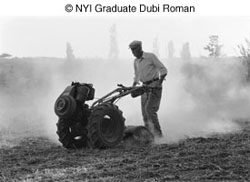 While Dubi may have high aspirations, he's also taken a very practical approach to marrying his passion for nature photography with his need to earn a living. After graduating from NYI, his first paying job was with an oil company in Israel, for which he was hired to illustrate the company's attitude toward the environment.
"Finding that job was a result of recognizing the problem of these companies, and of knowing their need to convince the public that they do protect the environment," he says. "I was accepted and for few years I made their annual photo calendars. I traveled with a specially designed oil vehicle across the country and photographed the oil vehicle at twelve of most beautiful nature sites of Israel. Since money was not a problem to such a company, I managed to get impressive results and earned a good salary too."
Ultimately, photography has been an artistic outlet for Dubi, who says he "simply cannot use a brush or pencil." A former singer, he then moved into video editing, but it wasn't until he started his NYI studies that he "felt for the first time that I found an artistic way to express myself."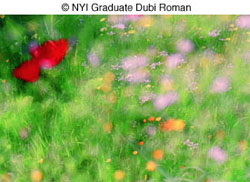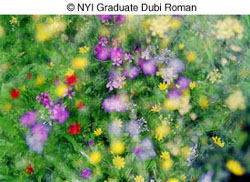 "I could creatively paint with my camera. I became deeply involved in photography and I started to develop my own style of nature photography in an impressionistic manner," he says. "It took me few months and in 1994, I created my first series of impressionistic photography images and it was quite a discovery to me. All of a sudden, I became what I always wanted to be, an artistic photographer."
It was learning the basics of photography at NYI that allowed Dubi to reach further into his creativity. "Going with the basics gives you great freedom. I think the best of NYI is their ability to simplify any subject, and give you a strong basis without too many complications," he says. "Right from the start, you get the feeling you understand the basis of photography. I believe that if one is creative and open-minded, from that basic level he may easily keep going by himself."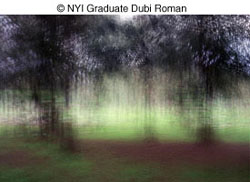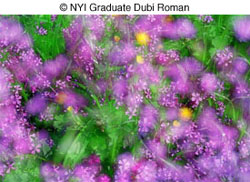 For those just starting out in the field, Dubi says that the first thing is to understand the drive to take photographs.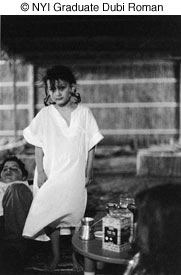 "It might be your creative approach or the need of expressing yourself, which in my experience can be quite a strong motivation and can lead one quite far," he advises. "Analyzing your purposes might help differentiate yourself from others and help you to find your unique way in photography. For example; living in a place like the Middle East can easily lead you to search for tranquility, tenderness and love towards nature as a positive defiance to fear, violent and force."
Obviously, Dubi isn't about to stop where he is. He's planning to continue teaching through "Contact" Israeli photo magazine workshops, and next year he'll have work shown in a group exhibition in Florida, his first show in the U.S.
But the most important work to him remains creating and selling his limited edition fine prints through his Web site, www.DubiRoman.com, and continuing to hope that by capturing the natural beauty of the world, he can help to ameliorate the pain of war and conflict.
As he quotes from one of his Israeli exhibits, "Nature photography is like a prayer.expectation and wish for whatever this beautiful country should have been and still can be.......amidst the uncertainty, the wars, and the non-ending violence and self absorbed truths also stand the innocence and beauty of the forests, the earth, the streams and the flowers. But they stand embarrassed, lost and blushing from shame waiting for their prayer to be fulfilled".